How to Create a Beautiful Butterfly Painting in a few seconds? Try this Fun Art Project – Butterfly Symmetry Painting. It is easy, and fun and kids will love the unique result every time.
This post contains affiliate links. As an Amazon Associate, I earn from qualifying purchases.
How to create Butterflies with symmetry painting? 
The wings of the Butterlyis are symmetrical, which means it is exactly the same on either side.  That is why Symmetry painting is the perfect one!   I bet there could be no other Easy way to make Butterfly art in a few seconds!
We made the popular and common butterfly types like Blue Morpho, Peacock Butterfly and a few others. The results were amazing.
In this blog, you will learn how to make them with Pictures and a video tutorial. There is also a free template that you can download at the end of the post.
Things you will need
Thick paper like cardstock
Tempera paint
Scissors
Butterfly Template (Download at the end of the post)
Watch us create Butterfly art with Symmetry painting!
Directions
Download the free butterfly template at the end of the post. It has Butterflies in 3 Sizes.
Print as much as you need and cut them separately. We made about 20 pieces as our little one loved making more and more.
Before starting to add paint, I suggest folding the paper in half along the reference line. (This makes it easy to fold again after applying the paint)
Now apply the paint to one side of your butterfly paper!  You can Either use a brush to apply a generous about of paint or Use a spoon to add drops of paint.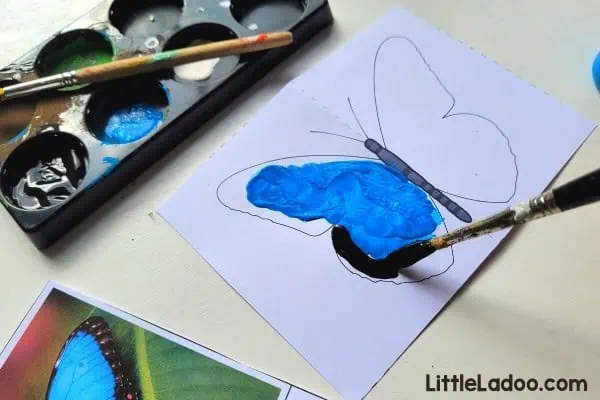 You can refer to a Picture of a butterfly and create a very similar pattern. This is so much fun even for adults.
Fold the paper as soon as you finish applying paint before it dries. Press and rub your hands on the paper so that paint gets smashed and spreads to the other half.
Finally, open the paper to reveal your symmetrical butterfly painting!
If you like to add more details, you can add and again fold. We added the orange Spots on the blue morpho butterfly and folder again. Here is the result.
Now, Let it dry for some minutes. You can use a dryer to speed up the process.
Once it is fully dry, cut the butterfly out using a Scissor. Tadaa! The butterflies are all ready to hang on the wall! Make a garland or just stick it to the wall.
We really loved the challenge of making different kinds of butterflies. And it helped us to remember the names and features of each butterfly.
Butterfly Symmetrical Painting for Toddlers
Toddlers too can do it too!  and the results can be amazing. All you need to do is, guide them to use paint from Squeezy bottles like Ikea Mala on one side of the template and fold to see the magic. I have shown this idea in the first part of the Video. Check it out!
Love this Idea? Please Share it with your friends.
Download the Butterfly Template
Please download the FREE butterfly printable template here
Pin this Easy Art idea for kids
Don't forget to save this Butterfly Symmetry painting art for later! Be sure you are following Little Ladoo on Pinterest for fresh awesome ideas.
You might also like