All activities should be supervised by an adult. As an Amazon Associate, I earn from qualifying purchases. This post may contain affiliate links.
Our easy-to-make Toilet Paper Roll chick craft is perfect for any springtime celebration or for learning about farm animals.
It's simple, quick to create, and so much fun—all you need are a few materials that can be found around your home. Get creative this season and make something special with the kids!
Read on to see how easy it is to make this chick craft with the free printable template.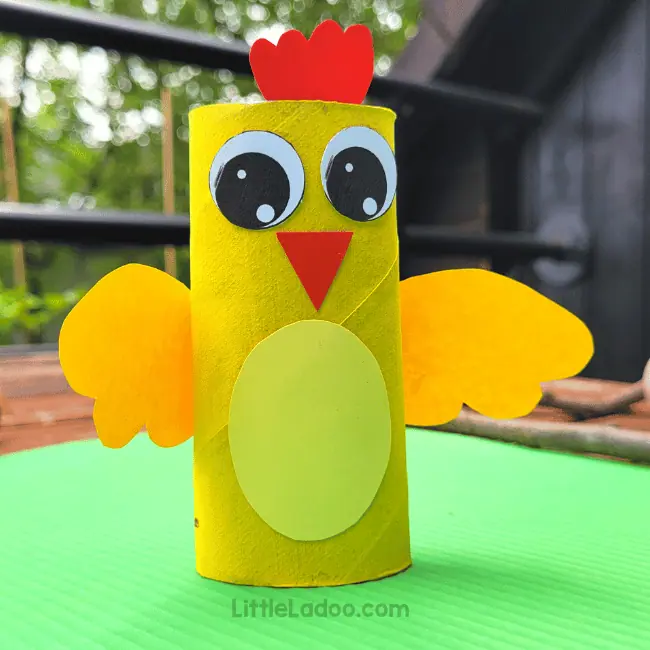 This post contains affiliate links.  As an Amazon Associate, I earn from qualifying purchases.
Toilet Paper Roll Chick Craft
One Activity that is perfect for any time of the year is Toilet paper Roll Crafts! Not only it is a great way to recycle all the roll lying around the house, But also a great way to make cute toys for kids to play with.
So grab some supplies and join us as we create these delightful little chicks from just an old cardboard toilet paper roll!
Things You'll Need to Make This Chick Craft
The affiliate links here will take you to products on Amazon that are similar to the supplies we used to make this craft
TP Rolls
Crayola Washable Paints
TP Roll Chick Template
Construction Paper or Cardstock in colours – Red and 2 shades of Green
Glue and Scissors
If you do not have Toilet Paper rolls at home, You can Buy a Pack of Paper Roll tubes. 
Watch a Video Tutorial on How to make a TP Roll Chick
Directions
Begin by painting the Toilet Paper Roll Yellow. Let it dry for a while while we make the other prices ready.
Download the chick template and Print it on cardstock. Cut the Pieces out and use them as a template to cut again from the colour sheets. 
The Last step we need to do is to glue the Pieces to the Painted Toilet paper roll. First, attach the wings.
Glue the Eyes, then the beak and the Tummy.
Your chick is all set to play with.
Now your child has a cute little Easter chick to show to their friends and family!
Crafting can be a fun and creative experience that gives both parties a sense of pride in the finished product: something made with their own hands! And That is why we love crafts so much!
We even made many other fun crafts with Toilet Paper rolls, like Toilet Paper Roll Owl and Toilet Paper Roll Macaw. 
Our TP Roll Craft Section is full of  Fun Crafts for kids. 
So ready to make your Easter TP Roll Craft?
Download the Free Chick Template
Get crafting with this free template! Make one-of-a-kind creations that will blow your friends away.
With the templates, you can cut out the templates in two ways:
Print it on white paper and use it as a template to cut from the respective colour paper
Print directly on the colour paper and cut the pieces out.
The second one is great for classrooms or while making more than one Chick craft.  Sign up here to receive the free printable template in your inbox.
Save this image for later!
More Chick Craft