All activities should be supervised by an adult. As an Amazon Associate, I earn from qualifying purchases. This post may contain affiliate links.
Want to make some Beautiful Egg Decorations for Easter? Then, Make a Paper Weaving Egg Craft!
Paper weaving egg craft is an activity Kids of all ages will love. Best of all, this craft project requires just a few supplies that you already have at home – so it's easy on the wallet too!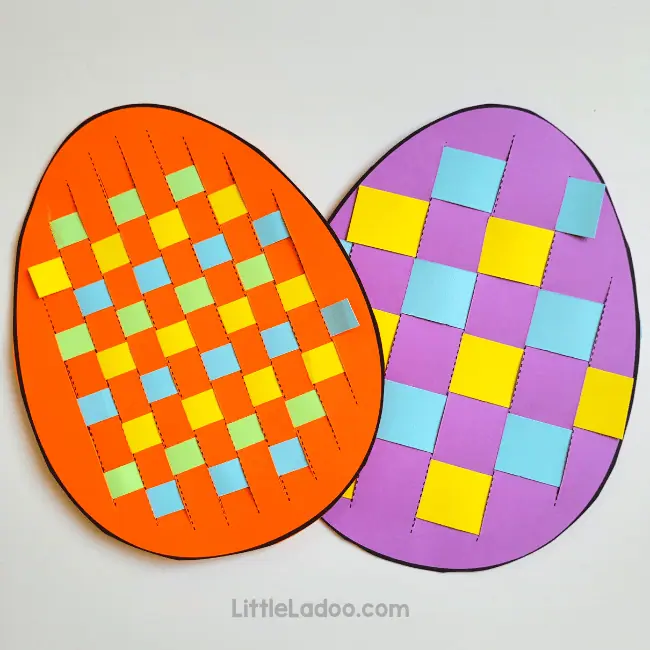 Paper Weaving Egg craft
In this Blog, I will show you Pictures, Videos and step-by-step directions on how to make a Paper Weaving  Egg Craft. It may look complicated but is so easy to do.
You will need
The affiliate links here will take you to products on Amazon that are similar to the supplies we used to make this craft
Egg template (Download at the end of the post)
Scissor
Paper Cutter (Optional)
Watch a video of our Preschooler making the Paper woven Egg craft
Directions to make Paper weaving Egg Craft
Download the Egg template and Print it on Cardstock. The Template has 2 difficulty levels (2 cm and 1 cm cuts). Choose the one you need.
In this blog, I have shared  steps for both the Easier one (2CM cuts) and the tougher one (1Cm slits)
For Beginners 2cm Template
After printing the template, Place it on a Cutting mat and Use a cutter to make a slit on the dashed lines.
Once done, Cut the Egg out.
Now Let's cut out some colourful Strips for weaving the egg.
Take cardstock Sheets in 2 or 3 colours and Use a Paper trimmer to cut the Strips of 2CM width. You will need 6 or 7 strips to weave the egg.
If you do not have a paper Cutter at home, Make 2 cm lines on the sheet using a pencil and cut them out with scissors.
Weaving is an easy process! But Kids need a little Guidance while starting out. With some practice, they will weave like a pro!
Starting at the Bottom, Weave a Paper strip over and under through your Egg Template.
Let's insert the next paper strip. This should be woven the opposite of the first one.
Continue the weaving process until the Top by altering the Strips every time. This creates the woven effect!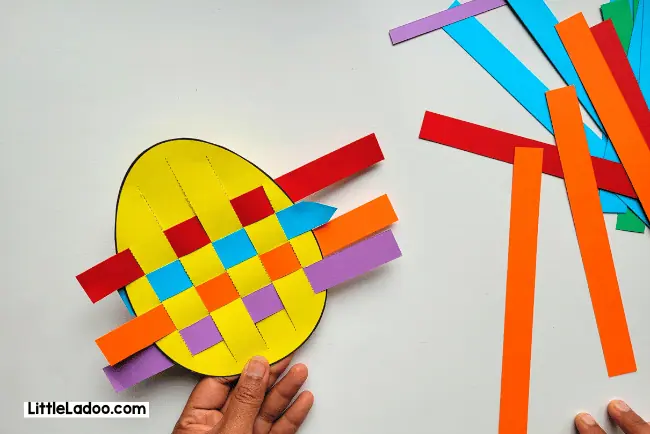 Once the weaving is done, cut the Extras using a pair of Scissors.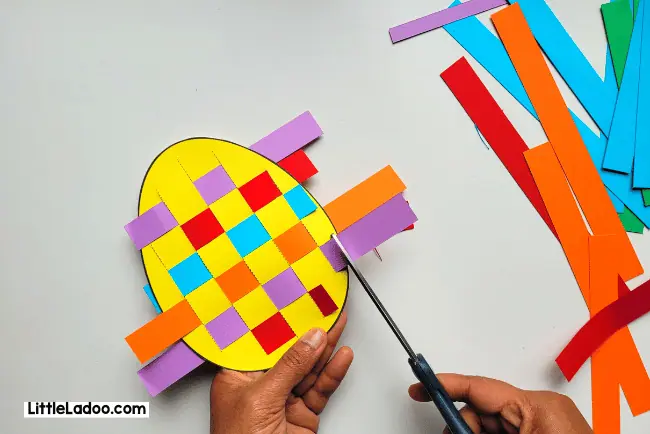 So that is all you need to do a Paper woven egg craft.
Now Let me show you Paper Weaving done with the 1 Cm Template. This means there will be more strips to weave.
All the directions of this craft are the same, except that the Strips will be 1 cm wide and will take more time to weave.
The end result is more Intricate and attractive.
Which one do you like more?
Important Tips to teach Weaving crafts to kids.
Always use cardstock for this craft! The stiffness of the Paper is really important for little kids to weave.
For little Children up to 6 years, use the 2 cm template.
While older kids and adults can weave the 1 cm Template.
It is important to guide the kids for the first few times or they may go wrong while altering the paper strips.
Advantages of paper weaving craft for kids:
Great for hand-eye coordination, fine motor development, and problem-solving skills.
Promotes creativity!
Weaving is a great way to Relax and have fun!
These projects can also teach them about layering and pattern recognition which are important skills for artistic development.
This fun activity is perfect for the whole family to transform colourful papers into a wonderful piece of artwork to decorate the house.
So gather up your materials and let's get started – because when it comes to crafting together, anything made with love goes!
Pin this Activity for Later
Similar Paper Weaving Crafts
There are so many different possibilities with paper weaving crafts, allowing your children to be as creative as they want – they could make colourful geometric shapes or even 3D models on any kind of paper. Here are some variations we made!
Hope these give you other fun ideas for Paper weaving!
Popular Easter Printables for Kids
You might like these printables from our shop! All these are instant downloads.
Easy Easter crafts for Kids
We have 3 fantastic Easter Paper Plate Crafts that are sure to be a hit!
You can Download these Egg Templates and create a variety of fun crafts. This includes more than 20 different templates.
Symmetry-painted eggs are perfect to make colourful Easter Egg garlands.
Download the Egg Template
The Template has 2 pages with 2 Egg sets on each Page.
Page 1 – 1 CM cuts – Difficult level
Page 2 – 2 CM cuts – Easy level
Kindly download the template and print it on cardstock paper.
Simply enter your email address to secure the Paper weaving Egg Template in your inbox!