All activities should be supervised by an adult. As an Amazon Associate, I earn from qualifying purchases. This post may contain affiliate links.
Create a Vibrant Paper Plate Firework Craft in Under 5 Minutes with things you already have at home!
The Flower Pot Firework, also known as the Cone Fountain in certain regions, has always been a cherished firework from my childhood. These dazzling fountains are a visual treat, particularly for kids.
With Diwali approaching, I aimed to create a simplified version of these fireworks, allowing children to easily recreate this craft.
I have also shared many easy Diwali ideas for kids. Be sure to check out our fantastic assortment of Diwali craft ideas for children too!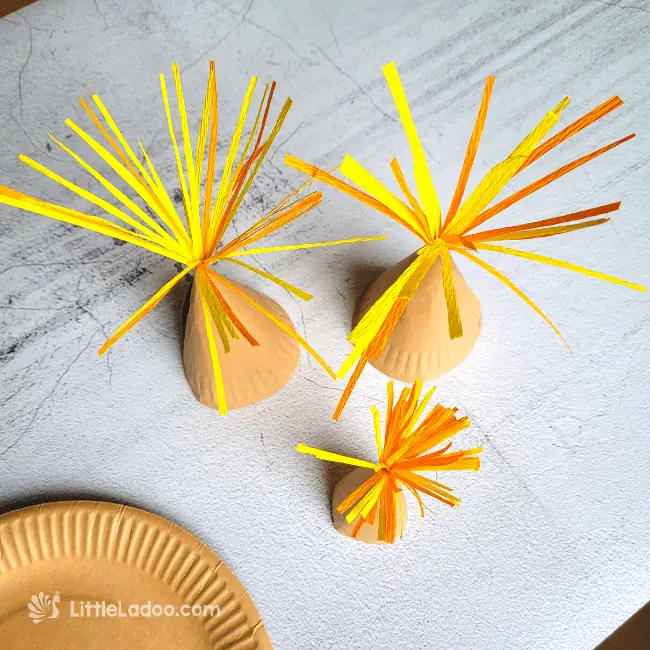 Things you'll need to make the Paper plate Firework
– Paper plate (white or brown)
– Scissors
– Stapler
– Yellow and Orange crepe paper
Directions to make the Paper plate Firework Craft
1. Begin by taking a paper plate and cutting it in half.
2. Next, prepare three small rectangular pieces of yellow and orange crepe paper, each measuring approximately 3cm x 10cm. Make sure to cut them with the longer side parallel to the crepe paper's stripes, which will result in a more robust sparkler effect.
3. Stack these pieces on top of each other and carefully make small 2mm cuts along one of the shorter sides, taking care not to cut through the entire length. This will create a beautiful fringe, as shown in the image. It's a great way for kids to practice their scissors skills.
4. Afterward, Roll and glue these crepe paper pieces and affix them to the centre of the prepared paper plate.
5. Roll the paper plate into a cone shape and staple the end.
That's all it takes to craft these beautiful, sparkling Flower Pot Fireworks using a paper plate.
These cones stand tall independently—perfect for kids' imaginative play. Let them create personalized fireworks with their names. Have fun!
Don't miss our extensive collection of paper plate crafts for kids on our blog!
Paper plate Firework  Variations
 Paint the paper plate in the colour of your choice.
Add embellishments like stones or decorative tape.
Create Flower Pots in various sizes by using different-sized paper plates.
 Experiment with glitter sheets instead of crepe paper for added sparkle!
I hope you enjoyed this Paper Plate Firework idea. Feel free to Pin the step-by-step instructions for reference whenever you need them.
More Firework Craft Ideas for Kids
Popsicle Stick Rocket: Combine four popsicle sticks and paper to create a cool rocket firework that you can blast off into the sky!
Firecracker Diwali Card: Surprise your loved ones with a fantastic Diwali card that resembles a firecracker.
Torn Paper Firework Craft: Looking for an easy way to make fun rocket fireworks? Download our template and create these torn paper rockets.
Q-tip Firework: Improve fine motor skills and create stunning firework displays with this Q-tip-painted firework craft.