All activities should be supervised by an adult. As an Amazon Associate, I earn from qualifying purchases. This post may contain affiliate links.
Are you searching for a fun method to teach prepositions to your children? Our Pongal Pot Preposition printable makes learning prepositions a breeze!
This interactive activity is perfect for toddlers, as it enables them to grasp all seven prepositions easily.
Furthermore, these compact cards and cut-outs make them an ideal activity for a busy bag. If you're interested in similar activities, feel free to explore our Collection of Printable busy bag ideas!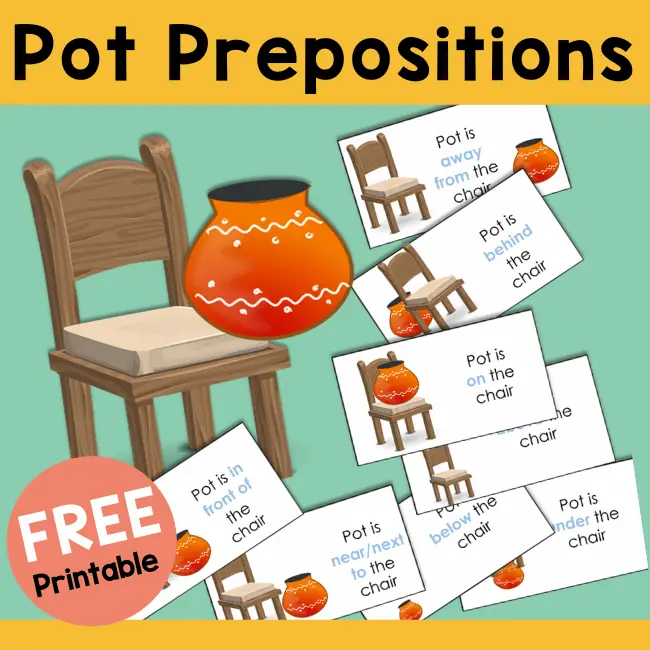 Two years ago, I designed this Prepositions printable centred on the Pongal-Theme, when my child was two years old. My child adored this easy-to-follow activity, and we played it multiple times.
Recently, I have revamped the Printable with enhanced graphics and larger Preposition Cards, and I'm excited to offer it as a freebie. (Please note that the blog images display the previous version.)
To receive the latest version, please sign up at the end of this blog to download it.
Pongal Pot Preposition Printable
This Preposition printable helps you to create an engaging Hands-on-activity that makes learning prepositions fun and easy for toddlers. Let your child strengthen their language skills by observing and replicating the positions of a pot and a chair using the provided props.
This activity is perfect for enhancing your child's language abilities while having fun at the same time!
Preparation
Once you have downloaded the Preposition printable, print it out and cut out the pieces. It is recommended to print on thick sheets, such as cardstock.
Although lamination is not required, you may choose to laminate the pieces if desired.
After printing and cutting out the pieces, you will have a chair, a pot, and seven preposition cards.
Now, let's begin the activity!
Pot Preposition Printable – Usage Instructions
Display the preposition cards one by one and read aloud the preposition stated on the card. Move the pot around as demonstrated in the card.
By observing the position of the pot in relation to the chair on the card, the child can quickly replicate the scene using the props, thereby reinforcing their language skills.
In addition to this activity, you can also prompt your child to converse by asking them questions about objects commonly found around the house. For example, "Where is the ball/pen/book/glass/TV?" and so on.
So go ahead, Download this Pongal Pot Preposition printable at the end of the post, print out these pages, and have a great time learning with your child!
Want to save this post for Later? Pin this Image.
Check out Our Pongal Activity Bundle with over 50 pages of hands-on activities and learning materials about Pongal! Perfect for kids to celebrate and learn about this festive occasion.
If you are searching for a Comprehensive collection of amazing printable activities for Pongal, you need to check out this  Pongal Printable Pack!
It includes a wide range of exciting activities for you to print and Enjoy all at once.
Celebrate Pongal with our Free Printable Colouring pages! Perfect for kids to have fun and get creative.
Our Pongal Dot Marker printable is a delightful activity for kids! Let your child enhance their creativity by dotting colourful circles on the Pongal-themed images.
Looking for a Cute Pongal Craft? Our Pongal Pot Weaving Paper Craft is an exciting and engaging activity for kids to enjoy.
Download this free printable and let your child showcase their creativity by weaving together a beautiful Pongal-themed pot using paper strips.
Looking for more Pongal-themed activities? From crafts to colouring pages, there's something for everyone to enjoy and celebrate this festive occasion. Explore our Collection of  Pongal-Themed Activities. 
Download the Pongal Pot prepositions Printable
Simply enter your email address in the form below to secure the printable in your inbox!
Let the fun begin!
Similar Hand-on-Activities