All activities should be supervised by an adult. As an Amazon Associate, I earn from qualifying purchases. This post may contain affiliate links.
This Pongal Activity bundle is a great pack to teach your kids about Pongal and to create a variety of Pongal themed activities.
It includes 50 printable pages Features how the Pongal festival is celebrated by the Tamil Community.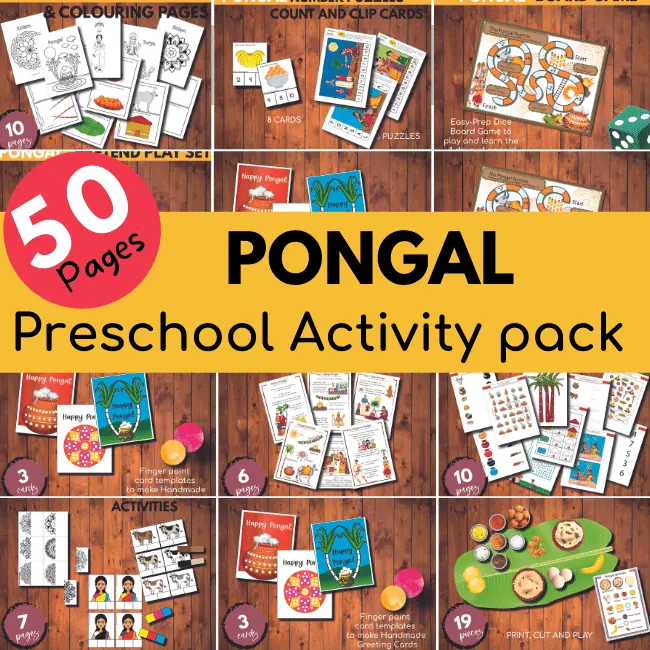 This is our Second Activity bundle after the Christmas Activity Bundle, and both packs have Well-Crafted Hands-on activities for preschoolers. This Pongal pack also includes 6 Learning pages about 4 days of Pongal.  
Check out this video to see all the activities included in the pack.
This bundle is perfect for keeping your child busy with various Pongal-Themed activities curated for 3 to 6. Get your Pongal Activity Pack here
Contents of the Pongal activity Pack
What is Pongal?
Day1: Bhogi Pongal
Day2: Surya Pongal
Day3: Maattu Pongal
Day4: Kaanum Pongal
Pongal word Mat.
Kolam Visual DIscrimination – 2 Activity Pages
Cow Color Visual perception
Saree Colour VIsual perception – 2 Activity Pages
10 Worksheets
2 Colour by Number Pages
Number puzzles 1 to 10
Number Puzzle 11 to 20
Pongal Puzzle
Pongal Board Game
Pongal Meals: Pretend Playset
10 Drawing Props
How to Prepare:
These activities are easy to prepare. Lamination is not required and I recommend printing all the Hand-on activities on Cardstock and the one-time use activities like worksheets, colouring pages and Drawing props on regular printing paper.
We use 200 GSM thick cardstock to print the pages.
I have bound the pages as a book, which helps me to have them handy and organised. You can also have them in a file folder.
There are a variety of activities and I am sure there are ample to keep your kids busy for 3 to 4 Days during the Pongal holidays. These activities are perfect for 3+ kids, but the Learning pages, colouring pages, drawing props can also be used by kids under 3.
Pin this image for later