All activities should be supervised by an adult. As an Amazon Associate, I earn from qualifying purchases. This post may contain affiliate links.
Pongal is one of the most delightfully celebrated festivals in India, signifying joy and new beginnings. For children, the festival is all about having a wonderful time meeting Family, and friends and enjoying goodies like Chakkara Pongal, sugarcanes and Pal Payasam!
And so if you're looking for some exciting activities to plan that will help your little ones revel in festive cheer, we have got 22 fun ideas they will surely enjoy this Pongal.
What is Pongal? Why is it celebrated?
Pongal is the traditional harvest festival celebrated by the people of South India. For four days, people observe Pongal festivities with lots of joy and enthusiasm.
It marks the end of the winter solstice and pays homage to nature's bounty as it kicks off a new harvest cycle.
How do people celebrate Pongal?
Pongal is celebrated for 4 days.
Day 1 is the Bhogi. People clean the house and donate unwanted things. As a custom, a Bonfire is lit to Burn unneeded things.
Day 2 is the Surya Pongal. On this day, People offer thanks to Surya – the Sun God who provides them with sustenance, energy, and nourishment throughout the year.
Day 3 is the Mattu Pongal. On day 3, They workship cows and bulls and thank them for a good harvest.
Day 4 is the Kannum Pongal. Families get together to exchange gifts and prepare sweet dishes that represent abundance and prosperity.
Celebrating Pongal isn't just an opportunity to connect with family members – it is also an opportunity to connect with our land and appreciate everything it gives us!
When do we celebrate Pongal?
People celebrate Pongal on the first day of the Tamil month Thai,  which always falls between January 14th and January 17th
Is pongal and  Magar Sankranthi same?
Pongal and Makar Sankranti are two festivals that are celebrated in India, both of which involve the harvesting of rice and other grains.
While the days they fall on may overlap, the regional differences mean that Pongal and Makar Sankranti differ in their rituals and traditions!
No matter what customs you observe, these two special festivals provide a wonderful opportunity to come together as a community and celebrate an age-old tradition!
Pongal Activities for kids
Here are some Easy crafts and Printable Activities for Kids that help kids to welcome the harvest festival.
The Pongal festival starts with Bhogi, where we have a custom of lighting a Bonfire to burn all Rubbish and unwanted things. It would be the perfect day to make the Bonfire craft.
Fork painting is an easy and enjoyable project that the kids can do with the free bonfire Craft template.   Let your imagination loose and create unique vibrant pieces of artwork!
Pongal is incomplete without the Pongal dish cooked in a traditional earthen pot! This paper-weaving Pot craft is the perfect way to add a festival vibe to your home!
It's easy, and fun and everyone in the family can join in on the project. The result is a beautiful school of paper-weaving Pots that will brighten any room it hangs in! Start by downloading the Paper Weaving Pot Template now.
The Pongal Festival has a Dedicated day for worshipping cows. It is the perfect time to make a Cow craft with nothing but paper plates. This can be a fun and rewarding activity for the whole family!
Once you have the Free Cow Craft template, start cutting and sticking them together on the plate.
Paint the spots and now all you have to do is wait for it to dry before displaying your masterpiece! Your paper plate cow craft will make a perfect addition to any room in the house.

Sugarcane, the most important harvest of the season represents prosperity and well-being. So making a Sugarcane craft during Pongal is a perfect activity for children!
Even young crafters can join in the fun too. With a few simple supplies like glue, paint, straws, and scissors, kids have all they need to make a Sugarcane Toy for their play kitchen!
Kolam Greeting card
Adding a handmade touch to your cards is always a great way to show someone how much you care. An easy and beautiful way of doing this is through salt painting!
With just a few supplies, you can create beautiful greeting cards that will be cherished by friends and family alike.
Draw patterns of kolam using glue on a Black Sheet!  Spray a good amount of salt onto the glue and then carefully pour the extra salt off.
Write a Greeting and Gift it to your loved one.
It's incredibly simple to make – the results are unique. Give this DIY project a try today and put some extra thought into your next card to someone special!
DIY Projects like these can be a fun way for kids to spend time! And what better way to make something festive than a Rangoli maze game made with cardboard? This eye-catching DIY is sure to be an instant hit with the little ones, who will have endless hours of fun mastering tricky levels and figuring out paths through this exciting quest!
Not only will they have a blast playing their very own Maze game but making it together as a family is guaranteed to be an experience of joy. So give your kids hours of fun with this marvellous cardboard maze game!
Make Pongal extra fun for your little ones with this festive Dot-marker activity pack! Our delightful Pongal dot marker printable for toddlers is ideal for keeping them engaged and entertained and even helping develop their fine motor skills.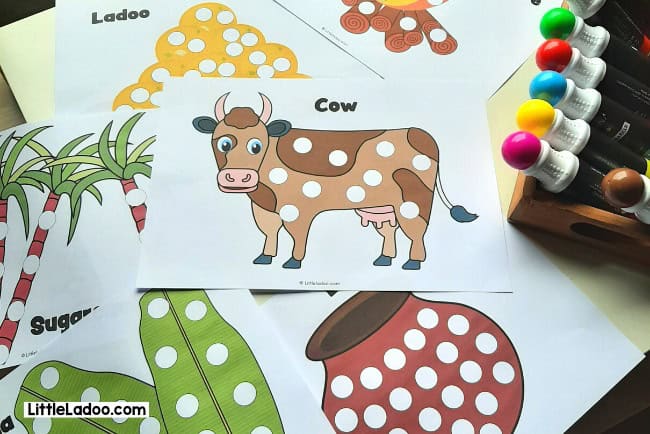 Create a Festive atmosphere with a fun Pot craft for kids.  With this easy-to-use template, everyone can make their works of art or crafts without the mess. Unleash your child's imagination and help them express themselves through the art of crafting.
This Free Pot craft template will inspire them to create unique projects while having fun in the process.
Colouring has long been a favourite activity of kids! It's always fun to colour in different designs and patterns, and you can help kids enjoy this activity even more with 7 unique Pongal-themed colouring pages.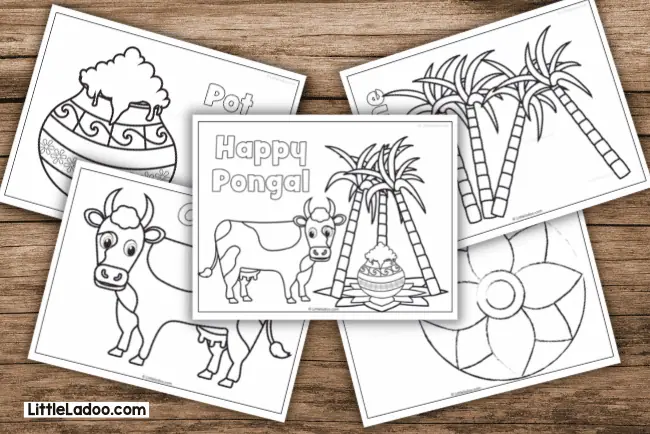 They're a great tool to help keep the little ones entertained while helping them get in the Pongal spirit. This pack has 4 exciting mats including a bonfire, thoranam, cow and Pongal pot.
Plus, they're interesting for children of all ages to use. Simply print off the mat you want and then let the creativity flow! With these mats, there'll be no more tears or boredom during the holidays: just pure imagination-filled fun. Get your hands on this amazing set of playdough mats today and get ready for some magical family times during the festive season!
A bundle of Activities that provide hours of fun is every parent's dream to keep their child busy and teach about the festival. This printable pack is perfect for parents and kids alike, packed with exciting Hand-on activities, Learning pages, worksheets and colouring pages.
We've also included games and puzzles to pass the time – perfect for a cosy night in or an extra-special family get-together.
Enjoy the spirit of the holidays with our Pongal Activity pack!
Learning prepositions can be tricky, especially for young kids. But there's no need to worry! With our free printable preposition worksheets, learning this important grammar point can be fun and easy.
Cow Bathe Setup – Sensory Play
This Sensory play is very easy to set up and required a few items which you already have at home. Grab a Small Container and fill it with water. Other things you need are a cow toy, a small towel, a sponge, and bracelets.
Invite the child and brief them to bathe the cow, dry it and adorn it with the garlands. A fun activity for kids to do during Maattu Pongal.
Set up a Sugarcane shop
Pongal time is the Harvest season for many crops including sugarcane. It is common to see a shop selling bundles of sugarcane.
With the Paper straw sugarcanes and a bunch of coins, you can easily set up this sugarcane-selling shop. Perfect Pretend play idea for the Holiday!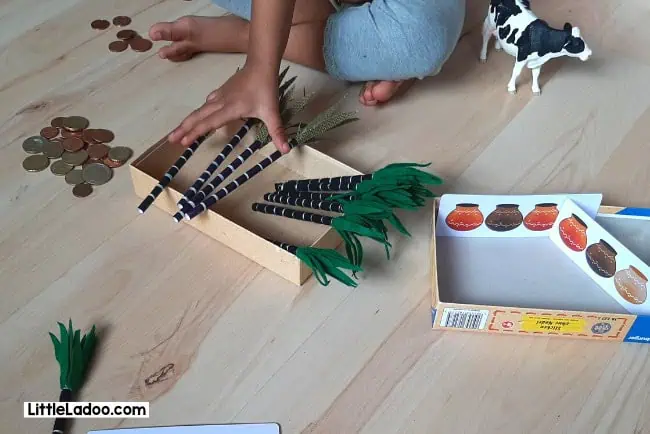 Sakara Pongal Interactive game
Learn how Sakara Pongal is made with a fun interactive game. Kids will enjoy lifting the flaps to see the ingredients. This is currently part of the Pongal Activity pack.
Scissr skills are essential skills, especially for preschoolers. With a fun printable like these kids would love to cut on the line and enjoy trimming the banana leaf.
People in India consider the cow a Sacred animal. The cow is worshipped on day 2 of the Pongal festival.  A popular sport- Known as Jallikattu is held in many places of Tamilnadu.
Learning about Cows can help kids understand their unique features and importance, especially during a Festival devoted to cows.
Currently, there aren't many picture books about the Pongal festival in English. We got this Pongalo pongal (Tamil) which is a fantastic picture book and suitable to learn about the Pongal festival.
The book beautifully illustrates how Pongal is celebrated each day. I highly recommend this book if you can (I hope you do) read Tamil.
Pongal Videos for kids
This video explains how the Harvest festival is celebrated in each region in India.
Here is a Rhyme song in Tamil that beautifully captures the Pongal celebration in a village.
Practical life Pongal Activities for kids
Home is where Children first learn the importance of Cultural and Family Customs and Traditions. During festivals, there's no better way to share meaningful, lifelong memories with them than by involving them in the event.
Kids of all ages can actively engage in these Pongal activities
Cleaning the house, and Giving away unwanted toys and books
Decorating the home with Thoranamas (Mango leaf garlands)
Participating in Rituals associated with the festival
Wearing traditional outfits.
Making Kolams
Visit a Farm to see the worshipping of a cow on day 3
Meeting friends and family and making meaningful relations.
By taking part in these activities during and around festive occasions, kids gain firsthand knowledge and experience of familial/cultural roots that will stay forever.
I hope you found all these Pongal Activities for Kids – Crafts and printables helpful!
Pin this blog to check later when needed!
You might also like 22 Diwali Activities for kids