All activities should be supervised by an adult. As an Amazon Associate, I earn from qualifying purchases. This post may contain affiliate links.
Pongal is the Harvest festival of Southern India, and it's a great time to get crafty with the kids! One easy and fun craft is to make Pongal pots with Paper.
We love this Paper Weaving Pot Craft! With a free template, you can try this Pongal craft now with your kids.
This post contains affiliate links. As an Amazon Associate, I earn from qualifying purchases.
Paper Weaving pot Craft
Weaving is a wonderful way to relax and de-stress, as the repetitive motions can be quite calming. Besides, Weaving a Pot during Pongal is a great way to express your creativity and make something truly unique for the Festival.
Supplies you will need
Cardstock (To print the template)
Scissor
 Glue
Pot Printable
Watch the Video Tutorial
Directions to Make Paper Weaving pot Craft
Print out the Template with the Pot. Make sure you print it on thick paper as weaving is easy!
On the pot template, you will see Vertical dotted lines – Cut these lines using a Paper cutter by placing them over a cutting mat!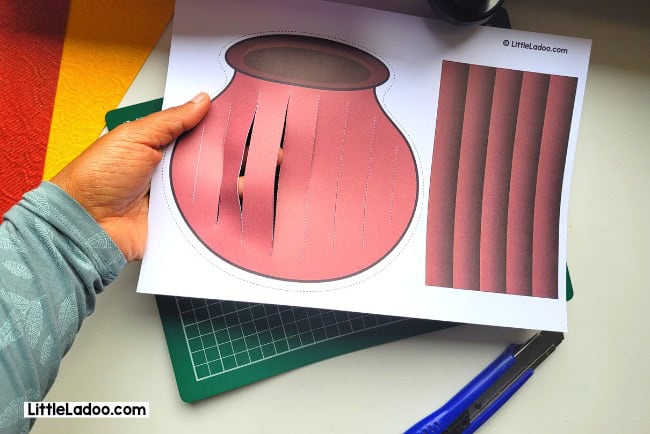 After cutting the lines, cut the Pot out along the edges. Also, cut out the Strips.
Now that the pot and the paper strips are ready we will start weaving!
I started from the top of the Pot and wove from right to left.
You need to alternate every second line in and out too, to make a nice pattern.
After you have done weaving, cut out the extra Strips on the front and back of the pot.
So our woven paper craft is ready!
Another option to make this pot is by using your own strips instead of the ones in the template. This way you can use different colours to make the pot vibrant.
You need a paper Trimmer to cut these Strips.
So here is my daughter weaving the Pot with Blue and yellow stripes.
This really turned out so beautiful!
Small children definitely need help and extra guidance to weave the first few lines. Don't worry if it takes some time – weaving is like putting together an intricate puzzle but one that can really showcase how artistic and creative the kids are.
Did you like this Weaving Craft? Share it with your friends and Pin it for later.
Ready to create a beautiful piece of craft?  Download the template now!
Download the Pot weaving Template Printable
Sign up here to get the free template right in your inbox. Not that these are only for personal and non-commercial Use.
Check out all the Pongal Activities and Ideas for kids
Related Pongal Activities