All activities should be supervised by an adult. As an Amazon Associate, I earn from qualifying purchases. This post may contain affiliate links.
The Indian flag is a powerful symbol of our nation's independence, unity, and strength. It is a proud reminder of the courageous battles fought by our ancestors for our freedom. As citizens, we should be proud to fly this banner that represents so much of what we stand for.
Making the Indian Flag is a wonderful opportunity to lift their spirits while teaching them about the history and heritage of India. So here are 10 India Flag Activities for kids.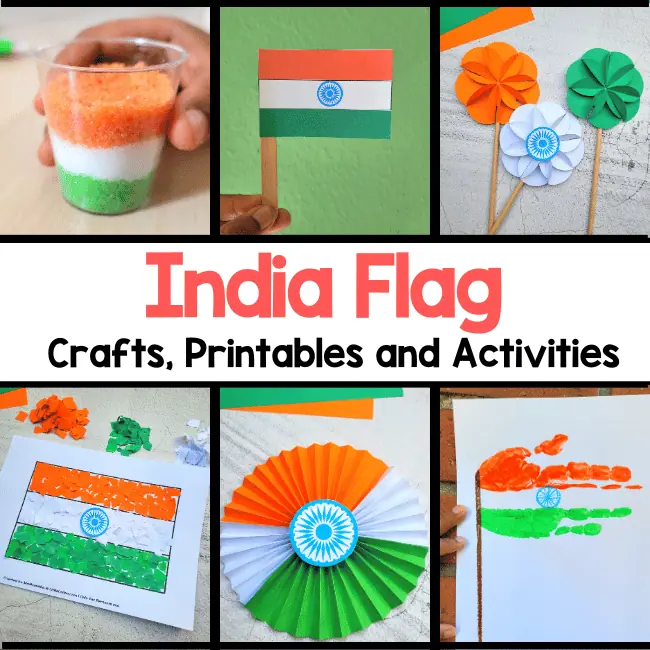 The list has 10 different ideas. But before checking out, Learn these important facts about the Indian flag.
Indian Flag Facts
The Indian Flag is a tricolour banner that has been used since 1947.
It consists of three horizontal bands: saffron on the top, white in the middle, and green at the bottom.
The saffron symbolizes courage and sacrifice, white for peace and truth, and green for faith and prosperity.
At the centre of the flag is a navy blue wheel with 24 spokes known as the Ashoka Chakra, named after India's first emperor who reigned from 269 BC to 232 BC.
The wheel stands for progress, justice and righteousness.
The Indian Flag was designed by Pingali Venkayya in 1931 before India's Constituent Assembly officially adopted it on July 22nd 1947 to represent independent India.
On August 15th 1947 (India's Independence Day), the first national flag was hoisted at Red Fort in Delhi by Jawaharlal Nehru (the first Prime Minister of independent India).
The length-to-breadth ratio of an Indian flag must always be 3:2
India Flag Activities for Kids
The list includes crafts and Printable Activities. All the printables listed in this blog can be downloaded at the end of the post for Free.
Crafting with torn paper is an incredibly simple and enjoyable activity suitable for children of all age groups.
To create this craft, simply access the Free printable template provided at the end of this post and supply children with three sheets of coloured paper.
They can tear the paper and then paste the torn pieces onto the template to craft the Indian flag.
Don't be fooled by its intricate appearance; creating this tricolour flower craft is super simple and is undoubtedly an easy Craft. The process merely involves punching out 8 circles in each of the three colours, followed by folding them to bring this adorable craft to life.
For added convenience, I've also included a variety of chakra templates in different sizes. These templates can be employed seamlessly in this creative project.
Are you seeking detailed, step-by-step instructions? Feel free to notify me, and I'd be more than happy to curate a separate blog post just for you, guiding you through each stage of the crafting process!
Celebrate India's colours by crafting a handprint flag: Dip little hands in saffron, white, and green to create a patriotic masterpiece.
India Flag Facksheet and Worksheet
Download the informative fact sheet detailing the National Flag of India at the end of this post. Additionally, you'll also discover an engaging worksheet featuring various similar Indian flags, challenging children to identify the correct Indian Flag and mark their answers with a tick.

India Flag B & W Template
These three flag Template allows kids to create a variety of cool National flag Project.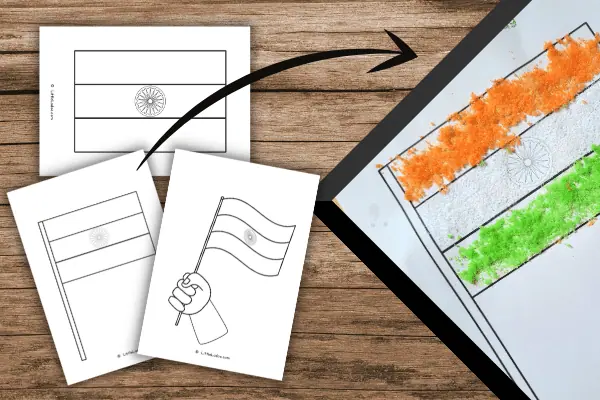 India Flag Do-a-Dot marker
In search of a National Flag activity suitable for toddlers? Consider this delightful Dot Marker activity – a wonderful option for some enjoyable learning and playtime! Have a blast!
This cut-and-paste India Flag craft offers a hands-on way for kids to express national pride while enhancing their fine motor skills and creativity. I have created the flag in two sizes!
Master the art of folding saffron, green, and white papers, then seamlessly glue them together to craft a stunning circular masterpiece. Enhance its charm by affixing the Free printable chakra at its centre!
Indian Flag with Things in Kitchen
Get creative in the kitchen and assemble your own rendition of the Indian flag using common ingredients! Utilize vibrant tomato slices for saffron, arrange cheese slices for pristine white, and incorporate fresh spinach leaves to represent lush green.
Indian Flag with shredded Veggies
Craft an Edible Indian Flag with Shredded Veggies – Carrot, Radish, and Chopped Coriander Leaves.  Showcase your artistic and gastronomic talents with this unique and nutritious tribute to the flag!
Frozen Indian Flag
Crafting a frozen tricolour jar is a breeze. Begin by pouring Green juice into the jar's bottom third and freeze it. Next, add another layer, filling two-thirds of the glass, and freeze once more. Lastly, pour in the orange layer and freeze. Your splendid frozen jar is now complete.
Alternatively, you can fashion an edible popsicle using the same technique, freezing three distinct colored liquids sequentially for a tasty and patriotic treat.
Salt Jar Indian Flag
Craft a charming salt jar using various hues of salt.
You can easily replicate this in charming mason jars, adding a touch of unique allure to any decorative setting.
Indian Flag with Grains
Craft the Indian Flag with Ease by utilizing our Free Template! You can now create this magnificent masterpiece using dals and rice, adding a touch of awesomeness to your creative endeavour!
If you liked these activities, be sure to save the image below for future reference (pin it!).
Alternatively, scroll down to access and download the Indian Flag templates and printables you require for your crafting endeavors right now.
Download the Flag Template and other free printables
Click on the Hyperlinked Text (Blue Tabs) to download the Printable you need. No sign up is required.
India Flag Cut and Paste Printable
Make the India Flag by cutting and pasting. Available in 2 Sizes
Indian Flag Chakra Template
Chakras in 3 Sizes – 2 cm, 4cm and 7cm – perfect for most Indian Flag Crafts
Indian Flag – Other Printables
Ideal for Independence Day or Republic Day Celebrations!
I trust you've relished these ideas and found the printables exceptionally beneficial.
Feel free to share your thoughts in the comments section below, and if you require additional Indian Flag templates, don't hesitate to let me know!