All activities should be supervised by an adult. As an Amazon Associate, I earn from qualifying purchases. This post may contain affiliate links.
There are a lot of Amazing ways to do India Flag Craft. For this one, we are keeping it simple with a template – Easy Cut and Paste India Flag.
This craft is perfect to do at any time of the year or During Independence Day week or Republic Day week.
For more India unit study Ideas, Check out  India Crafts, printables and Activities for kids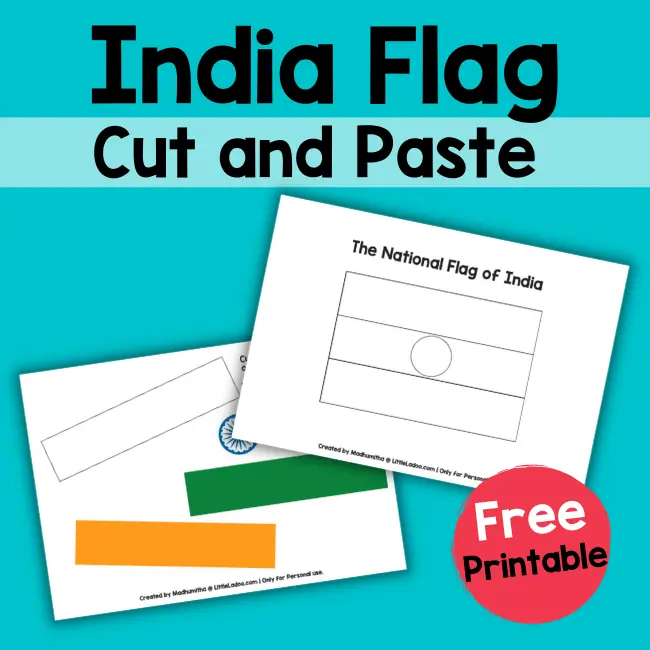 Easy Cut and Paste Indian Flag
This Project is an Easy Prep Activity and suitable for both Toddlers and Preschoolers. You can download the free India Flag Template at the end of the post.
Things you need:
80 GSM Printing page
India Flag template
Scissors
Glue
For Toddlers
For Kids less than 3 years, Parents can cut the pieces out and help the little one glue the pieces on the right Spots. In this way, they get familiar with the National Flag of India.
While doing this activity you can teach the colours of the Flag. Remember, that the Top colour is not Orange, it should be learned as saffron.
For Preschoolers
Preschoolers can develop their scissors skills and fine motor skills with this activity. Give them the printed sheets and instruct them to complete the Flag.
They cut them out precisely and paste them in their respective place.
Kids can go wrong by switching the positions of Green and Saffon. One way to remember the order is by forming an acronym for the sequence. Just like the way we remember the colour of the rainbow with the VIBGYOR. So it is SWG.
You can also teach what each colour represents.
Saffron symbolizes courage and sacrifice.
white symbolizes peace and truth.
Green symbolizes faith and prosperity.
Hope you found Easy Cut and Paste India Flag template helpful.  To do this project later, please pin the image to your Kid's activity board.
Looking for more India Themed Activities, we have got you covered. Check out 20+ India Crafts, Printables and Activities for Kids. 
Download the template
Click on the button below to download the Indian Flag template. No sign-up is required.