All activities should be supervised by an adult. As an Amazon Associate, I earn from qualifying purchases. This post may contain affiliate links.
The Interactive Colour book for Toddlers
This Colours Busy book is perfect for Toddlers to learn 10 Colours and their First 50 words in a fun and interactive way. The best part is there are several ideas to play with loose parts of the book apart from matching them up.
In this blog, I will show you the Inside pages of the colours busy book, Details on how to make and use the book and the Developmental skills associated with the busy book.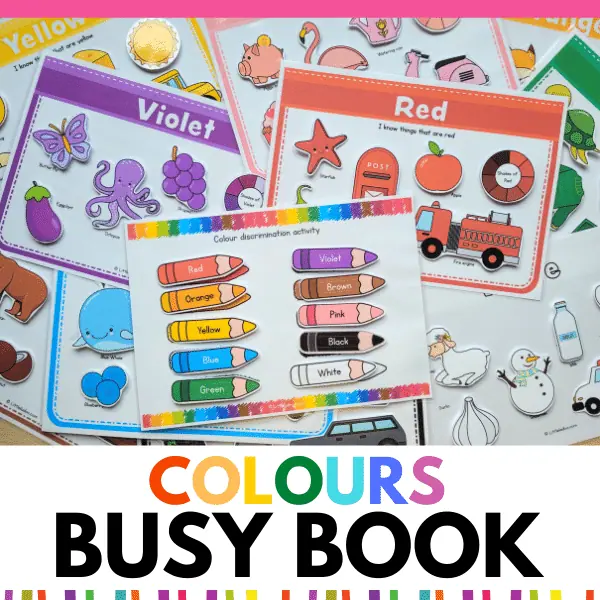 This post contains affiliate links, meaning that I will be compensated if you click through and take action at no additional cost. As an Amazon Associate, I earn from qualifying purchases.
What is a Busy Book?
A Busy book is a book with Interactive elements & activities that engages the child, promotes developmental skills, and teaches new concepts/things.
These early learning books are called with various names such as Learning binder, Printable Quiet book or Interactive activity book. In general, all these refers to a bundle of Laminated activity pages with Movable parts affixed with Self adhesive velcro dots.
Check this blog Everything you need to learn about busy books
So are you ready to have fun while teaching colours to your little one? Let's dive in.
Colours Busy book
A video speaks more than 1000 words and will help you see all details. Hence, glimpse all the activity pages of the busy book and several ways to play with it in this 3-minute video.
So much fun! Isn't it?
How to get the Printable? This busy book printable is available in my Etsy shop. You can purchase and instantly download 20 Printables pages and make a similar book for your child.
How to make the book? 5 simple steps. Print, laminate, cut, add velcro and organise them. I have added detailed instructions and a video at the end of the blog.
Read on to learn more about the special features of the busy book.
What's included in the pack?
Our printable Colours Busy Book has 11 Activity pages and a lot of matching pieces. To be precise, there are 70 vibrant ones. It also includes a cover page where you can write your child's name.
Each page introduces one colour with bright artworks and clear word labels. Here is the list of colours included- Red, Yellow, Green, Blue, Orange, Brown, Violet, Pink, Black and White.
Matching pieces of Colours Busy book
There are a total of 70 palm-sized vibrant matching pieces in this busy book.  The graphics are in a consistent style with bold black lines and are perfect for little kids.
Each colour mat has interesting elements like a Vehicle, an animal and also one or two foods. This makes the play interesting. You can sort and play with these pieces in several ways.
How to use the book?
This is a wonderful book with many play ideas, and the loose parts offer many opportunities to have fun. I have listed a few ones here.
Learning colours, discriminating them and matching.
Silhouette matching
Choose 3 or 4 mats and sort the colours. You can use also coloured paper instead of the sorting mats.
Use the loose parts for storytelling on a flannel/felt board. The velcro piece will naturally stick to the felt, so you can hand it a wall and tell a story.
Play "I spy with my little eye". Give clues/riddles and tell the kids to find the right answer among the pieces.
Sort by categories like Food, Animals, Vehicle, Things at home, etc.
Give them interesting tasks like Find 2 vehicles that fly, Choose 3 gifts for your friend, pick your favourite animal, etc.
Choose 3 things and tell them to say a sentence using all 3.
Choose 5 to 7 cards and ask to tell a story using all 5 pieces
Guess the beginning sound of the pieces
Form words with the movable alphabet
Use as props for sensory play
Play treasure hunt
But that's not all. Be creative and have fun! The possibilities are endless.
Developmental skills associated with the busy book
In general, Busy books allow kids to explore various activities and learn at their own pace. Here are some important benefits of the activities:
It helps kids to recognize, discriminate and name basic colours
Builds vocabulary and language skills
Develops Spatial awareness (matching the objects to their shadow.)

Handling small pieces develops their fine

motor skills/ muscle strength / Grasp. '

Improves hand-eye coordination.
Critical thinking skills develop when they sort by category.
It helps toddlers have fun in their quiet time.
Keep them engaged while travelling. (This makes a cute travel activity book)
Appropriate age to use the Colours busy book
There is no particular age, but this is perfect for any small kid who is learning colours. Toddlers and preschoolers will enjoy this book so much as the activities are challenging for their skills.
Currently, my daughter is almost 4, and we used the loose parts in several games, and it was fun. She enjoyed completing the worksheets, which is an additional resource.
How to make this busy book?
A bride description would be to print, laminate, cut out the matching pieces, add self-adhesive velcro dots and organise. Watch the video tutorial, which covers all steps in detail.
Tools and supplies required
How long will it take?
This book (with 11 activity pages) will take 2 hours to print/laminate/ cut, and organise.
Additional resources to practice colours
I have also created some worksheets to help toddlers/preschoolers practice their colour recognition and discrimination skills. It has matching, colouring, tracing activities and a colour mixing experiment. It is part of our busy book bundle.
Love my content? Would you mind sharing this blog with your friends and family who are homeschoolers?
Pin this busy book
Don't forget to save this printable early learning book for later! Be sure you are following Little Ladoo on Pinterest for fresh awesome ideas.
Final thoughts on Colours busy book
This book not only teaches colours but also helps with various developmental skills. Kids will love exploring each activity at their own pace. And most importantly, these are one of the most engaging educational toys you could ever find.
You can find many more busy books in my Etsy shop.
Related Busy books blogs: