All activities should be supervised by an adult. As an Amazon Associate, I earn from qualifying purchases. This post may contain affiliate links.
Fun Scissor Skill activity with 4 Ocean creatures
Here are 4 Ocean Creatures activities to improve both scissor skills and Letter/number identification. It is easy to prepare, and kids will love trimming the paper strips of the Cute creatures.
This post contains affiliate links, meaning that I will be compensated if you click through and take action at no additional cost. As an Amazon Associate, I earn from qualifying purchases.
Ocean Scissor Skills Activity
Do you do many printable activities every week and usually have many waste paper strips like these. The good thing is, there are plenty of ways to reuse these paper strips before recycling them.
This blog will show you our recent use of paper strips to make this Scissor skills activity with 4 cute sea creatures.
How to make the Ocean Creatures?
You might need a Few colour papers, Scissors, a Felt tip pen, or Black dry pastel to draw. And some white paper strips (Use the waste ones that you have collected).
If you do not have waste paper strips, you can make some using a Paper trimmer. Do you know paper trimmers save a lot of time? So if you do not have one, consider getting one soon.
I will begin with how I made the octopus.  The rest of the creatures are very similar, and you can figure out the process from the photos.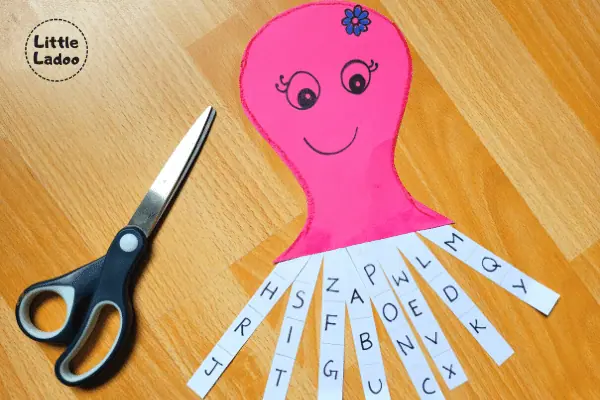 First, Draw a rough figure of the Body and cut it out. Later add details like eyes and mouth.  Now, glue 8 Long strips to its body(As the octopus has 8 tentacles). Write 3 or 4 Letters randomly on each strip. That's all the preparation you need to do.
I am sharing the Photos of the other three; Here is a tortoise with Numer 1 to 10, a Seahorse with 8 basic shapes, and  Squid with Tamil Vowels, Which is our Native language.
Now let me show you in a video how to play with these sea creatures.
Instead of writing on a Salt tray, you can use Movable alphabets or say aloud the Number / Letter so that the kids can cut them.
Final thoughts on Ocean Scissor skills activity
This is a great activity to work on both Scissor skills and Letter identification.
These sea creatures are just examples of making learning fun; you can make any cute drawing, include these waste paper strips, and make a fun activity. A few examples would be Santa's beard, Lions Head, Sun, etc.
Did you like this Ocean Scissor Skills Activity? Then pin this for later, or share this blog with your friends. You might also like another Scissor skills activity with a paper cup.
Related Scissor skills Printable activities