All activities should be supervised by an adult. As an Amazon Associate, I earn from qualifying purchases. This post may contain affiliate links.
Looking for a special way to show your love and appreciation for your dad? Our "All About My Dad" printable is the perfect solution!
While it makes a great gift for Father's Day, you can surprise and delight your dad with this printable any time of the year.
If you haven't seen our other Father's Day Ideas for kids, make sure you don't miss them either!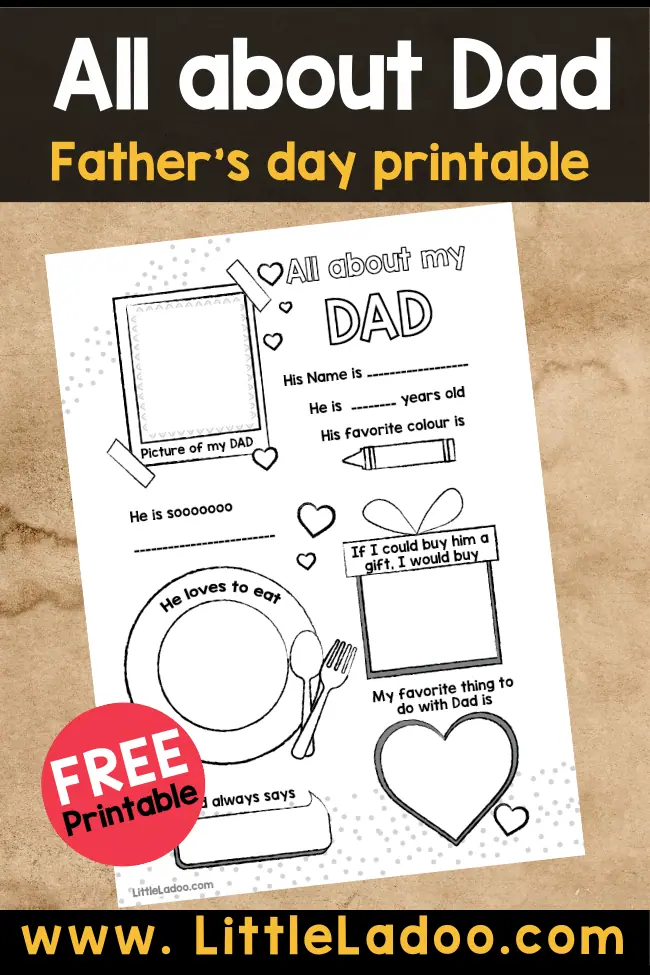 To download this free printable, simply sign up at the end of this post. You can also pin the image to save it for later.
What Does the "All About My Dad" Printable Contain?
The printable PDF is designed to help you express your feelings for your dad in a fun and creative way.
It includes a series of simple questions that you can fill out and personalize just for him.
The layout is child-friendly, with appealing graphics and sections for drawing instead of writing.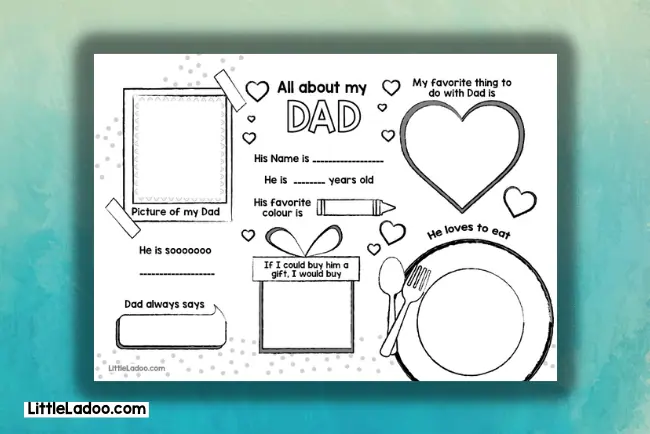 Here's what the "All About My Dad" printable contains:
My Dad's name is _____
My dad's age is _____
His favourite colour is _____
He is soooo _____
My favourite activity to do with Dad is _____
His favourite food is _____
If I could buy a gift for him, I would buy _____
Dad always says _____
You only need to write answers for a few of these questions, and for the rest, you can draw and colour. This makes the printable perfect for kids of all ages, including preschoolers.
The printable is available in both portrait and landscape formats, so you can choose the one you prefer. Once you've completed the printable, you can laminate it to create a keepsake or a special gift for your dad.
Reading it out loud to him will make him feel loved and appreciated.
The "All About My Dad" printable PDF is a wonderful activity that allows you to express your love and gratitude towards your dad.
More Father's Day Ideas for Kids
You might also like
Want to make a DIY card? Check out the Father's Day card that we made by painting with Marbles.
Not only for Father's Day but this Card craft is suitable for any occasion!
The "All About My Dad" Printable is a Thoughtful Gift for Father's Day and Beyond!
Download the "All About My Dad" printable
Expressing love and appreciation for your dad is a year-round endeavour. So Enjoy creating beautiful memories with our printable and make every day special for your amazing dad!
Sign up to receive it in your inbox.