All activities should be supervised by an adult. As an Amazon Associate, I earn from qualifying purchases. This post may contain affiliate links.
Are you ready to transform simple cardboard boxes into thrilling adventures? Get inspired with creative Cardboard maze ideas that will captivate your imagination!
In this blog, I'll share five unique maze ideas, ranging from simple designs to an epic digestive system maze that teaches kids how food travels through our bodies.
Let's dive in and unlock the wonders of cardboard mazes together!
Cardboard Maze Ideas for Kids
Creating cardboard mazes has become my absolute favourite activity among all the cardboard toys I've made for my toddlers. It's a fantastic way to engage their young minds and spark their creativity.
These 3D mazes are perfect for toddlers and preschoolers, and you can increase the complexity as your child grows.
How to Make Cardboard Mazes?
Briefly, you need to Cut thin strips from cardboard sheets and construct a maze on a cardboard base using a hot glue gun.
For step-by-step instructions and visuals on how to create each of these mazes, click on the respective titles or pictures. Feel free to save this blog for future reference and inspiration.
This is the perfect beginner's maze, and it was the first one I created for my 18-month-old toddler.
It's straightforward and easy to navigate, making it ideal for young children.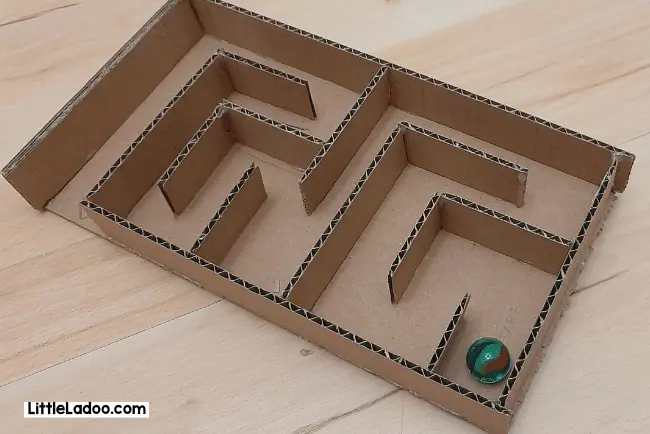 Take the maze to the next level with this design suitable for preschoolers.
It features multiple branches and two possible routes to reach the target, offering a bit more challenge and decision-making.
Make mazes even more fun by crafting them in the shape of adorable animals.
Our elephant maze has been a huge hit with our toddler, combining playtime and problem-solving in one delightful toy.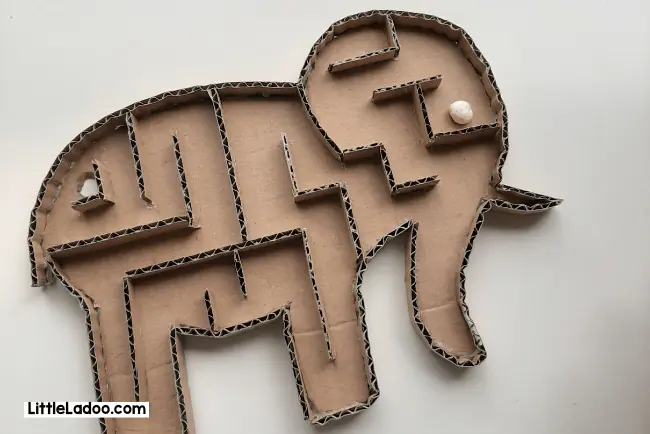 For a festive twist, try creating a rangoli-themed cardboard maze. This maze incorporates holes in the paths, adding an extra layer of challenge and intrigue.
Kids will love solving this puzzle during Diwali or any other celebration.
Our digestive system maze is a beloved choice among teachers and parents alike.
It serves as an interactive and captivating learning tool, helping little children understand how food travels through their bodies.
Teens have also used this as inspiration for their school science projects!
These imaginative labyrinths offer a world of excitement and discovery, encouraging children to think critically, develop spatial awareness, and have a blast.
If you're looking for an even easier option, don't miss our shoebox maze built with straws. It's super simple to make!
Additionally, you'll find two other clever ways to create toys for kids using shoe boxes. Happy maze-making!
Are you looking for Printable Mazes? Check out Diwali Printable Maze for Kids.