All activities should be supervised by an adult. As an Amazon Associate, I earn from qualifying purchases. This post may contain affiliate links.
This "All About My Mom" printable makes an excellent gift for Mother's Day, but can also be used any time of the year to surprise and delight mom.
It helps the child to express their love and gratitude towards their mothers in a fun and creative way. You can download the printable at the end of the post and let the child colour and fill in their answers.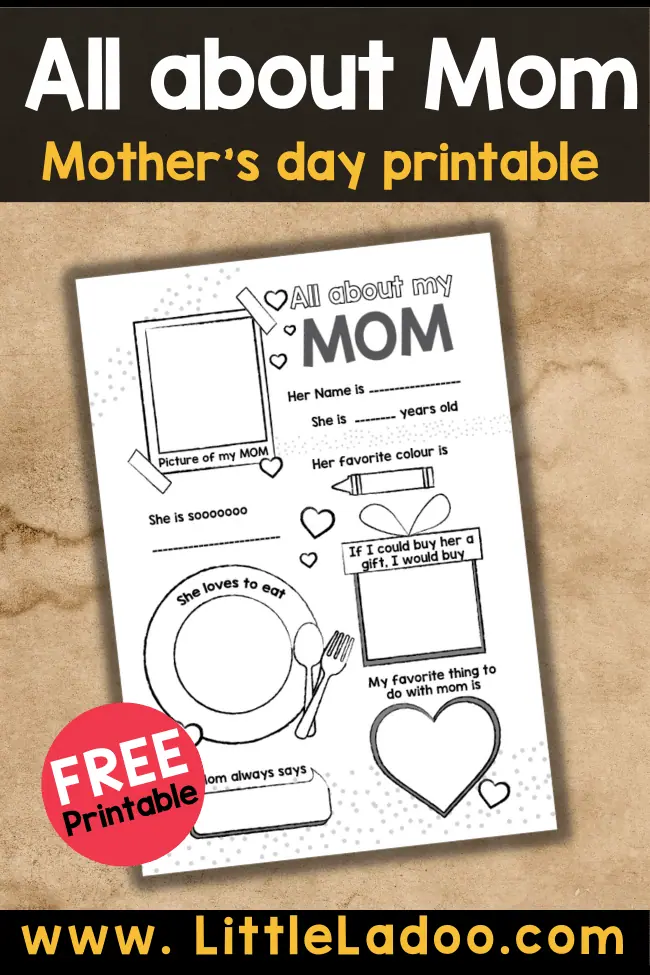 What Does the "All About My Mom" Printable Contain?
The "All about my mom printable is a Single Page PDF that includes simple questions about mom that kids would love to colour and write!
To make the printable PDF suitable for young kids,  I have included simple Questions and also used pictures and graphics that appeal to them. The printable has sections that they can draw instead of writing everything.
The simple questionnaire includes
My Moms name is  _____
My mom's Age is  _____
Her favourite colour is  _____
She is soooo _____
My favourite activity to do with Mom is  _____
Her favourite food is  _____
If I could buy a gift for her, I would buy _____
Mom always says _____
Kids need to write answers only for a few of these and for most of them they can draw and colour. That is why this All about my mom printable is perfect for Preschoolers.
if you are looking for Older kids, we have a big list of Mother's Day interview Questionnaire for kids. Check it out.
This printable is available in both Portrait and Landscape format, so print the one that you like.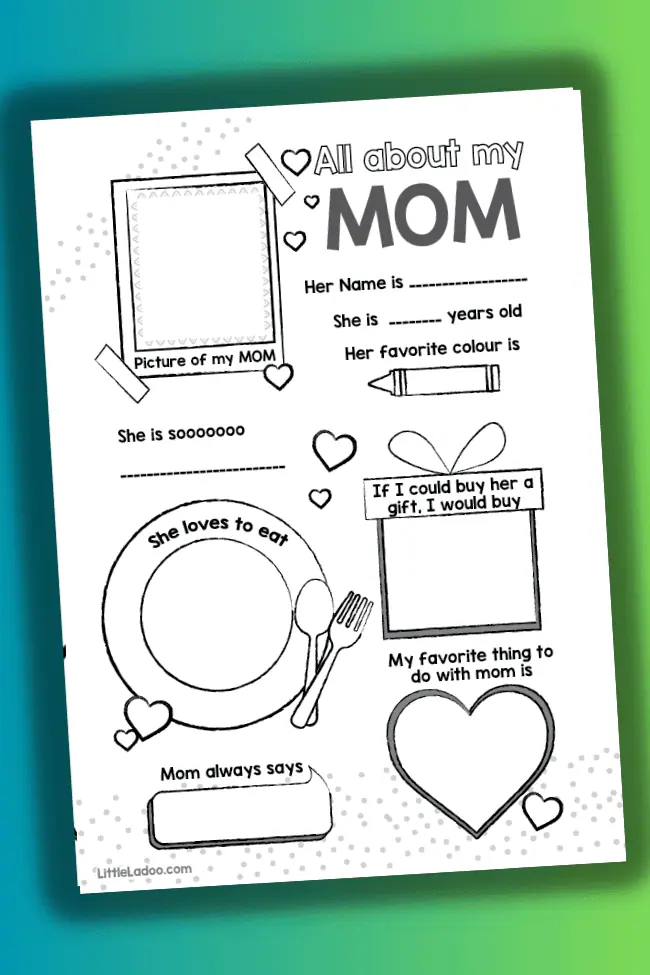 Once the printable PDF is completed, it can be laminated and turned into a keepsake or a gift for their mom. Preschoolers can also read it out loud to their mom, which will make her feel loved and appreciated.
This "All About My Mom" printable PDF is an excellent activity for kids to express their love and appreciation towards their moms.
It is a fun and creative way to celebrate the bond they share and create a lasting memory. You can download this free printable at the end of the post.
To save it for later, pin this image.
These Mother's Day handprint cards are a great choice if you're searching for printables to create beautiful handmade cards. With 8 unique designs to choose from, each card features a heartfelt message for Mom and her child's handprint.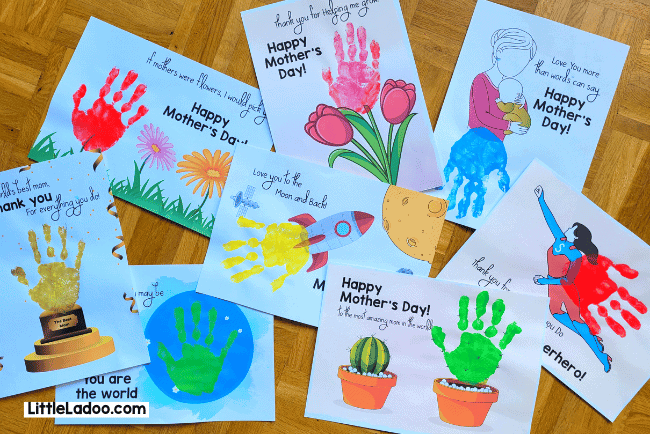 These cards will undoubtedly hold a special place in a mother's heart for years to come.
Get these Mother's Day Handprint Art Printable 
You might also Like
Download All about my Mom Printable
Sign up to receive the Printable in your inbox.