All activities should be supervised by an adult. As an Amazon Associate, I earn from qualifying purchases. This post may contain affiliate links.
With Krishna Janmashtami nearing, kids prepare to embody Krishna's spirit with costume, flute and crowns. However, we understand that finding the perfect Krishna crown can sometimes be a challenge.
To make this process easier for you, we've crafted a convenient solution – a printable Krishna Crown template.
Creating a Crown for Kirishna with paper has never been simpler. Our printable template eliminates any complexity.
Just Print our Template, follow the easy instructions to cut and glue, and witness the transformation of Sheets of paper into an adorable Krishna crown that your kids will absolutely adore.
Additionally, take a peek at all the enjoyable Janmashtami Activities for kids we have available right here!
Things you will need to make this DIY Krishna Crown
Krishna Crown Printable template
Scissors
Glue
Embellishment – Gold Stones ( Optional)
Crafting Your Krishna Crown: A Step-by-Step Guide to Creating Magical Headwear!
Download our Free Printable Krishna Crown Template, available at the end of the post.
Contained are two pages: one showcases the crown's front section, while the other features the intricate peacock feather and back portion of the crown.
To begin, print the template on sturdy cardstock or 120GSM paper for optimal results, as we've used 120GSM paper ourselves.
Employ precision scissors to cut out all the individual pieces.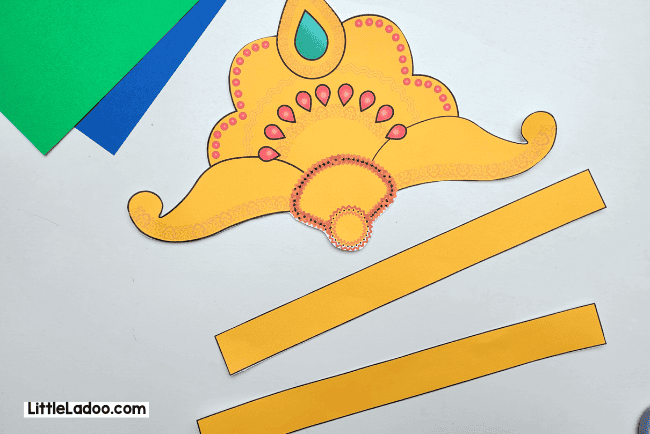 Now, let's bring it all together. Apply Glue to the two strips and affix them to the centre section, then attach the striking peacock feather.
You have a choice: leave it as is or amplify its allure with gold stones and shimmering glitters.
Once you're content with the embellishments, let's secure the ends. There are several methods to achieve this. I opted for using two paper clips, allowing for size adjustments as needed.
Alternatively, you can place the crown on your child's head, trim any excess, and adhere the ends for a perfect fit.
Another approach involves using Velcro fasteners, though this is less recommended due to potential tangling with hair.
Regardless of the method you choose, the outcome promises to be splendid, ensuring your child will adore wearing this Krishna crown during festive dress-up moments.
You might also like
Download your Krishna Crown Printable
Click on the link below to Download the Printable in PDF format!