All activities should be supervised by an adult. As an Amazon Associate, I earn from qualifying purchases. This post may contain affiliate links.
This easy and colourful paper plate peacock craft is perfect for kids of all ages. With just a few materials, you can make a beautiful and vibrant Peacock hang on your wall or display on a shelf.
Kids will love the bright colours of the plumage, and adults will appreciate the simple but elegant design. Let me show you how to make the Bird Craft with a Free Craft template.
If you are like us, You might enjoy all our Paper Plate Craft Ideas for kids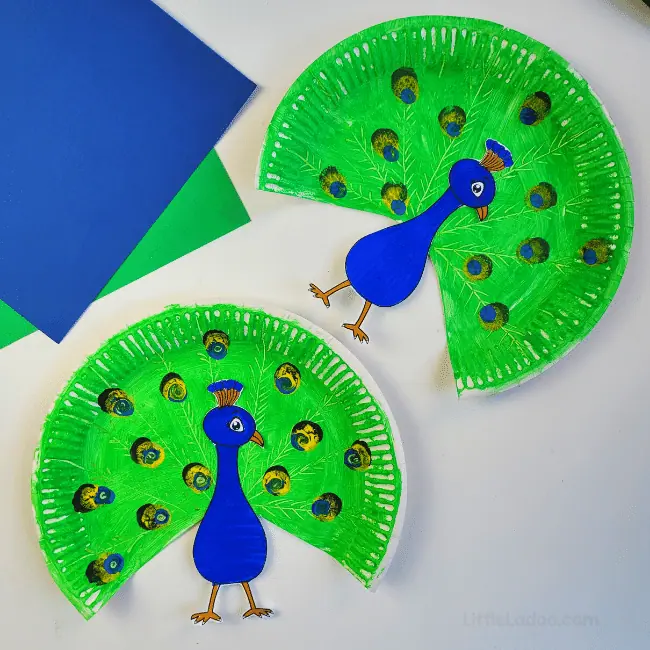 This post contains affiliate links. As an Amazon Associate, I earn from qualifying purchases.
Paper Plate Peacock Craft
This kid-friendly Paper Plate craft is so easy to put together and you probably already have everything you need at home.  I love it when the project requires less number of supplies and this is one such Easy craft project.
Things you need
Watch a Video Tutorial
Directions to Make the Paper Plate Peacock Craft
Download the Peacock craft template at the end of the Post and print it on Cardstock. You can also make a simple drawing of the same if you choose not to print. 
First, Colour the peacock's Body Blue and the other features Orange/ Yellow.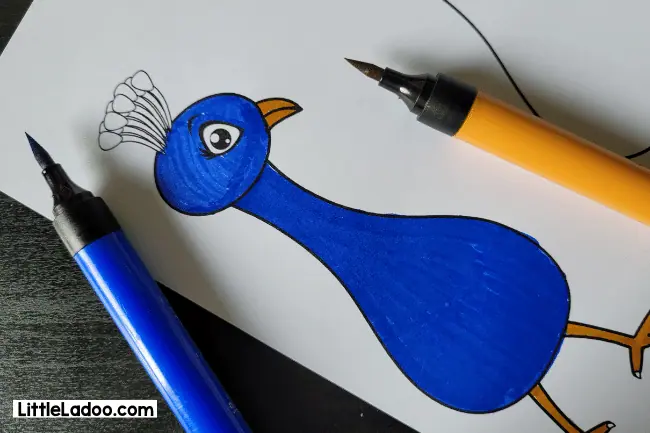 Now cut it out precisely with a scissor. Kids may need a little help at this step.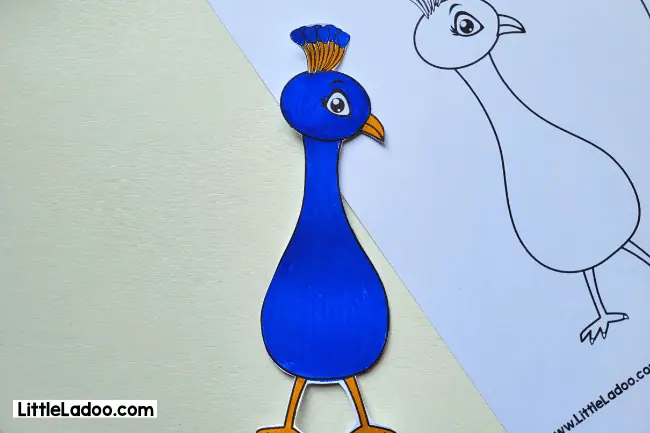 Now that the body is ready we will start to make the Plumage. Grab a Paper plate, and Cut a Part out, resembling a crescent shape.  You may draw a rough line before cutting it.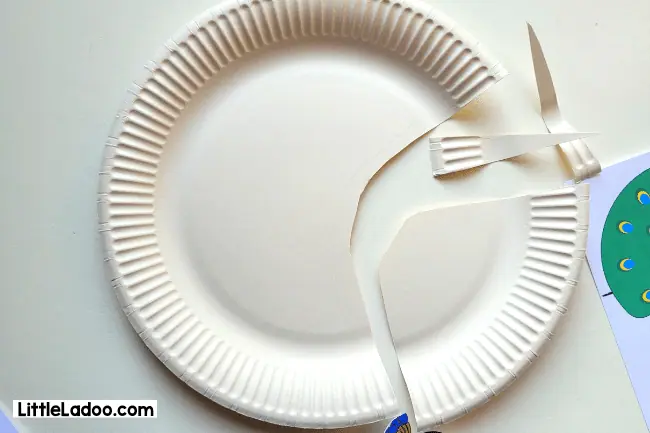 Use a generous amount of green paint and paint the paper plate.
Before it dries, use a toothpick to create patterns of the feathers Starting from the Center to all directions.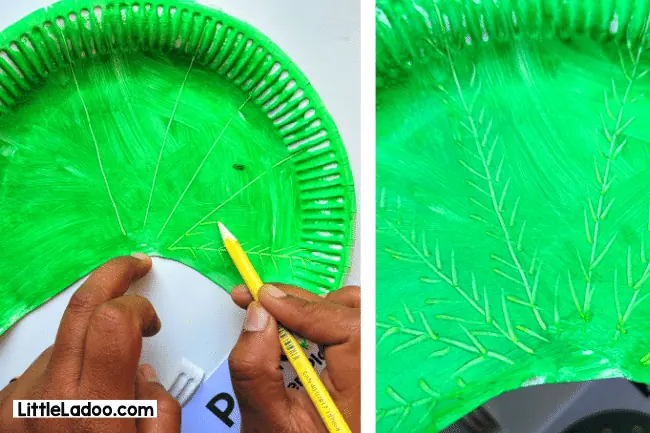 Finally, make some random dot patches with Yellow, Dark green, yellow and Blue paint. For this step, you can use a circular sponge Paint brush or just your fingers.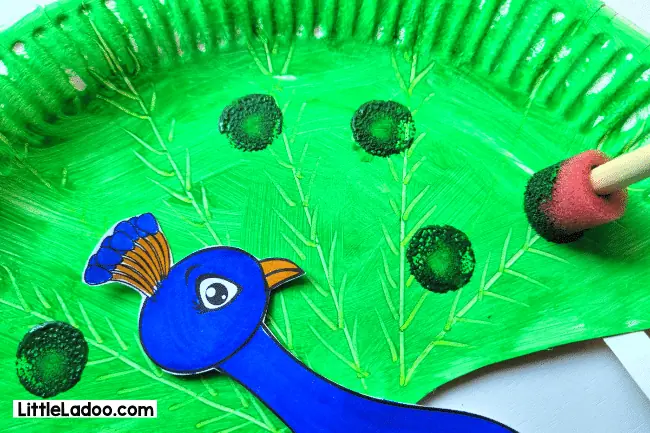 And it is Done! Such an Easy-peasy Craft.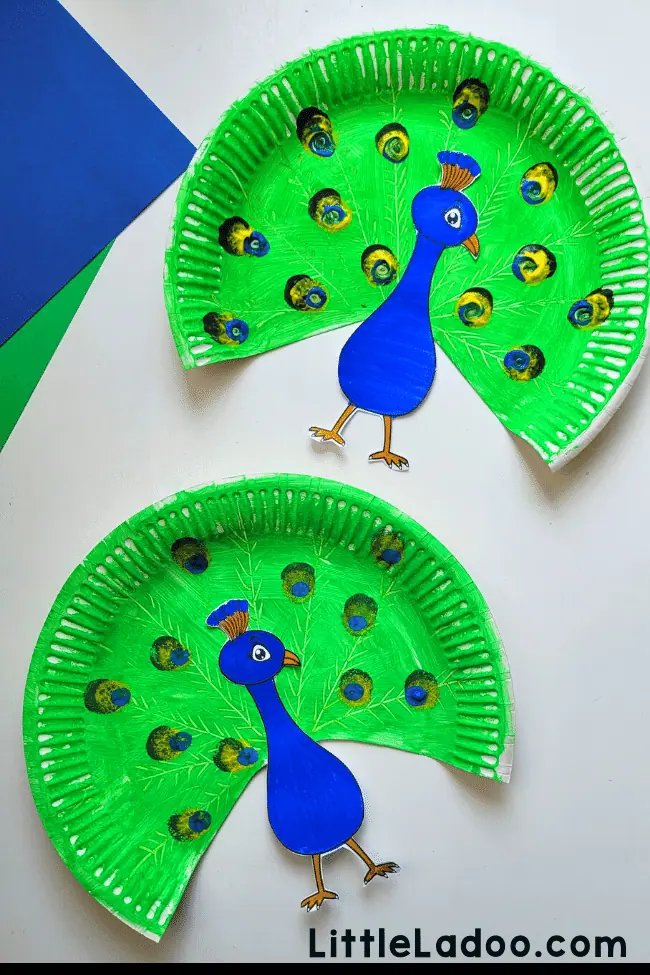 If you love this Idea, Share it with your friends. If you want to do it later, Please pin this image on your Board.
Peacock Facts for kids
We always learn facts or watch an educational videos about the Craft we make. Here are some Interesting Peacock facts for kids
Peacocks are one of the most attractive and peculiar Birds.
Peacock is the National Bird of India.
Peacocks are the largest of all the Birds that can fly. But they can cover only short distances.
Peacocks cannot Swim
Peacocks are omnivorous, Which means they eat Plants, fruits, grains and also Insects
Hindus consider peacocks Sacred. In Hindu Mythology, lord Kartikeya rides on a Peacock.
Peacock is the male bird, while Peahen is the female and together they are known as peafowl.
Only the Male Species Have Fancy feathers.
A group of Peacocks is Known as a party.
Peacocks make a loud screeching sound.
Peacocks shed their adorable feathers every year.
I hope you enjoyed reading the Facts to your Kids.
You might also like 20+ India-Themed Activities for Preschoolers
Similar Paper Plate Crafts
Download the Craft Template
Just click on the button below to download the Peacock Template in a new tab.