All activities should be supervised by an adult. As an Amazon Associate, I earn from qualifying purchases. This post may contain affiliate links.
Red Fort is a historical fort and a significant monument of India. Recently, We created this 3D building craft with Cardstock paper.
It is super easy to do and is perfect for kids of all ages.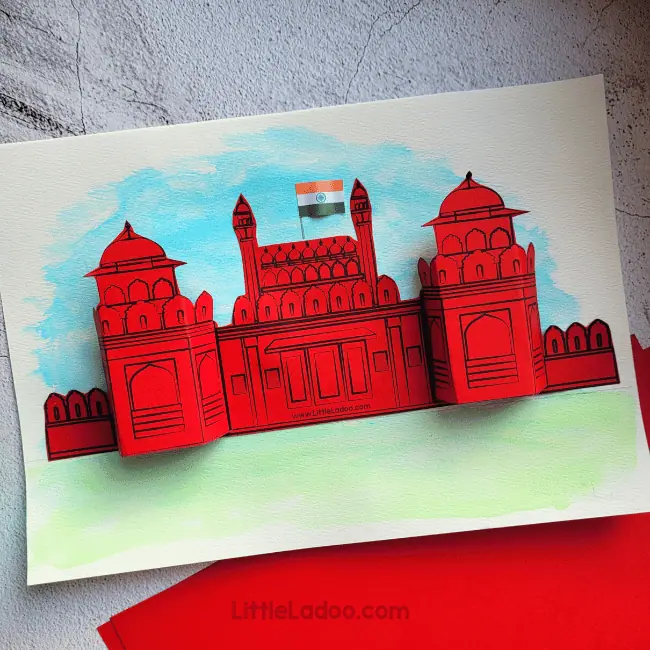 This post contains affiliate links, meaning that I will be compensated if you click through and take action at no additional cost. As an Amazon Associate, I earn from qualifying purchases.
Red Fort Paper Craft
This Red Fort Paper Craft is a perfect activity to do as part of the India Unit or "Monuments of India" Unit. We have a Printable Template which you can get at the end of the post.
Also, be sure to check out all the other India-Themed Activities for kids.
Before you learn the Instructions here are some Important facts about Red fort.
Important Facts about Red Fort:
Built by Shah Jahan
Located in Delhi
UNESCO Heritage site
Architectural Style: Indo-Islamic
Architect: Ustad Ahmad Lahori ( The architect of Tajmahal)
Things you will need to make the 3D Red Fort:
Red Fort Template
Scissors
Glue
Cardstock Paper(To Print)
Watercolour Paper (For the Background)
Watch Video Tutorial
Directions to make the Red Fort Craft
Download the Red Fort Template at the end of the post and Print it on Red Cardstock. You can also Print on White cardstock and colour it.
The Sheet has 3 Pieces of the Building. Cut them out precisely with scissors.
So now Take the smaller pieces and Fold them along the vertical lines as shown in the image below. You need to make 4 folds. Please watch the video Tutorial for better clarity.
Once the Pieces are ready Paste them over the empty spaces on the Base. Your Red fort is almost ready.  You can leave this as it is or can create an additional Background as we did.
So Grab an A4 Size watercolour paper and Paint some sky and Grass for the background.  Let it Dry for 5 minutes.
Now Just paste the Redford over the Watercolour paper.
We also Printed and Added a Flag, which makes the Project complete. Did you love the result?
Alright, here is some more information about Redfort to teach little children while making this Craft.
Red Fort Facts for Kids
The Red Fort of Delhi is an iconic landmark in India steeped in history and culture.
It is a monument of great historic, architectural and cultural significance.
It is Located in the city of Delhi,
Red Fort was Built by Emperor Shah Jahan in the mid-17th century,
This imposing fort was constructed with red sandstone walls that stretch for 2.5 km and soar to a staggering 33 meters high.
Its extensive grounds are comprised of multiple palaces, courtyards, pavilions and gardens that paint a vivid picture of the grandeur and opulence of Mughal architecture.
The Red Fort also holds significant cultural importance to the people of India as it was from its Lahori Gate that Prime Minister Nehru raised the Indian flag to mark India's independence from British Colonialism on 15th August 1947.
Moreover, every year on Independence Day the Prime Minister hoists the National Flag at the fort and delivers an inspirational speech that is broadcast live throughout India.
The Red Fort complex also houses museums and art galleries that display artefacts illustrating the life of royals during those times – including paintings, jewellery, weapons, carpets etc
Kohinoor diamond was actually a part of the royal throne of Shah Jahan at the Red Fort.
All these facts make it a must-visit heritage site for anyone wishing to explore its illustrious past.
If you want to do this later, just pin this image so you can come back later.
Download the Template
So ready to make this craft? Get the Red Fort Template by signing up!
You might also like 20+India-Themed Activities for kids