All activities should be supervised by an adult. As an Amazon Associate, I earn from qualifying purchases. This post may contain affiliate links.
Learn fun facts about India with these FREE Quiz cards. There are a total of 20 General Knowledge Questions about India that are suitable for young kids.
I created these Free Printable Quiz cards as part of our India unit which includes many India Themed Crafts, Printables and Activities. Make sure to check them all!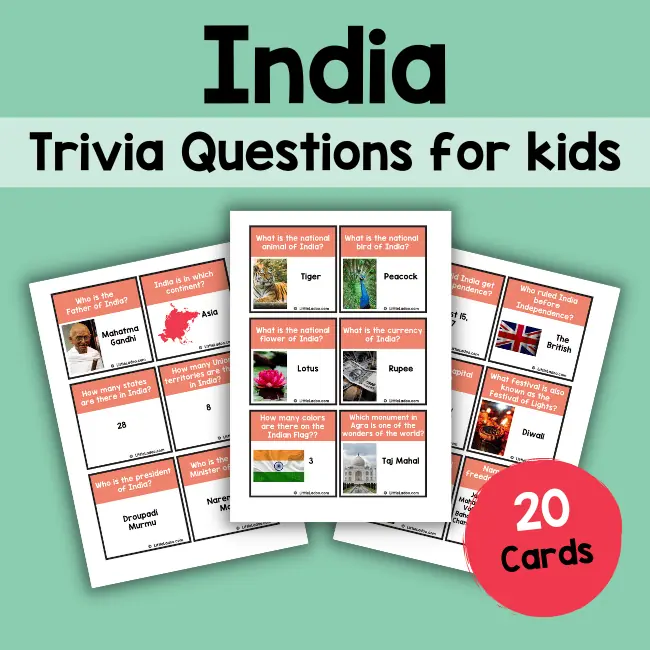 Simple Questions about India for Kids
India is a country that is home to many languages, religions, traditions, and festivals. It is the seventh-largest country in the world by area and the second-most populous country, with over 1.3 billion people. India is also known for its delicious cuisine, iconic landmarks, and historical monuments.
Through this quiz, children will have the opportunity to explore and learn about India's top facts!  These knowledge cards will provide an interactive and engaging way for children to learn about India, which they can enjoy with friends and family.
So, let's dive into the world of India and see how much we know about this incredible country!
20 General Knowledge Questions about India
The original post was published in 2021 and has been updated to reflect the latest information since then, including changes in political leadership. The downloadable cards available are also the most recent version.
Go ahead and test your child's general Knowledge with these 20 fun and interesting questions about India.
India is in which continent? Asia
How many states are there in India? 29
How many Union Territories are there in India? 7
Who is the President of India? Ram Nath Govind
Who is the Prime Minister of India? Narendra Modi
When did India get its Independence? August 15, 1947
Who ruled India before Independence? British
What is the capital city of India? Delhi?
What festival is known as the Festival of Lights? Diwali
What is the Festival of Colours called? Holi
Name a Few freedom fighters of India Jawaharlal Nehru, Mahatma Gandhi, Sardar Vallabhbhai Patel, Lal Bahadur Shastri, Subhash Chandra Bose, Jhansi Rani Lakshmi Bai.
What is the national animal of India? Tiger
What is the national bird of India? Peacock
What is the national flower of India? Lotus
What is the currency of India? Rupee
How many colours are there on the Indian Flag? 3
Who is the father of India? Mahatma Gandhi is the father of India.
Which monument in Agra is one of the wonders of the world? Taj Mahal
Which Indian City is called the pink city? Jaipur
What is the Name of the Desert in India? Thar desert
You have two options to access the trivia questions: you can read them directly from the blog, or you can download and print them for your convenience.
These cards have been created in a question-and-answer format, and some of them include pictures. This help in learning for children who may not know the answer.
Therefore, if your child is at least four years old, I recommend trying this India Quiz.
Let me know how many your child knew from these questions.
Do you want me to add some more India quizzes (Questions) for kids here? Let me know in the comments section.
More Fun India Activities for Kids
At LittleLadoo, we have many resources that could be perfect for your India Unit.
These India colouring pages include significant elements that represent India, such as the Taj Mahal, Elephant, the beloved food samosa, traditional wear – saree, and many more. You can print them off and enjoy colouring!
Red Fort is one of the most important monuments of India. You can make a Redfort Papercraft with our Free Printable Template
India Learning Binder
This Busy Book Binder is an excellent resource for children to learn about India. It includes 11 activities that cover various topics such as the location of India, national symbols, monuments, food, clothing, dances, and more.
It is designed in such a way to engaging and interactive way to Introduce children to India's diversity and uniqueness with the engaging and interactive Binder.
Pin this India Quiz for kids for later!  
Download the India Quiz Card Printable.
If you want to print these questions as cards, Kindly enter your Email ID to receive the "India Quiz for Kids" PDF directly to your Inbox.
This printable is only for personal use. If you want to share it with your friends, share this blog on your favourite social media.
More India Cards for Kids