All activities should be supervised by an adult. As an Amazon Associate, I earn from qualifying purchases. This post may contain affiliate links.
Looking for a fun way to celebrate Halloween with your kids? Why not try some free printable Halloween colouring pages?! There are 6 pages to choose from, so your kids can get creative and have a blast celebrating this spooky holiday. So grab some crayons or coloured pencils and get started!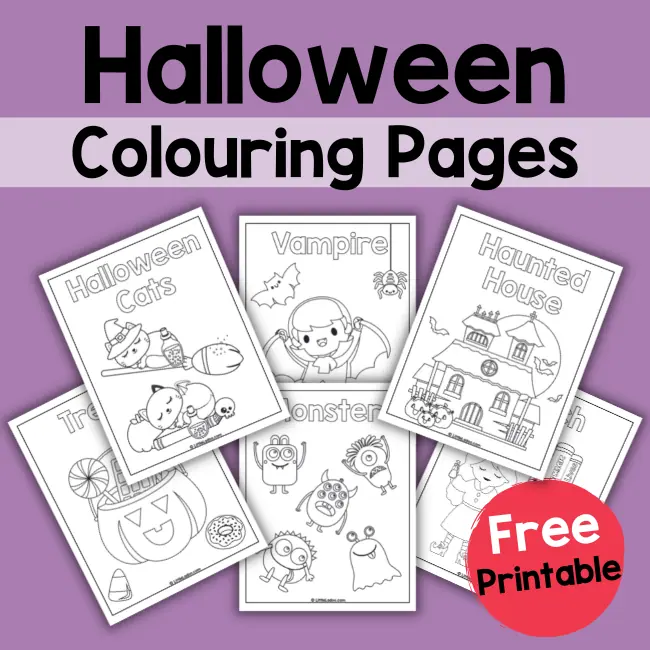 This post contains affiliate links, meaning that I will be compensated if you click through and take action at no additional cost. As an Amazon Associate, I earn from qualifying purchases.
Halloween Colouring Pages
Halloween is a fun time of year for both kids and adults. This free printable Pack has 6 Halloween colouring pages. Here is the list
Witch
Halloween cats
Vampire
Haunted house
Halloween treats
Monsters.
Colouring pages are a great way to keep kids entertained and busy and these drawings are perfect for little kids! The colouring pages also have text at the top of the drawing for kids to colour the word.
So ready to download the free printable?
Download the Halloween colouring pages
To receive your Free printable PDF right in your inbox, Please enter your details in the form below. I will send all Halloween colouring pages listed above in one PDF file to download and print.
Please note that the Printable is for personal or classroom use only. If you have a family or friend who would like a have this, please send them over to this post to download their own copy.
Pin this Image for Later!
Want more Colouring pages?
I have created many colouring page packs for different themes. Please check out the Colouring Pages section to download your favourites.
Looking for More Halloween Printables and Crafts?
We have many free printables and easy craft ideas for Toddlers and Preschoolers. Check out the blog-  Halloween Activities for Kids
Also, Pin this blog for later