All activities should be supervised by an adult. As an Amazon Associate, I earn from qualifying purchases. This post may contain affiliate links.
Looking for a fun and interactive way to keep your Toddler or Preschooler Busy this fall? Look no further than our Fall Busy Book! This 11-page book is full of fall-themed activities that will keep your little one engaged and learn about fall.
This post contains affiliate links. As an Amazon Associate, I earn from qualifying purchases.
What will Kids learn with the Fall Busy book printable?
The Fall Busy Binder has 11 interesting Topics that are perfect for young children.
Learn to build name with Fall leaves

Shapes

Colours of Fall 

What animals do in Fall Season

Leaves, Nuts and Cones of Fall

Number Identification 1 to 10

counting 1 to 10

Types of Mushrooms

Lowercase Letters and Building a 3 Letter word

The life cycle of Pumpkin

Signs of Fall
These Topics are designed with a variety of activities like Sorting, Matching, Puzzle, 10 Frame counting, etc. This makes learning Enjoyable.
Let's Look inside Fall Busy Book
Here is a very Quick preview of all the Activity pages from the Fall Busy book.
How to make the Busy Book?
Get the Busy Book Printable
Print the Activity Pages, Laminate them, and Organise them in a File folder.
 Laminated and Cut out the Pieces in the Cutout pages. Affix them using Self Adhesive velcro dots.
Here is a Detailed article on how to make a Busy Book + Tools and Supplies needed.
11 Activities from the Fall Busy Book
Like spring, we can see a lot of changes in the environment during Fall. Leaves change colour, Animals change Behaviours, and We wear different clothing and so on!
This Busy Book captures all the Most common Fall scenes with cute graphics and is a perfect Fall Activity Binder for Toddlers and Preschoolers. Check it out in the pictures below.
During Fall, a lot of changes happen in Plants. Learn why and also the Yellow, red and orange pigments that give the leaf its colour. Toddlers can simply sort the colours.
Animals Prepare for the coming winter months. What do they do exactly? This page will show you a general idea of Hibernation, Migration and Adaptation.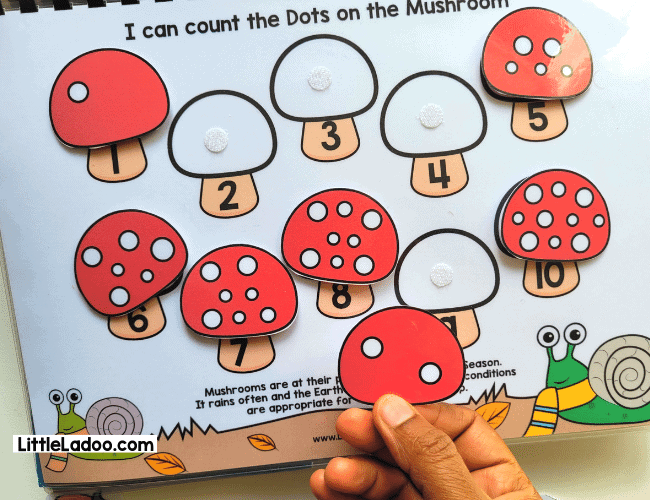 It would be fun to build words using Alphabet pumpkins, while toddlers can simply match them on the Activity page. (The final version is slightly different from the image below and has letters on the activity page as well)
The Final one is,  Learn the signs of Fall by completing the picture. 
These 11 Activities are suitable for Toddlers and Preschoolers! You can either laminate and make a Velcro matching activity or Simply print on cardstock, cut and use it for your Fall Unit study.
Have you checked our Summer and Spring Busy Books? A winter one is coming too! It would be fun to have a new one for each season and learn new things.
Get The Fall Busy Book Printable 
Note: If you want any of these pages as a separate printable, Please leave a comment so I can make a separate listing. For now, you can download the whole Set here.
Also, Let me know which activity is your favourite.
Pin this Busy Book
You Might Also Like the Halloween Busy Book