All activities should be supervised by an adult. As an Amazon Associate, I earn from qualifying purchases. This post may contain affiliate links.
If you're looking for a country to study with your preschoolers, India is a great choice! With its rich culture and history, there are plenty of things to learn about. This India Busy book is a fascinating way to introduce India to your Toddlers/Preschoolers.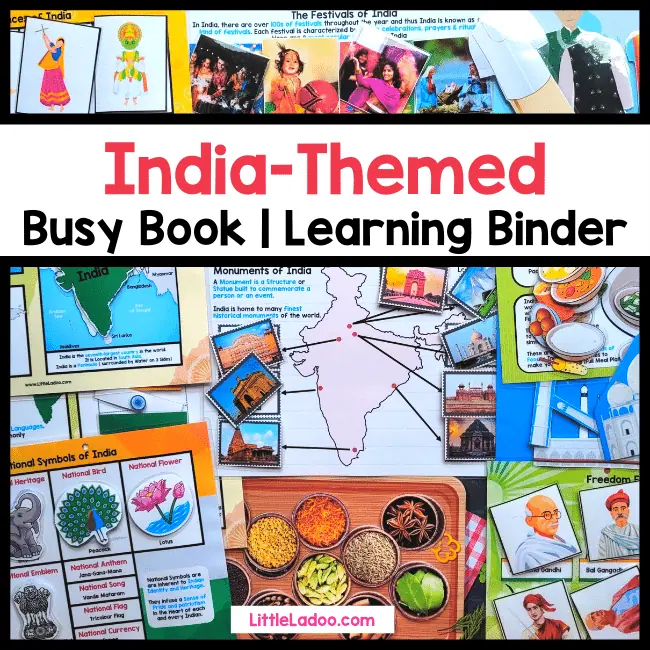 What will Kids learn with the India Busy book printable?
The India Busy book has 11 interesting Topics that are perfect for young children. 
Location of India
Important facts
National symbols
Freedom fighters
Spices of India
Indian cuisine
Festivals of India
Dances of India
Costumes of India
Monuments of India
Taj Mahal.
Learning these can be both Educational and Enjoyable for Preschoolers.
We also have a separate bundle on the States and union territories of India. 
Moreover, we have a number of Free printables, crafts and India-themed activities, that could help you make Awesome Learning Activities for India unit study.
Let's Look Inside India – Busy Book
Here is a very Quick preview of the Activity pages of the India Learning binder.
There is so much information that you can teach your child with this binder. It's a very handy all-in-one resource to learn about India.
How to Make the India Busy Book?
Get the Busy Book Printable
Print the Activity Pages, Laminate them, and Organise them in a File folder.
 Laminated and Cut out the Pieces in the Cutout pages. Affix them using Self Adhesive velcro dots.
Here is a Detailed article on how to make a Busy Book + Tools and Supplies needed.
11 Activities from the India Busy Book
India is a Land of Diversity with many traditions and Customs. For instance, there are over 1000 Festivals throughout the year. In this book, I have listed the most popular things in each category. Let's have a look.
The first thing kids will learn is India's location in the world and its neighbouring countries.  On page 2, Learn important facts and Build the Flag of India.
The Traditional Spice box is an important part of the Indian Kitchen and makes Food Delicious. This simple Printable Busy book page can be used to match the real-world Spices from your kitchen. 
Here we have 20 Popular food in India, and Kids can make their own Thali (Full Meal Plate). This is a great activity that  Kids will love to play over and over. 
3 Traditional Dresses for the man and 4 Traditional Dresses for the woman. Isn't it so adorable? 
These 11 Activities are suitable for Toddlers and Preschoolers! You can either laminate and make a Velcro matching activity or Simply print on cardstock, cut and use it for your India Unit study. 
Let me know which activity is your favourite.
Note: If you want any of these pages as a separate printable, Please leave a comment so I can make a separate listing. For now, you can download the whole Set here. 
Get the India Busy Book Printable 
Pin this image for Later