All activities should be supervised by an adult. As an Amazon Associate, I earn from qualifying purchases. This post may contain affiliate links.
If your child has a passion for all things vehicle-related, then these 5 Vehicle worksheets are the perfect way to encourage learning while engaging their interests.
Designed to support the development of basic skills, these worksheets offer a range of fun activities that incorporate different types of vehicles. With a focus on concepts such as matching, counting, and tracing, these worksheets provide a valuable educational resource for parents and teachers alike.
Also, Make sure to check out all our Worksheets for preschoolers which include a wide range of themes and topics for holidays and beyond.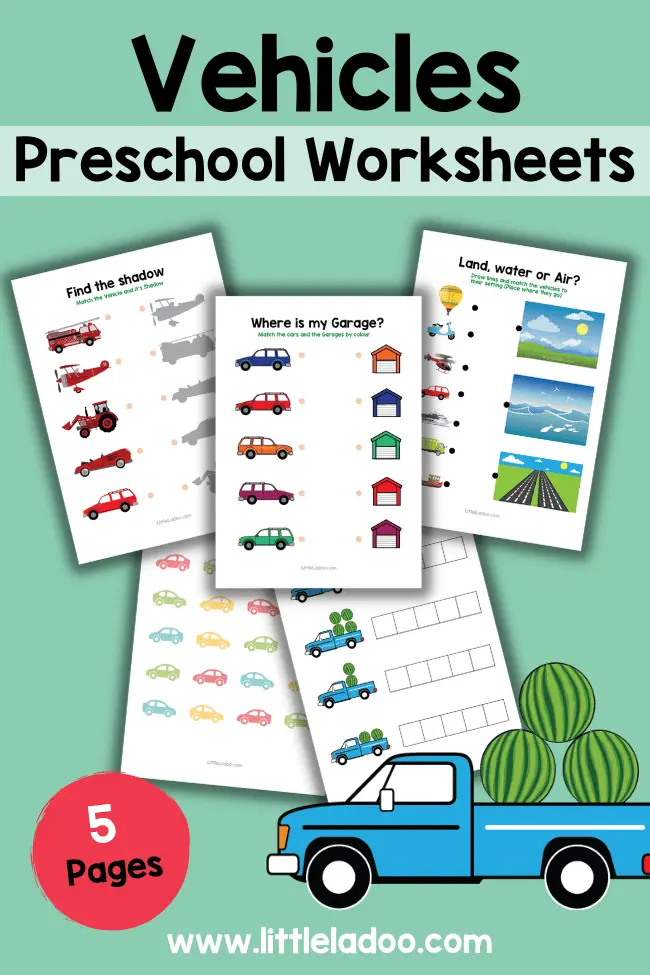 Vehicle Preschool Worksheets
This printable pack contains 5 simple activities suitable for kids above 2 years. To do these activities, the child should be able to hold a pencil and draw a line/circle.
Read aloud the instruction, and make the child understand each activity. Here is the list of Activities included in the printable pack.
Colour matching
Shadow matching
Sort by direction
Counting
Sort the Vehicles by Land, water, and air.
Scroll on to see all the activities.
Please note: To have high-Quality pages, Please Download and print from the PDF file at the end of this post. Do not download these images ( these are optimized images  for illustration purposes)
This First worksheet is a simple colour-matching activity that will help to develop your child's visual discrimination skills. The child has to draw a line connecting things by colour and shadow.
Sorting game- Different vehicles go to different places. In this worksheet, the child identifies the vehicle, connects the vehicle to its setting ( Air, land, water), and draws a line. 
Worksheet 3 has Shadow-matching Activity that helps kids with visual discrimination skills.  Another simple activity is direction sorting where the child has to find and circle all the cars that go right.
Here is a worksheet to practise counting up to 5.  Count the Watermelons in the truck and place the equivalent quantity of pebbles/ buttons in the blocks. This worksheet is perfect to practice counting skills for kids who are yet to learn number identification.
So 5 different ones for fun learning!
Not ready to print now? Pin this image on your child's Educational board to visit later.
How to use the worksheets multiple times?
I have designed these worksheets for one-time use, however, if you want to use them multiple times, consider doing one of the following.
Laminate these printables and make it easy just to wipe clean each time.
Use these wipe pockets. You can simply slide the sheets into these pockets and wipe them when done. Here is ours.
These pouches are quite pricey but we are loving them. The pouches are very transparent and you can use this for all the worksheets other than the colouring pages. You can find them on Amazon as Dry Erase pockets
Similar Worksheets for Kids
More Vehicle Activities
Combine these worksheets with any of these activities if you are doing vehicle theme activities.
Download the Vehicle Worksheets
To download the printable pack, simply fill in the form below. Don't miss out on this opportunity to help your child grow and learn while exploring their love of vehicles!
Please note that the Printable is for personal or classroom use only. If you have a family or friend who would like a have this, please send them over to this post to download their own copy.