All activities should be supervised by an adult. As an Amazon Associate, I earn from qualifying purchases. This post may contain affiliate links.
The complete guide to making your own Number Pinata
Have a birthday party? You'll need some decorations for the party, and what better than a Number Pinata to enrich your Birthday Table? With this tutorial, you will know how to make a Number 2 Pinata.
This post contains affiliate links.  As an Amazon Associate, I earn from qualifying purchases.
What is a Pinata?
A Traditional Pinata is a hollow, paper-mâché or candy-filled doll shaped like an animal or person. Pinatas are popular at children's birthday parties and other celebrations, and they are often brightly coloured to match the party theme or holiday.
Nowadays, people love Number-shaped Pinatas that represent the Age of the Child for Birthday Decorations and Photoshoots. These Pinatas are filled with candies, sweets and small toys.
How to Make a Number 2 Pinata?
Image
This adorable Pinata is around 3o cm, and you just need two materials to make this Pinata – A Base cardboard and some Crepe papers. So far, of all the Number pinatas that I have made, this is the easiest one. By easy I mean, the process is very simple, yet it is still Time-consuming (approximately 3 hours to make this from scratch)
Let's learn how to make it.
You will need these Materials and Tools
Cardboard
Crepe Paper (prefered colours)
Number 2 Template (Download it at the end of the post)
Cutter and cutting board
Hot glue gun
White Glue
Tape
Scissors
Check out Tools and DIY Supplies recommendation at My Amazon Storefront
Watch how I made this Numer 2 Pinata
This 3-minute video will show you how I made the Birthday number 2 pinata in three steps with the materials listed above. And the best part is you can use the same method to make any number you want.
The additional add-ons that I attached at the end were Crepe paper flowers, Leaves and Golden beads.
Please note that, In this Pinata, I have not left any opening on the Cardboard to fill Candies. If you prefer to fill the interior, Please make a small opening at the rear side to load and seal.
Directions
1. Make the Cardboard Number Block
Begin by making 2 Number panels of Cardboard (with a Number template). For that, you need to glue the Number Template on the Cardboard and Cut it out using a cutter.
Next, glue 3″ separators between the two Number Panels. For instance, I have Folded some Cardboard pieces (3″ thick) and glued them using a hot glue gun. Alternatively, you can use a styrofoam Block of that Thickness.

Finally, we will cover all the sides with 3″ Cardboard sheets. Use Tape at regular intervals to seal the Sides of the panels with the Cardboard sheets.

Some Places of the number block are curvy, and we need to bend the Cardboard to fit. Cover all the sides without leaving a Gap.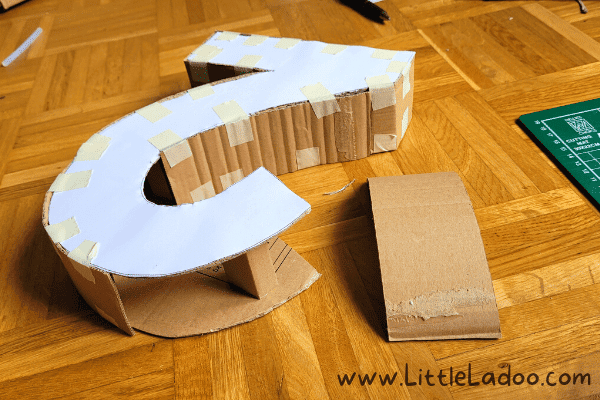 2. Make Fringes on the Crepe paper
Fold the Crepe sheets in layers (Probably they will be already wrapped as layers) and Cut a few 1″ pieces. Now fringe One side of the Crepe Bunch, and when you unfold it, you will get a long Fringed crepe paper. Make as much as to cover the Number block in different colours.
3. Cover the number block
Apply some white glue and add the Fringed Crepe paper one by one, starting from the bottom. Each Layer should slightly overlap the previous one Until it reaches the top.

Now, this is important; Excess glue sometimes can Soak the paper and spoil it. So Here is What you need to do, Spread the Glue using a Small cardboard sheet, such that only a thin layer of glue is on the Block before adding the Crepe papers.
Make sure, All the Sides Front and Top are well covered with the fringes papers.
Here is the completed Pinata.  You can add LED lights or Golden beads as we did to make it more Impressive and Adorable. Time to click Pictures!
All set to make one? Now download this Number template (Click on the Below button ) and Start crafting! 
Do you know someone who might find this useful? Would you please share it
Pin this Pinata Inspiration
Don't forget to save this Number 2 Pinata for later! Be sure you are following Little Ladoo on Pinterest for fresh awesome ideas.
Did this post inspire you to make one for your child? Let me know in the comments section.