All activities should be supervised by an adult. As an Amazon Associate, I earn from qualifying purchases. This post may contain affiliate links.
This Valentine's Day, spark your Child's imagination with a special Printable busy book that celebrates love!
With this Valentine's Printable busy book, you'll be able to introduce concepts such as counting, shapes, and colours in an interactive way that helps children explore their creativity.
This post contains affiliate links. As an Amazon Associate, I earn from qualifying purchases.
Let's Look Inside the Valentine Busy Book
Busy books are a fun way to keep kids entertained and engaged while learning important skills along the way.
Like every other Holiday book of ours, this one also has 11 Unique Activities but with Valentine's theme. Here is a  video of all the Activity pages from the Busy book.
How to make the Busy Book?
Get the Busy Book Printable
Print the Activity Pages, Laminate them and Organise them in a File folder.
Laminated and Cut out the Pieces in the Cutout pages. Affix them using Self Adhesive velcro dots.
Here is a Detailed article on how to make a Busy Book + Tools and Supplies needed.
11 Activities from the Valentine Busy Book
Our Busy Books are designed to help children learn and grow in various ways, Begins with shape and colour matching and progressively introduce them to more complex activities.
As kids make their way through the book, they will be presented with increasingly difficult challenges, helping them develop their problem-solving skills and expand their knowledge.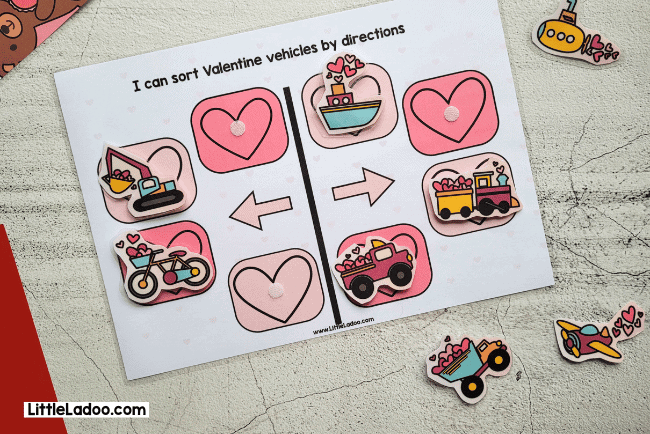 Every page is full of colourful illustrations so that kids can have a fun time while grasping new concepts.
The Valentine busy book has two fun activities featuring number identification and counting. Learning numbers is always fun with these interactive busy book pages.
This Letter matching Busy book page helps kids to Practice Uppercase Alphabet
Who loves chocolates? All kids do! This will be an awesome way to practice visual discrimination.
Here is a fun way to improve a child's Logical reasoning skills. Matching the everyday things that go together.
And the last page is a fun page where kids dress up the dolls with dresses in red and pink. There are also a few props that you can add! My daughter certainly loves this page.
Have you seen the dress-up pages in other holiday books?
The book is suitable for both Toddlers and preschoolers. This book is a great tool to learn about Numbers, letters, shapes, colours, and emotions in a playful way.
This book provides plenty of opportunities for parent-child bonding moments too! So Get ready for some memorable Valentine's day activities for young ones or the whole family to enjoy.
Get the Valentine Busy Book
Check out our collection of Holiday Busy Books. 
Want to save this for Next Valentine's day? Pin this image for later.