All activities should be supervised by an adult. As an Amazon Associate, I earn from qualifying purchases. This post may contain affiliate links.
I love it when a craft comes with a Learning opportunity like this Valentine Name Craft. It is a fantastic way for kids to practice spelling their Names.
Not to mention the Fine motor skill development as the craft involves a lot of colouring and cutting.  Although it can be easily made without a template, I have created an editable Template for you!
Read on for Printing and Crafting Directions.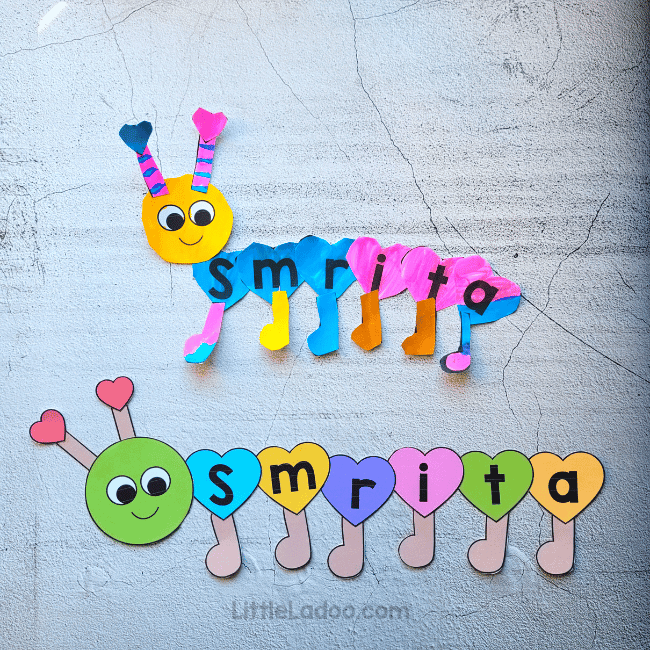 Valentine Name Craft
This Caterpillar Name craft is the very first Name craft that we did and my daughter really enjoyed making them! She keeps on asking for more such crafts and I am currently creating a Few and will share them soon with you.
This Craft Requires only a few supplies which you already have at home – Colouring Pencils or pen, Scissors and Glue.
Printing Direction
I have given two versions – A pre-coloured Template and a Black/White Template. Print the one you need on cardstock paper.
So before printing the Pages, kindly Edit the Letters of your Child's name.
Crafting Directions
Let the Child colour, cut and glue the pieces together to make a Cute Valentine caterpillar craft. There is a reference picture on the template in case if needed.
Here is the love Bug Name craft done by my 5-year-old kid.
If you chose the pre-coloured template, The craft is even easier. Just cut and Assemble the pieces.
This is a wonderful Activity to work on many skills – Letter recognition, Fine motor, learning to spell names, Counting and Bilateral coordination.
Would your child love to do this craft? Then download the Editable template here.
So print it and enjoy!
I would love to hear your feedback on this craft so that I can make more such crafts for you.
Want to do this Later? Pin this Love caterpillar Name Craft
Looking for More Valentine's crafts for kids? Check out Different ways to make a Heart Craft
We also have more than 20 heart templates for arts and crafts projects. 
Don't forget to check out the Valentine Busy book.