All activities should be supervised by an adult. As an Amazon Associate, I earn from qualifying purchases. This post may contain affiliate links.
Let's learn some shapes with this turkey shape matching game. With six matching pieces, these are perfect for toddlers' hands and minds.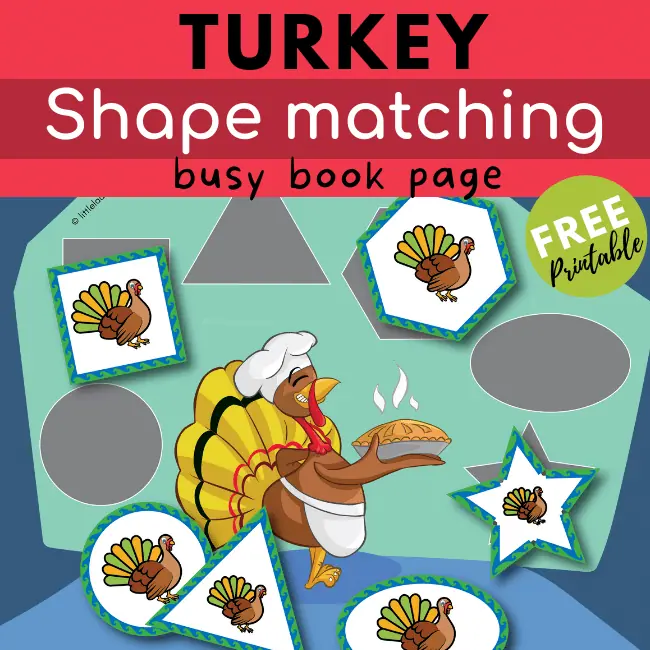 This post contains affiliate links. As an Amazon Associate, I earn from qualifying purchases.
Shape Matching Busy book Page
Velcro matching activities (aka Busy book pages) are perfect for developing minds. It is never too early to introduce toddlers to shape matching games, as it will help them prepare for future learning in school. Games like this one will help them develop their visual discrimination skills, reasoning and problem-solving skills as well as their coordination.
How to Make a Busy Book page? 
Download the free printable at the end of the post and print them out with high-quality printing settings. This adorable printable has an Activity page and a Cut-out page.
Place the sheets inside Laminating pouches and Laminate them using a thermal laminator. Later Cut all the pieces out in the Cut-out sheets. You can use scissors or a paper trimmer to make the job easier. Add a Self-adhesive velcro dot on the rear side of the pieces and also on the activity page.  The preparation is done!
How to use it? Introduce the activity to your Toddlers. Let them pick the pieces and put them in their respective places on the activity page. As they pick the parts, teach them the shapes.
How to Store it? Punch the page and add it to your activity binder. So that the game can be played over and over again.
What is the perfect age to do this activity? 16 to 24 Months. But I do have a few more suggestions for Toddlers above 24 months. Read on.
1. Cut and paste activity :
Preschoolers can practise cutting and glueing the pieces in the correct spot on the activity page
2. Sensory tray matching :
Hide the matching pieces in a sensory tray and let the kid have fun digging them out and matching. Laminate the pieces for durability.
3. Scavenger hunt :
Hide the matching pieces and use the activity page as a list to find them.
Let us know if you could think of any other ideas to use this printable.
How to download this free printable?
To receive your printable right in your inbox, Please enter your details in the form below.
Please note that the Printable is for personal or classroom use only. If you love this printable, please let me know in the comment section and also share it with your friends.
Pin this for later
If you are looking for more Interactive Activities for Little kids, Check out the Thanksgiving Busy book
You might also like our Toddler busy book, the ultimate Learning binder for 1.5 years to 4-Year-old kids.
Related Thanksgiving Ideas
Check out all the  Thanksgiving crafts and fun Activities.