All activities should be supervised by an adult. As an Amazon Associate, I earn from qualifying purchases. This post may contain affiliate links.
This Torn Paper Heart Craft is a fun project for kids of all ages. Even adults will enjoy making it!
This simple and heartfelt craft is sure to make any day brighter.
This is the first time we are making a Project with torn Paper pieces and we totally loved the result! Let me show you some pictures of my daughter and crafting it along with some tips and tricks.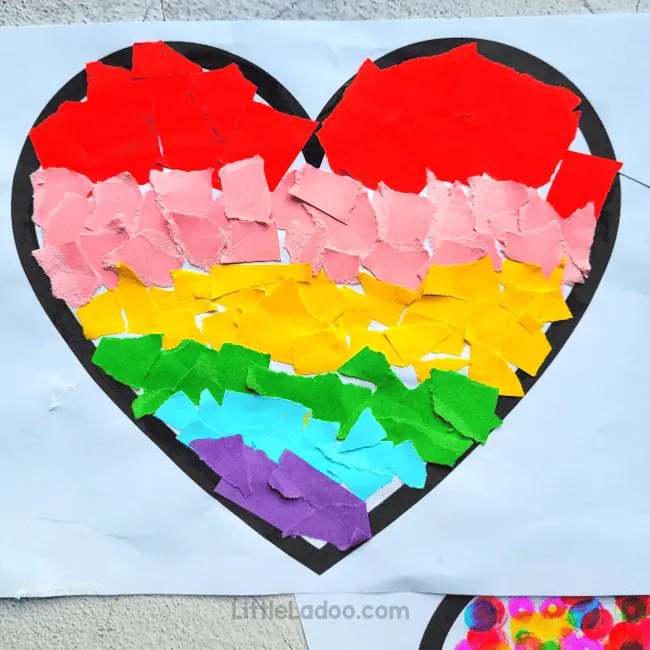 This post contains affiliate links. As an Amazon Associate, I earn from qualifying purchases.
Torn Paper Heart Craft
Torn Paper crafts are one great way to recycle all those Paper Scraps from older Craft projects. Moreover, it helps kids with their Fine motor skills. It's easy to make too
Supplies you will need
Heart Template
Paper Scrapes in different colours
Paper glue
Directions
Print out the Heart template. We have plenty of Hearts templates in different sizes. It is also available in Thin and bold lines.
For this project,  we have printed the large heart template with bold lines.
Now start tearing the scraps into small pieces. Each should be approximately 1cm to 2cm wide.
Now apply some glue on one part of the heart template and add the pieces one by one. Continue the process until the entire heart is covered with colourful torn pieces.
You can creatively arrange the colour in the way that you want. We have made a rainbow heart.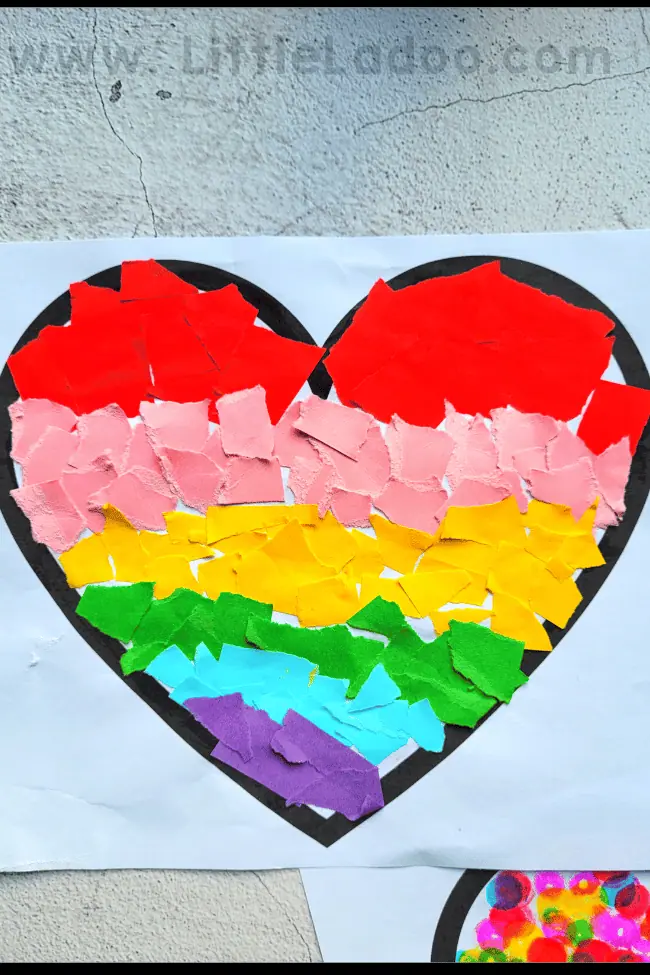 Once finished, the torn paper heart is ready to give away as a unique gift or hang up as decor in your home. Let your creativity shine and put a little love into something special!
Here is another one you might like Heart Craft with dot Dabbers! A cute project that Toddlers can do!
Love this Torn paper heart craft and want to try it with your child? Don't let your great ideas get lost in the shuffle – pin them now for later!
Similar Craft projects