All activities should be supervised by an adult. As an Amazon Associate, I earn from qualifying purchases. This post may contain affiliate links.
This Torn Paper Earth Craft is a fantastic way for kids to improve their fine motor skills. Moreover, it is a perfect activity to do during Earth Day!
This craft project uses a simple template and a few basic supplies to create a beautiful and colourful representation of our planet. In this blog post, we will guide you on making a torn paper Earth craft with a free printable template.
What is Torn Paper Craft?
Torn papercraft is a form of art that involves tearing paper into pieces and then arranging them to create a design or image. It is a popular craft activity for kids, as it's simple, fun, and requires only basic materials.
The technique of tearing paper allows for creating a natural, organic feel in the design that is difficult to achieve with cut paper.
Benefits of Torn Paper Craft for Kids:
Torn paper crafts are an excellent way to improve a child's fine motor skills. It involves tearing paper, which requires hand-eye coordination and helps develop motor skills.
Additionally, crafting promotes creativity and imagination, which helps develop a child's cognitive and problem-solving skills.
Torn Paper Earth Craft
You just need a few things to make this craft
Earth Template (Download for Free)
Blue and Green cardstock paper
Glue
Directions to make the Torn paper Earth Craft
Begin by downloading the free printable Earth template, which includes templates in different sizes. For our torn paper craft, we used the largest Earth template.
To create the torn paper pieces, grab blue and green cardstock paper and tear small pieces from them.
If you have any leftover paper scraps from previous crafting projects, they can be used for this torn paper craft as well.
Once all the pieces are ready, Apply Glue over all the places with water bodies.
Start sticking the Blue pieces on the Region where glue is applied.
Stick the pieces close to one another to create a beautiful texture. Tear the pieces into smaller ones to fill in any narrow regions.
After finishing the blue areas, move on to the green pieces. First, Apply glue over the entire landmass region
Now, start placing the pieces one by one until the entire space is covered.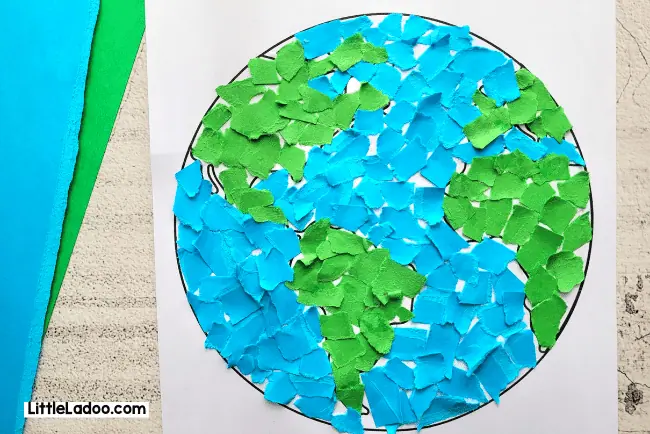 Your torn paper Earth craft is now complete! Optionally, you can use a bold black marker to draw the outline of the spaces. You can display the craft on a bulletin board or wall, or use it to decorate a space-themed party.
Torn Paper Craft for kids
This craft is perfect for kids, as they can initiate and complete it by themselves without any assistance. They will enjoy tearing the paper and creating a unique design with the torn pieces.
Overall, making torn paper crafts is a fun and engaging activity for kids that encourages creativity and develops their fine motor skills.
This Technique of Torn paper crafts can be used to create a wide variety of projects, such as greeting cards, collages, and 3D sculptures. The craft can be done with different types of paper, including coloured construction paper, tissue paper, and even recycled paper. Overall, torn paper craft is a fun and creative way to explore art and design.
Fun Paper Crafts for Kids
This Torn Paper Heart craft can be a beautiful and colourful project, especially if you use different coloured paper and play with textures by tearing the paper in different ways.
These Fork Painted Crafts are so much fun! It is a Fantastic and Easy way to make Beautiful Textured Crafts!
More Earth Day Ideas for Kids
Explore More Torn Paper Crafts for Kids
Download the Free Earth Template and also see other Earth Craft Ideas.