All activities should be supervised by an adult. As an Amazon Associate, I earn from qualifying purchases. This post may contain affiliate links.
Peekaboo !!! Make your baby delighted with this awesome activity. The teddy bear plays peekaboo and opens its jaws to brush its teeth. This interactive page is perfect for a beginner and toddlers will love this everyday activity.  Read on to see the instructions to make this page.
Materials needed to make Teddy bear page
Some links may be affiliate links. We may get paid (without any extra cost to your purchase) if you buy something or take action after clicking one of these links. 
Cutting template in A4 size (Available in the link )
2 pairs of 10 mm diameter magnet or velcro fasteners  
1mm felt  
2 mm thick acrylic felt. A4 size. This is for the base. (2mm felt are rare to get online. Check your local craft store or Etsy) 
Fabric glue and Hot glue
Instructions to make the quiet book page
Begin by printing the template and fetching the materials. Also, choose the colors of each and every figure on the page. Fetch the required amount of felt in respective colors.
Next cut the felt using the template. Here are two methods that I usually use to cut felt.
Another simple way is to hold the template firmly with the hand over the felt and cutting with precision scissors.  This works well for small and simple layout patterns. Choose the one that works best for you. 
Once all pieces are ready, you can assemble them and start gluing the pieces together. Check "Assembly reference" in the printable for reference. Start by gluing the face over the base. Consequently, paste outer ears, inner ears, nose, and eyes with textile glue. While gluing jaws, keep in mind that it has to be opened for brushing activity. The rest is easy to assemble.
Now grab the magnets and with hot glue, stick one pair on the eyes and the other on the paws. Instead of a magnet, Velcro fasteners can also be used.
So finally this is how it looks after completion. Teddy is ready to play.
I hope this tutorial and template is useful. Also, check the other pages in our counting book from the link here. 
Pin this for later.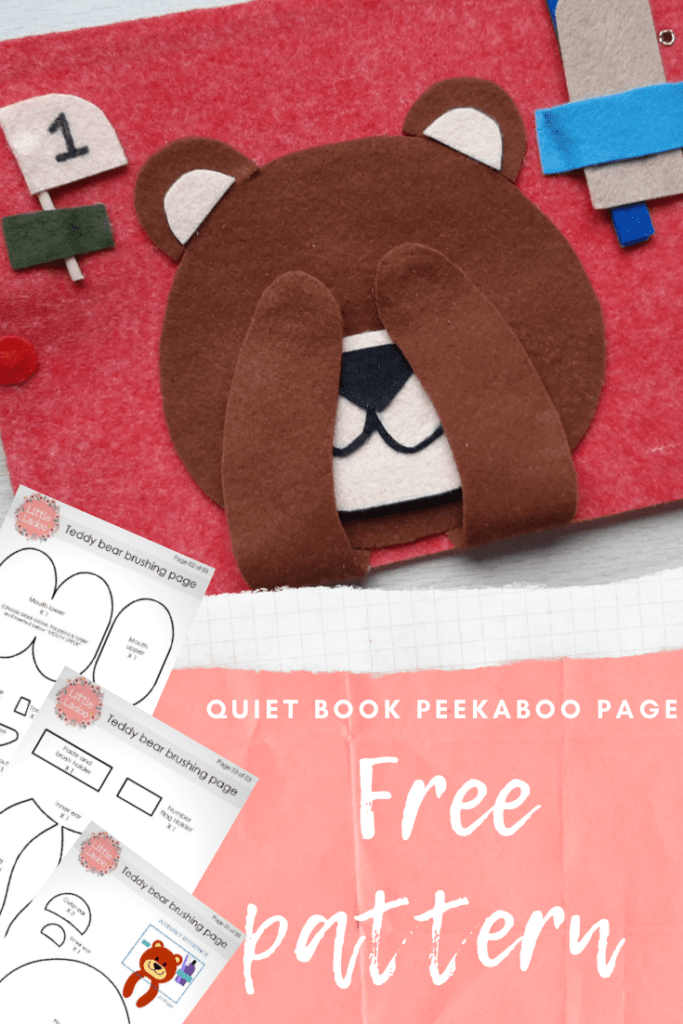 Here are some related stuff to buy from amazon
Littleladoocrafts is a participant in the Amazon Services LLC Associates Program, an affiliate advertising program designed to provide a means for sites to earn advertising fees by advertising and linking to Amazon.com.