Tamil Words that Begin with the Letter அ
How many Words that Start with the Letter அ can you think of?
This Tamil அ Words Poster has a lot of Nouns that begin with the letter அ. You can either use it as a Poster or cut them out into individual Flashcards to teach your kids. 
This post contains affiliate links, meaning that I will be compensated if you click through and take action at no additional cost. As an Amazon Associate, I earn from qualifying purchases.
Letterஅ poster
I created this Poster that has around 20 simple Tamil words with starting letter அ.
This free printable is so perfect for teaching kids the sound of அ and the அ words and is beneficial in strengthening your child vocabulary.
To make this wordlist, I referred to the Educalingo website to find simple words for kids. The page has 100s of அ words; if you would like to check them, here is the link. 
Now, Check out the list of words in our printable. 
Please do not download the above image to print because it is compressed and will turn out very blurry when you print.
Instead, print this. I have created a high-Quality PDF version which you can download by signing up in the form here. I will send it right away to your Email Id.
Please note that the Printable is for personal or classroom use only. If you have a family or friend who would like a have this, please send them over to this post to download their own copy.
Pin this Tamil அ Wordlist
Don't forget to save these free printable Poster for later! Also, be sure you follow Little Ladoo on Pinterest for Easy craft ideas and Educational printables for kids.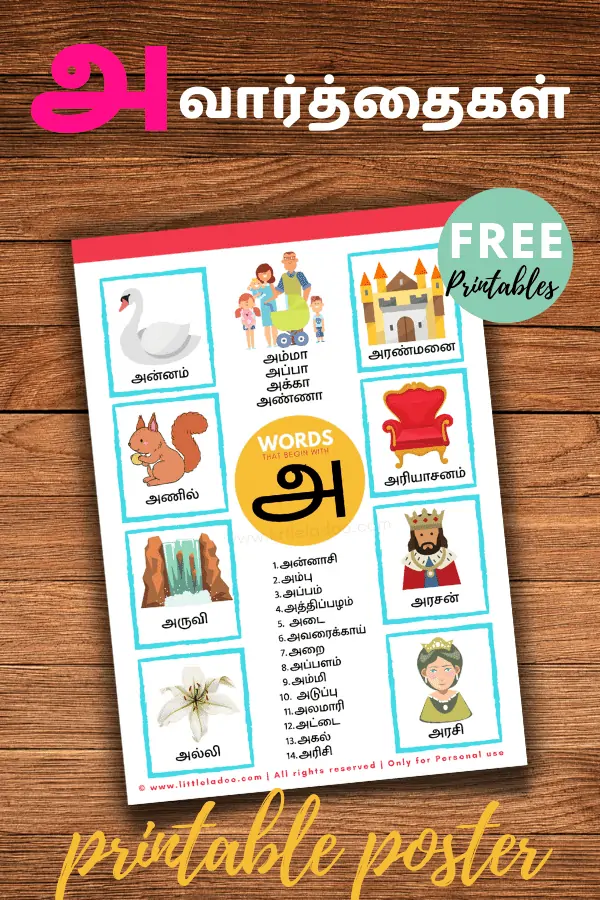 Related Tamil Printables
I hope you found this poster useful! What else would you like to see from Little Ladoo? Let me know in the comments section.