All activities should be supervised by an adult. As an Amazon Associate, I earn from qualifying purchases. This post may contain affiliate links.
DIY Sunflower Headband for kids in 4 Easy steps
In this post, I will be sharing how to Make a Sunflower Headband for kids with Felt sheets and few other basic supplies.
Who doesn't love Floral Headbands?
Won't it be awesome to make your own Floral headband for your child? 
One perk of Learning to make your own Hairband is creating one with the perfect colour and style for every new dress. And also, you can save a ton of money! 
This post contains affiliate links, meaning that I will be compensated if you click through and take action at no additional cost. As an Amazon Associate, I earn from qualifying purchases.
How to Make a Sunflower headband
A handmade floral headband for my daughter was on my crafting wishlist since my daughter turned 1. I decided to attempt making a Sunflower as it seemed uncomplicated.
Actually, it was easier than I presumed and didn't take much time. Read on to learn how to make a gorgeous sunflower headband for kids. 
Things needed
Instead of fabric glue, you can also use Hot glue gun, But I recommend fabric glue because the pieces are small, and Fabric glue makes the job easier. 
Make sure you get a good quality felt, not the felt from the kid's craft section in the shop. Many of those kids felt used to fray and are not suitable for these projects. 
Video tutorial
The whole process of how to make the sunflower headband is shown in this timelapse video. 
Instructions to make Sunflower headband
The rest of the blog is for the ones who love to see pictures and step-by-step instructions. You can save all of these pictures on your favourite Pinterest boards for later. 
Step 1: Make the sunflower's Disc florets
First, we will make the Sunflowers Disc floret, which is the brown central part. 
Take the Brown felt and Cut a 2cm wide strip. The length should be at least 30 cm. 
Apply fabric glue along one edge (Lengthy side) and fold the strip in half.
Later, make small slits along the lengthy side at regular intervals.
Roll the strip from the end and finish it by sticking it with glue.
Step 2: Make the Sunflower's petals
Cut 20 to 25 small yellow patches of size 2 x 4 cm.
On each yellow piece, make a small slit in the bottom and a pointed edge on the top.
Now stick the bottom flaps together with glue, and this gives the petal a natural curve.
Likewise, create all the other petals.
Step 3: Gluing and Completing the Sunflower
Next, paste all the petals around the central brown part in two or three layers.
Similarly, make as many flowers as you want. I made two for my headband. 
Step 4: Attach the sunflowers to the band
Make use of a rectangular strip of felt and glue it to the back of the sunflower. Now attach this to the headband using glue.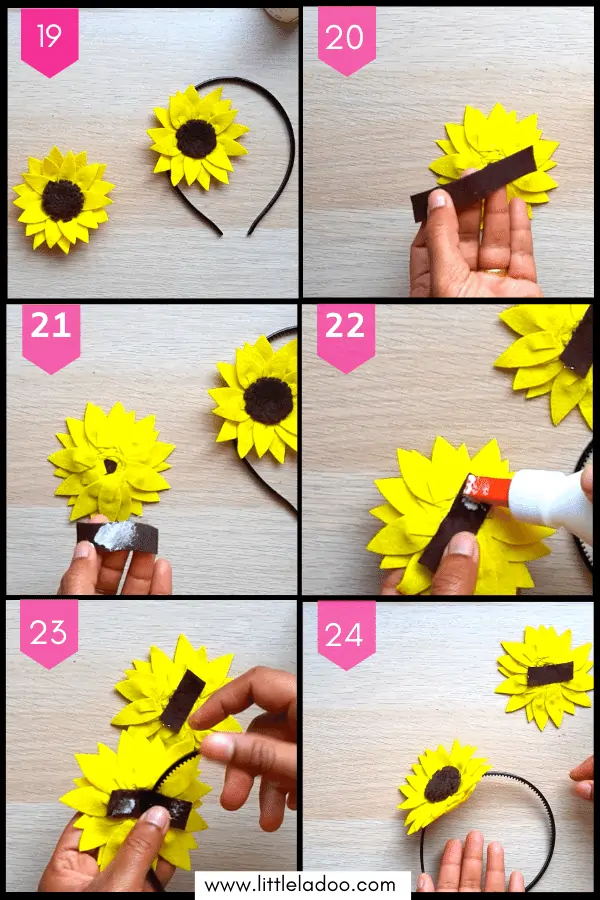 That's it. The sunflower band is all set to adorn your daughter. You can also make a Sunflower hair clip by glueing a single flower over a plain hair clip. 
Using the same method, we can make a variety of flowers.  One just has to change the shape, size, numbers, and colour of the petal. For example, with the same method, I made a lotus out of paper. Check this blog here.
What flower you would like to make for your daughter's headband? Let me know in the comments section.
Pin this Sunflower Headband
Don't forget to save this Idea for later! Be sure you are following  Little Ladoo on Pinterest. 
Did this post inspire you to make a floral Headband for your child or for yourself? Let me know in the comment section. I would love to hear from you!
Related Articles