Spring is a Time of Rebirth and Renewal. We witness a lot of changes around us after Winter and It would be a perfect time for kids to learn "what happens in the Spring Season?"
These 32 Printable Cards are perfect to Learn the Signs of the Spring Season. These Printable Learning cards not only show the signs of Nature but also the people's response to the season change.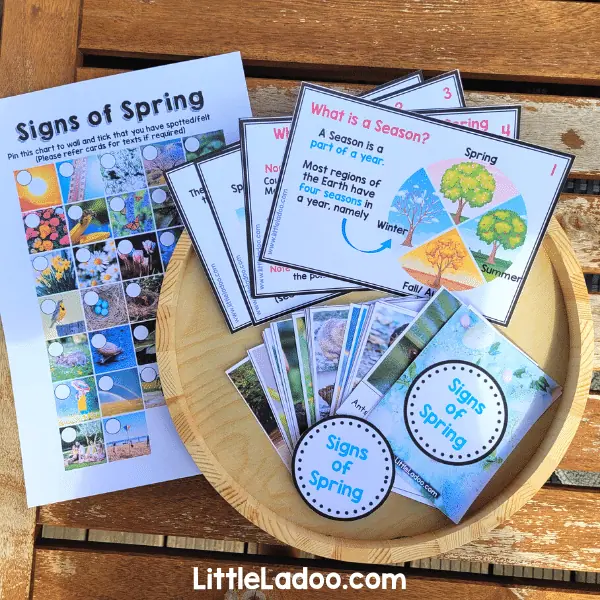 This post contains affiliate links.  As an Amazon Associate, I earn from qualifying purchases.
Signs of Spring Learning cards
I have listed 32 Signs of spring – the common things we see in the environment during the Spring season. Here are a few
The weather becomes warmer and The days are longer.
For plants, this means a time of growth and new life.
Flowers bloom and trees produce new leaves.
Animals leave their winter homes to find new food and Territory.
Hibernating animals wake up.
These cards with Real-life Photos are great for kids to relate to the change in the environment. The Printable also includes a few additional resources like charts and Fact cards.
How to Learn the Signs of Spring with the printable?
Before Learning about Spring, it would be great if kids knew what is a Season? What are the 4 Seasons? and What causes seasons?
Here are Factcards that help kids Understand about seasons and then Learn about Spring.
There are 32 Cards, which you can make a Flipbook or 3 part cards or Simply use as a Flashcards for Learning the signs of Spring.
With our four year old, We started by picking cards One by one and reading the text. Since we are already in mid-April, she has already observed most of the Spring signs and was able to relate.
Later, I spread the cards on the table randomly and read the text. She searched for the card and Picked it up. It was a great learning experience.
If you have a kid who can read, you can cut the Picture and text separately and tell them to Read and Match.
Finally, we have a Chart or checklist of all the 32 signs, which you can pin on the wall and mark the ones that you have already seen/ observed.
Here is our chart! Only a few more Left.
It was a simple learning pack, but we had a lot of discussions doing this. This is great for a Spring unit study for Preschool or Kindergarten.
Signs of Spring Printable is a Montessori inspired learning resource! You can get the 12 Pages PDF here
More Spring resources