All activities should be supervised by an adult. As an Amazon Associate, I earn from qualifying purchases. This post may contain affiliate links.
Dussehra is just a few days away. If you are looking for some fun Math Activity to do this week or during Diwali, this Ravana Counting printable might be perfect. Kids learn about Ravana and also practice counting from 1 to 10.
This hands-on activity makes learning math fun and engaging!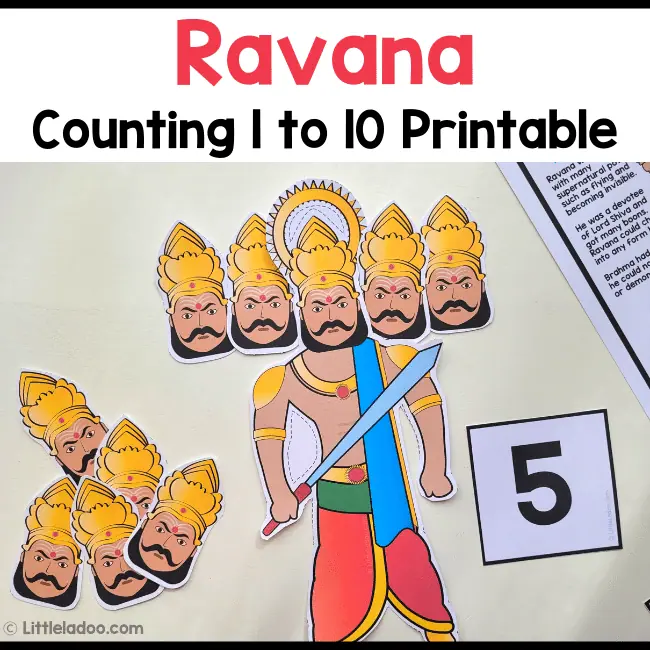 Who is Ravana?
Ravana was an important figure in Hindu mythology.  He was a brave and courageous warrior and the Demon king of Lanka.
He is portrayed in the Hindu epic, Ramayana as the king of Lanka who kidnapped Sita.
The Fact that Ravana had 10 heads can make learning about Ravana a fun and interesting experience for kids. So Let's Combine Math with Mythology with this activity.
Preparation
The printable has 4 pages which include a Fact Sheet, Number cards, 9 Heads and a Body of Ravana.
Print the Pages on Cardstock and cut the Pieces out.
You can laminate the pieces if required.
How to use it?
Place the body on a Table and provide your child with the loose parts – nine heads. When you display a number card, the child sees the number and adds the heads to match the numbers.
This helps the kid in Number identification and counting.
You can also play this game Vice versa,  where you place the heads and your child count and find the matching number cards.
Either way, it is so much fun to do during the festive season.
Finally, Learn about Ranana using the fact sheet.
Get the Ravana counting Printable
This is one of the unique Hindu Mythological printables you will ever find to learn Math. Let me know what you think about the Activity and my illustrations so that I can make more such Learning activities with Mythical characters.
You can pin this for later.
Related Activities
To learn about Durga during the Navaratri season, check the  9 forms of Durga – Printable Pack
Make a Ganesha Paper Plate Craft
You might also like 10+ Diwali Activities for kids