All activities should be supervised by an adult. As an Amazon Associate, I earn from qualifying purchases. This post may contain affiliate links.
Are you looking for a Fun Hands-on-Activity to have some Math fun in the spring season? This Rainbow Roll and Cover Math Game is excellent for Practicing Number Recognition, Addition and subitising.
Add this free Rainbow Math printable to your Preschool Math centre or Learning at home.
What is Roll and Cover Dice game?
A Roll and Cover Dice game is an Educational and interactive dice game designed for preschoolers to practice Numbers. It typically consists of a themed mat with numbers, a Pack of Mainuplayive and Dice.
Children roll the die and cover the corresponding number or shape on the mat with a manipulative, such as a small counter or marker. This activity helps develop counting, number recognition, and fine motor skills.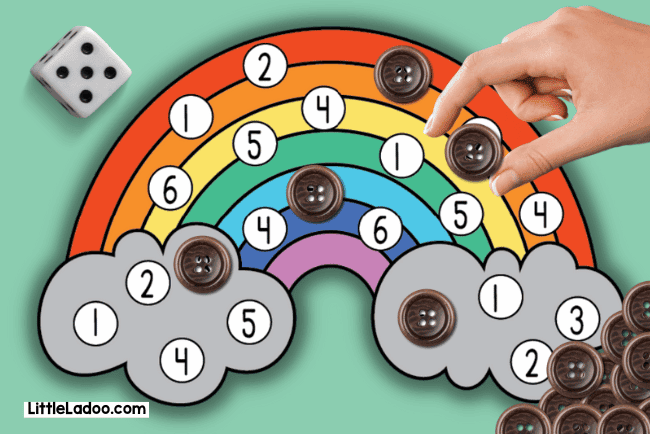 There are many variations of Roll and cover Mats,
Roll and Cover Mat to Practice 1 to 6
Roll and cover Mat to practice 7 to 12 ( with 2 Dice)
Roll and cover Mats to Practice Addition
Roll and cover Mat to Practice Subtraction
Explore the variety of Roll and Cover mats available at Little Ladoo! Also,  check back for future updates as more mats will be added to each category.
Get ready for even more engaging and exciting learning experiences!
Rainbow Roll and Cover Dice Game
We Love Roll and Cover Dice Games! It is easy to set up and so much fun! Also, a perfect game for children who are just learning numbers.
Things Needed
The Roll and cover mat (Download at the End of the post)
Any Manipulatives at home like Buttons, Coins, Pebbles, etc
standard six-sided dice
We like to use different manipulatives for each Game. Here we are using Square Block from the Pattern blocks set.
  Check out our Spring Busy Binder for Preschoolers!
Preparation
It is an Easy-Prep Activity. Just Download and Print the Mat. Optionally, you can cut the Rainbow out along the dashed lines to make the activity interesting for the child.
Gather a Dice and Some Manipulatives. Let's have some Math Fun!
How to Play the Roll and Cover Math Game?
Take turns rolling a standard six-sided dice.  After rolling the dice, identify the number rolled. Locate the corresponding number on the mat and cover it with a counter or marker.
Continue taking turns rolling the dice and covering the corresponding number or shape on the mat.
The game ends when all numbers are covered. The one who covers the most numbers wins. Adjust the rules based on the players' ages and skill levels.
Remember, the Roll and Cover game is a versatile activity that can be customized based on age, skill level, and learning objectives. Enjoy the game and have fun while exploring numbers.
More Rainbow Ideas for Kids
More Roll and Cover Printables
Download the Free Printable Rainbow Roll and cover Mat