All activities should be supervised by an adult. As an Amazon Associate, I earn from qualifying purchases. This post may contain affiliate links.
We have the most fantastic Rainbow Fish Craft that perfectly complements the story of Marcus Pfister's beloved book, "The Rainbow Fish,"!
This Craft is incredibly simple and comes with a Free Rainbow fish Printable Template that is perfect for Preschoolers to colour, cut, and paste.
Join us on this creative journey and unleash your inner artist today!
Make sure you don't miss our earlier Easy Crafts for kids—they're worth seeing too!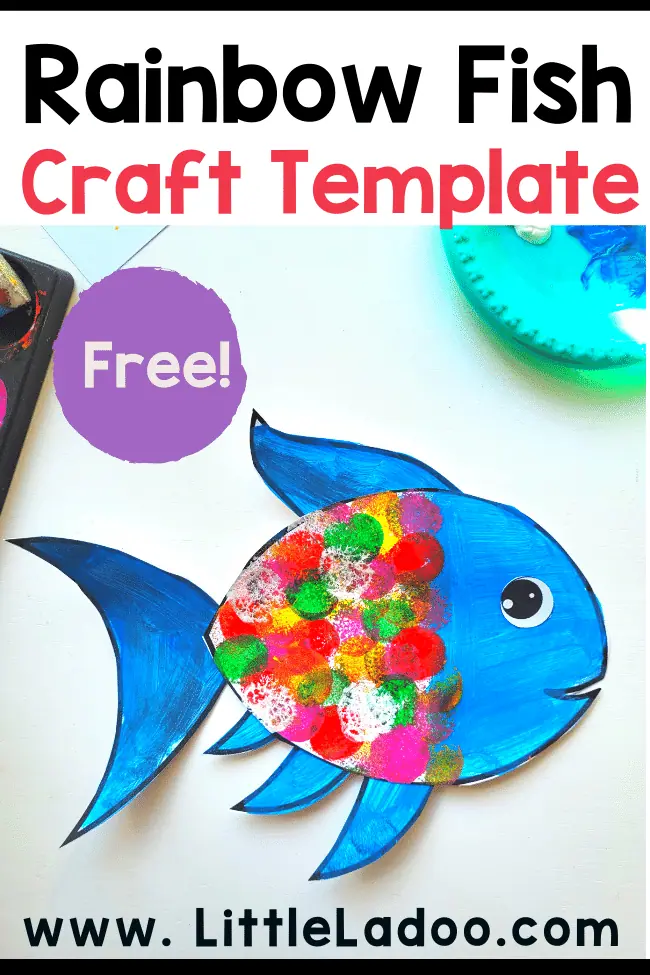 The Story of "The Rainbow Fish"
"The Rainbow Fish "  is a story about a Colourful fish with radiant scales. Initially proud and unwilling to share, the Rainbow Fish becomes lonely as other fish avoid him.
Seeking guidance, he learns from a wise octopus that true happiness comes from generosity and friendship.
As the Rainbow Fish starts sharing his scales, he experiences a transformative joy and gains new friends.
This timeless tale teaches children about the importance of kindness, sharing, and inner beauty.
Apart from " The Rainbow Fish" There are many other books in the Collection – The Adventures of Rainbow Fish.
Whichever one you are reading, this Cut and Paste craft is so perfect to go along with the story!
Things you will need to make this Rainbow Fish craft
The Rainbow Fish Template
Cardstock (Recommended for printing)
Crayola colours – Blue and a few more shades
Scissors and Glue
That is all you need! Let's Start.
Rainbow Fish Template
Download the Rainbow Fish Template at the end of the post by Signing up.
To accommodate various preferences, I have created both a black-and-white version and a coloured version of the Rainbow Fish template.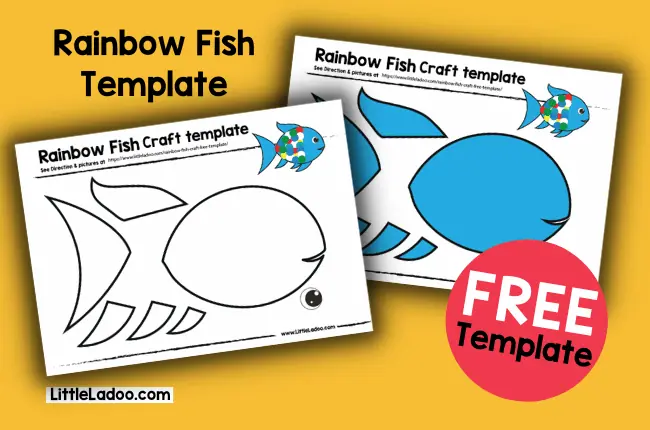 In this blog post, I will provide directions using the black-and-white template. Choose the version that suits your needs, print it out, and get ready to dive into the craft!
Directions to make the Rainbow Fish craft
Begin by Printing the Template on sturdy cardstock for better results.
Considering it's an easy craft, you might want to prepare multiple copies as kids will enjoy creating numerous fishes.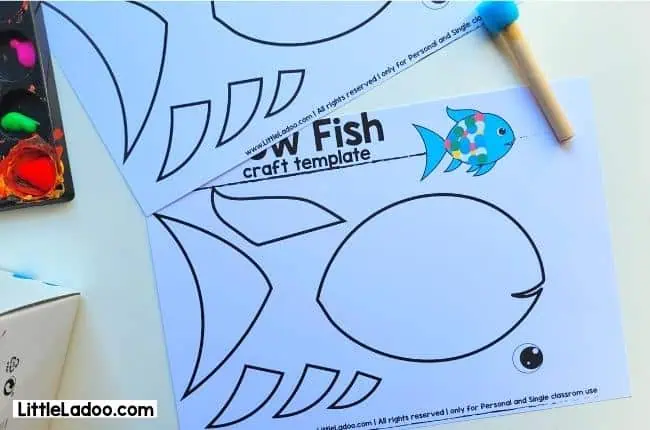 Start painting the fins, tail, and front half of the body using a brush with a vibrant shade of blue.
Kids can Embrace their artistic freedom without worrying about staying within the lines.
In the end, we will cut out the pieces, allowing for precise shaping and giving the fish a polished look.
Now comes the exciting part – dip a round sponge brush into the paint and gently stamp it on the body to create the beautiful scales of the Rainbow fish.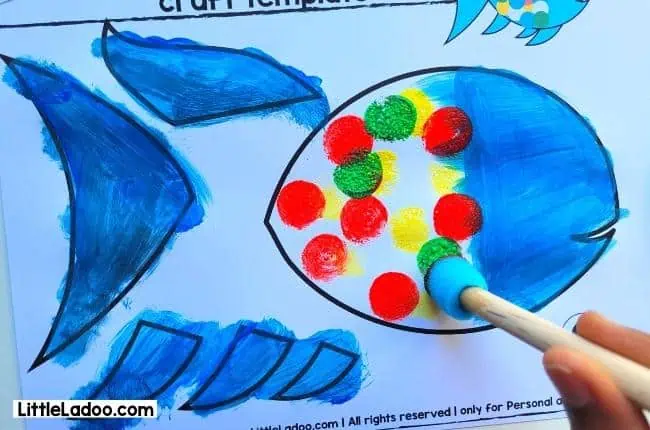 Add a burst of colour to your Rainbow Fish craft by stamping it with a wide range of vibrant hues.
Yellow and white can give a sparkling effect that enhances its beauty.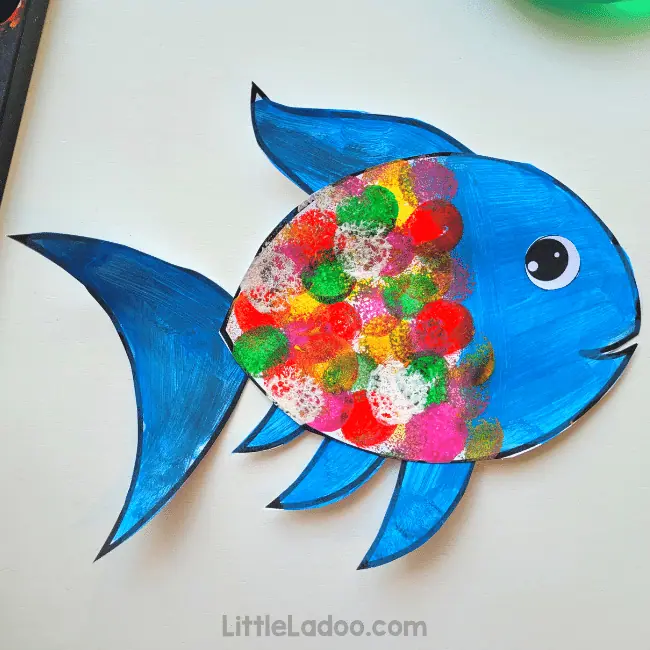 If you happen to have glitter on hand, you can choose to add a touch of sparkle to your creation.
However, it is highly recommended to use Bio-Degradable glitter as an environmentally friendly alternative.
Let the paint dry completely.
Next, carefully cut out the individual pieces. Younger children might require some assistance with this step.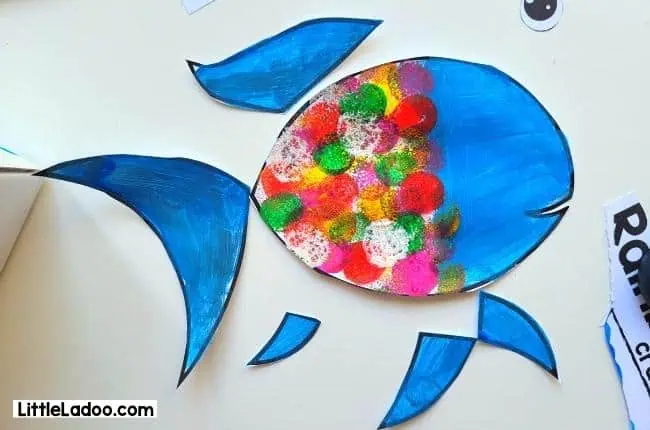 Using glue, assemble the pieces together to form a stunning Rainbow Fish.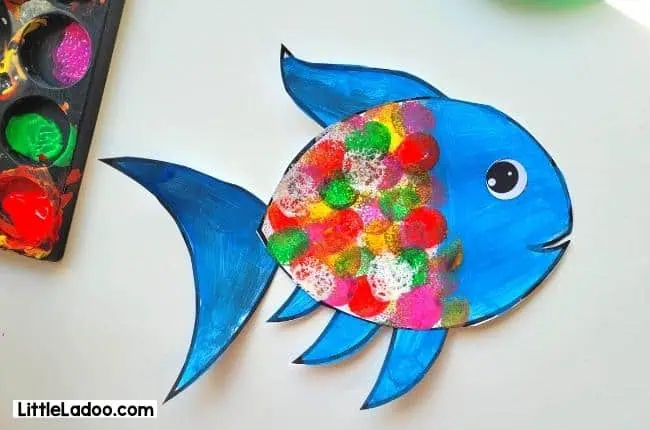 Encourage your child to utilize it as story props, or hang it in a window for a captivating display. Or also take it on a Swimming Adventure around the house!
If you're enjoying this craft, you can find the free Rainbow Fish template at the end of the post, enabling you to create one with your child.
Listen to Rainbow Fish Story
Buy "The Rainbow Fish"
More Ocean Activities for Kids
More Book-Inspired Crafts for Kids
We love doing Book inspired Activities and crafts! Here are a few more fun craft ideas that can make absolute picture book companions!
Pin this Rainbow Fish Craft
Want to save this Blog for later? Pin this image on your Kid's Craft Inspiration Boards.
Download the Rainbow Fish craft Template
Click on the button to download the Rainbow Fish Template for Personal and Single Classroom use.
If you want to share it with friends, please direct them to this blog to download their copy. Thanks!
Ice Cream Math Worksheets – Free printable Fun worksheets to practice Math with Ice cream! Perfect for Preschoolers and kindergarten kids.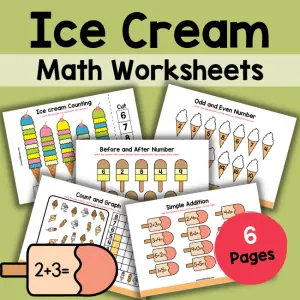 Sting Ray Roll and Cover Mat –  Practice Number identifictaion with a fun Dice math game using this free printable Roll and cover mat!