All activities should be supervised by an adult. As an Amazon Associate, I earn from qualifying purchases. This post may contain affiliate links.
Free Q-Tip Painting Printable for Toddlers
Q-tip painting is an excellent activity for Toddlers and Preschoolers to develop their fine motor skills and have lots of fun!  
Here are 4 awesome Colour-themed Printable templates for your kids to create some Q-tip Artwork. 
This post contains affiliate links, meaning that I will be compensated if you click through and take action at no additional cost. As an Amazon Associate, I earn from qualifying purchases.
Q-tip painting and its benefits
What is a Q-tip painting?  As the name implies, it is creating art with Q-tips (cotton swabs). You can use either watercolour or acrylic paint to create the art. It is super simple, and kids will have fun doing this. 
This art form is also called Pointillism, which means painting patterns with Tiny dots. 
The Q-tip Painting activity requires the Pincer grasp to hold the Q-tip, dip it in the paint and do the art. Thus it strengthens the Finger muscles and thereby preparing the child ready to hold pencils. 
The artwork turns out great, even for beginners and so for toddlers.  
My little one is not a big fan of painting activities and always loves mixing colours rather than painting. So I used to give her different things to paint like sponges, forks, twigs, leaves, etc.
Likewise, we once tried Q-tips freestyle painting as well, and she loved it. To make the activity more interesting, I created these colour Q- tip painting sheets in 4 basic colours. 
How to set up this Q-tip painting activity? 
This is absolutely very easy to set up and clean up. Just print out these sheets, grab a few Q-tips and the 4 basic colour paint. Then let the kid fill all the white dots with paint using Q-tips. This is great for hand-eye coordination and fine motor skill development. And also lots of fun!
What's included in the printable? 
This printable is a great starter pack for toddlers to try Q-Tip painting. It includes 4 Pages in 4 basic colours (Blue, green, yellow and red), and each page has 5 common objects as in the image above. 
The printable is in A4 size but can be printed easily on US letter size as well by selecting the Fit option while printing.  
How to download this free printable?
To receive your Q-tip Painting template right in your inbox, Please enter your details in the form below. I will send all the pages listed above in one PDF file to download and print.
Please note that the Printable is for personal or classroom use only. If you have a family or friend who would like a have this, please send them over to this post to download their own copy.
If you loved this activity, you might also like our Toddler busy book -a digital bundle with 10 different activities.
Pin this Free printable 
Don't forget to save this Q tip painting printable template for later! Be sure you are following Little Ladoo on Pinterest for fresh awesome ideas.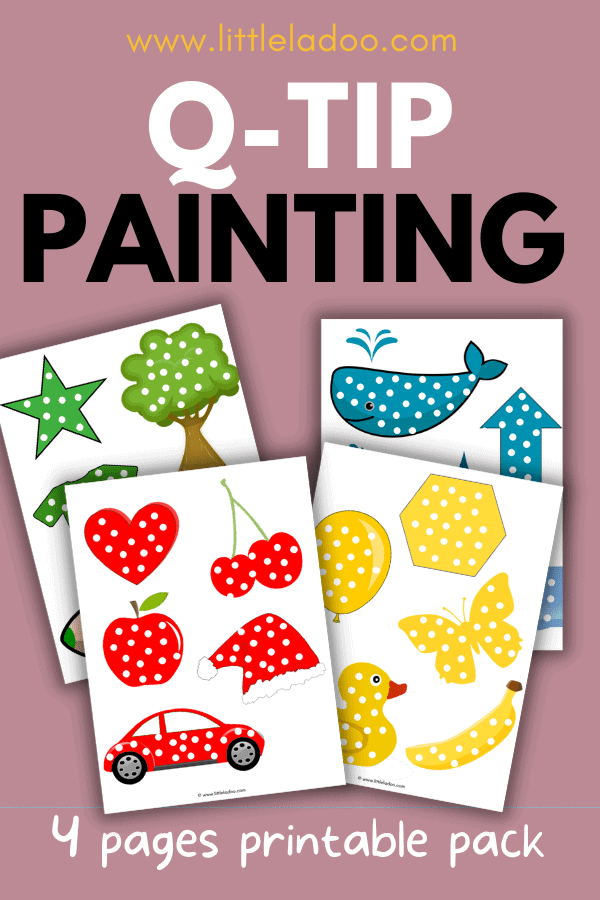 Related Articles
If you found this printable helpful, please let me know in the comment section because I would love to hear from you!