All activities should be supervised by an adult. As an Amazon Associate, I earn from qualifying purchases. This post may contain affiliate links.
Are you looking for a fun, creative way for kids to countdown the days until Christmas? Why not try making your own DIY advent calendar? This printable template makes it easy to create a Santa Beard calendar that will keep your kids excited for the holiday season. Best of all, it's free!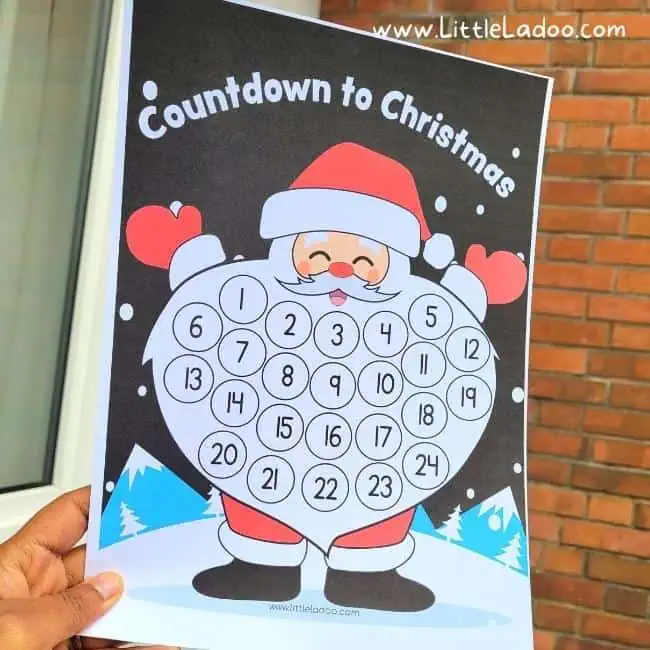 This post contains affiliate links.  As an Amazon Associate, I earn from qualifying purchases.
What is an Advent calendar?
An

Advent calendar is a popular Christmas tradition that helps us count down to December 25; The celebration of the Birth of Jesus. 
German Lutherans first used the Advent calendar in the 19th and 20th centuries. (Source Wikipedia) 
Traditional calendars are boxes with 24 small doors opened in order on each day of Advent. It contains a small gift like Candy or Toys for kids. 
So, if you are looking for a way to keep your kids excited this holiday season, make this Easy Printable Advent Calendar! You can download the printable at the end of the post by signing up.
Printable Advent Calendar for kids
We are introducing this little Christmas tradition to our daughter this year. There are many ways to make an advent calendar for kids, but I loved the idea of adding a small cotton ball each day on Santa's beard.
This Santa Beard Printable Advent calendar is perfect for kids to see how many days are there until Christmas.  Print out the PDF and make your own DIY "Countdown to Christmas" Calendar that kids will love.
You will need
Printable (Download at the end of the post)
Cotton Balls  or Pom poms
How to Make the advent calendar
Print the page on a Thick Sheet like Cardstock.
Hang it on Wall or place it on a Table along with Cotton balls and a Glue stick in a container.
Each day starting with December Ist, your child will glue a cotton ball on the Santa bear until it is complete on December 24; When they will know it is time for Christmas.
I have already made it ready for my daughter. Go ahead and download the printable right here. It is Free!
How to Download the printable? 
To receive your Free Advent Calender right in your inbox, Please enter your details in the form below. I will send a PDF file to download and print.
Please note that the Printable is for personal or classroom use only. If you have a family or friend who would like this, please send them over to this post to download their copy.
Do you know these Popular Verses that Go well with our Santa Beard with Cotton Balls Advent Template?
Santa's beard is very bare, On his chin, he has no hair. So each day, add one puff so white. And when they're all on, He'll come that night!
Pin this Advent calendar
Don't forget to save this Printable Advent calendar for later!
Let me know if you found this printable helpful; I would be glad to hear your feedback.
Merry Christmas and Happy New year to you and Your Family!
Make a Nativity Scene with Printable
When you start setting your advent calendar, it is also time to Set up your Nativity Scene. '
Here is a Fun printable Template that kids can cut and make their own Nativity scene this year. See more details in the Blog – " DIY Nativity Scene for Kids"
or Get it here