All activities should be supervised by an adult. As an Amazon Associate, I earn from qualifying purchases. This post may contain affiliate links.
This is one of the most unique Heart crafts that you can do at any time of the year or during Valentine's week! Bring in the fun spirit with this easy-to-make paper weaving Heart craft.
It is a perfect activity to do together as part of a classroom lesson! Not only will the kids be creating something special, but also improving hand-eye coordination.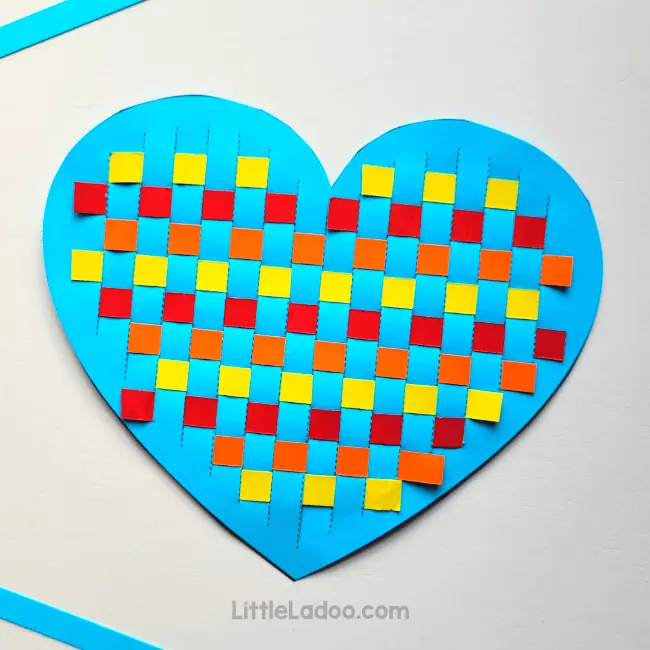 This post contains affiliate links. As an Amazon Associate, I earn from qualifying purchases.
Paper Weaving Heart Craft
To make this craft, You won't have to fret over complicated instructions – all it takes is a few simple steps along with our free template that you can download with just a click of a button! Start weaving away and show that extra love through these beautiful hearts today.
Supplies you will need
Cardstock (To print the template)
Scissor
 Glue
Heart Printable
Watch the Video Tutorial
Directions to Make Paper Weaving Heart Craft
Print out the heart-weaving template on thick and sturdy paper. I always print mine on 200 GSM cardstock so it is easy for my daughter to weave.
On the heart template, there are Vertical dotted lines – Cut these lines using a Paper cutter by placing them over a cutting mat! Remember to cut only on the lines and leave a gap at the end
After cutting the lines, cut the heart out along the edges.
Next, cut some 1cm wide colourful strips from cardstock. We always use a Paper trimmer to cut the strips. If you do not have a paper cutter, please mark 1cm lines and cut with a scissor.
Let's start weaving! Take a strip and insert into the Slits of Heart template bring it over and again under. This is how you weave until you reach the other end.
Take the second strip and repeat the process. the only change would be we have to alter the side that we insert. See the image or video for Clarity.
Continue weaving all the strips until the Heart template is tightly packed from bottom to top.
Now the final step is to cut the Extra stips projecting on the front and back sides. Later you can stick it to the base or leave it as it is.  Your Paper Heart is ready for display.
How beautiful and vibrant is the Paper woven Heart Craft? Make as many Heart you need to hand on the wall or make a garland.
Paper-Weaving crafts can be an exciting and rewarding experience for young children. With just a few steps, they will learn the process of weaving!
It may take some patience to complete the project but it's sure to unleash your child's hidden imaginative genius.
Did you like this Weaving Craft? Share it with your friends and Pin it for later.
Looking for more Paper weaving Crafts? Check out our Paper weaving pot Craft. 
Recently, we have also made a Paper weaving Egg craft. This might be perfect for Easter. Get the Free Template and full Directions on Instructables. 
Download the Heart Template
Need the free printable to make this awesome paper-weaving craft? Click on the button below to download it.
This is the tough version. Do you need an easy version as I shared in the Paper weaving pot craft? Let me know so that I can add it.
Looking for more heart Templates for Arts and Craft Projects? We have got plenty. Download 20+ heart Template PDF