All activities should be supervised by an adult. As an Amazon Associate, I earn from qualifying purchases. This post may contain affiliate links.
Looking for a creative, vibrant project? The Paper strip Rainbow Craft is easy to do and a fun and easy way to brighten up your day!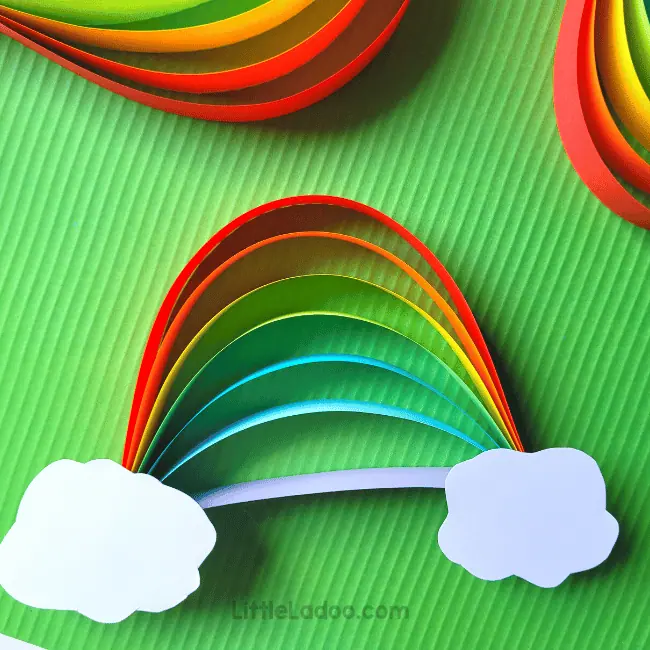 Paper Strip Rainbow Craft
These cheery rainbows can be made in less than 10 minutes and are ready to display wherever you'd like.
Hang them from walls or ceilings, stick 'em on night tables, or let them stand upright-you name it; this artwork brings all kinds of possibilities for displaying artistic creativity!
Things You'll Need to Make This Rainbow Craft
The affiliate links here will take you to products on Amazon that are similar to the supplies we used to make this craft:
Construction Paper – in 7 colours of the Rainbow
Scissors or Paper Trimmer
Stapler
Cotton Balls
We also have a similar Rainbow – a Paper Plate rainbow made with paper strips.
Directions
Arrange the A4 Paper in order of the Colours of the Rainbow and Cut 2cms from the longer side using a Paper trimmer! If you do not have a paper trimmer,  you can also use Scissors.
Cut 2 cm from each strip in such a way that they decrease in length, and are 2cm shorter that the colour before, starting from red to purple.
For example, The Red Strip will be 29,7 Cm long and the Purple one will be 17.7 Cm. I am using an A4 sheet paper which is 29.7 x 21.0 Cm. This is just a guide, the same way you can also cut the US letter size sheets.
Once the strips are ready, Place them one above the other in order of colours of the rainbow, line up the ends and staple them.
Again, Line up the other ends of the strips of Paper and Staple them.
The Paper strips by now should have Arched up except the purple one. Now you have a Brightly coloured 3D Rainbow craft.
You can Glue or staple the cotton balls at the end for a cloud effect!
Since this is a very easy craft that takes less than 10 minutes, you can make as many as you want and hang them on your windows.
The beautiful paper Strip rainbows can also stand upright on their own!
Watch a Video on How to make the Paper Strip Rainbow Craft
So far in this Blog, I have shared pictures of Rainbow with 7 strips. In this video, I have made rainbows with 5 strips.
Want to refer to this Rainbow Craft later? Pinning this idea is the perfect way to save for later.
Looking for more amazing Rainbow ideas for your unit study? We have plenty in our blog. From crafts, and printables to board games you will love them all!
For Practiving numbers one to twelve, you might enjoy this Hands-on Roll and cover mat.
Another fun Math game is the Rainbow 10 Frame Matching game—an excellent hands-on way to practice 1 to 20.
The rainbow board game is great for a Rainy evening. You print it and play with this printable Dice Board Game.
The best part is that all these are free printables! Enjoy!