All activities should be supervised by an adult. As an Amazon Associate, I earn from qualifying purchases. This post may contain affiliate links.
This Paper plate Spider Craft is a fun way to get into the Halloween spirit, and it's easy enough for kids of all ages to do. Plus, there's a free template available so you can get started right away.
Keep reading for more information on how to make your own paper plate spider!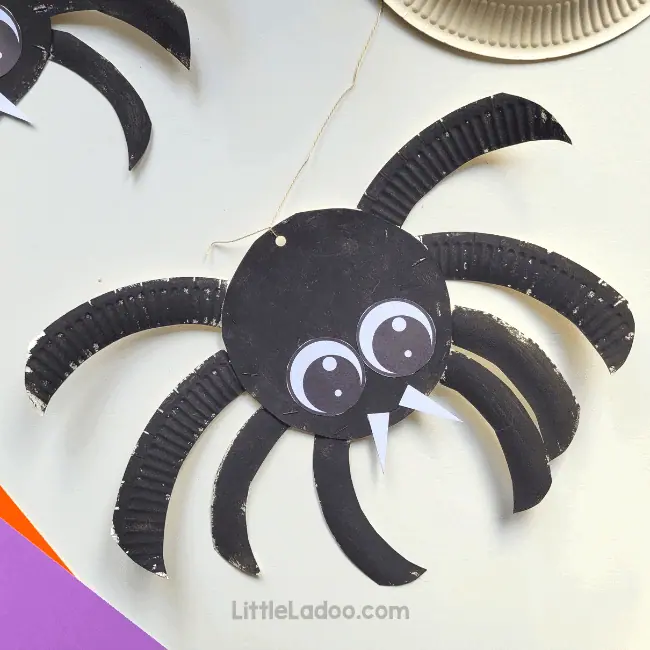 This post contains affiliate links, meaning that I will be compensated if you click through and take action at no additional cost. As an Amazon Associate, I earn from qualifying purchases.
Paper Plate Spider Craft
There's something about spiders that just makes them so fascinating. Maybe it's their long legs or the way they hang from their webs waiting for unsuspecting prey to wander too close.
If you're like me and can't help but be captivated by these creatures, then you'll love this paper plate spider craft!
Let me show you the process with Pictures and a Video Tutorial.
Supplies you will need
Spider template
Scissor and Glue
Google eyes (If needed)
Directions to Make Paper Plate Spider Craft
The first step is to cut the 9″ plate along the circumference for about 1.5 inches (Along the rim). See the picture below to get better clarity.
Cut another 1″ from the circle. Now you will have 2 rings and a 4″ circular plate.
Cut each ring into 4 Pieces. These will be the legs of the Spider.
Staple the 8 legs to the body. Make sure they are symmetrical.
The spider is almost ready. We just have to paint it and add details.
Use black paint to cover the entire body. Let it dry for a while.
In the meantime, Download and print the free spider template. It has 2 eyes and 2 sharp teeth. Cut them out.
Want to avoid using a template or do not have a printer? Use a Big Googly eye instead. You can cut 2 sharp Triangles for the teeth!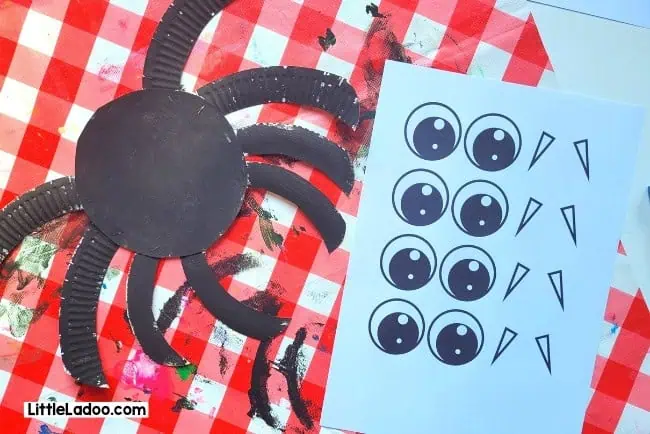 Once the plate is completely dry, stick the eyes and teeth. You may also add details like eyelashes and a mouth with a Pen. Your Spooky spider is ready!
You can either stick it to a wall or hang it by punching a hole and tying a tread!
These are great for decorating your wall or window in the month of Halloween.
Since it is a very easy craft, you can make many Paper plate Spiders in an hour. Vary the size of the paper plates to make the display interesting! You probably need to scale down the template accordingly.
Ready to make these spooky Paper plate Spiders?
Download the template
Click on the button here to download this free printable
Did you like this craft Idea? Check out More Paper plate crafts in the blog.
Related Paper Plate crafts
Pin this Image for Later!