All activities should be supervised by an adult. As an Amazon Associate, I earn from qualifying purchases. This post may contain affiliate links.
This Paper Plate Reindeer Craft can be used to decorate your home, given as a gift, or hung on the Christmas tree. Whatever you do with them, reindeer crafts will bring some holiday cheer.
With one Paper plate, you get to make 4 Reindeer that are small and very cute!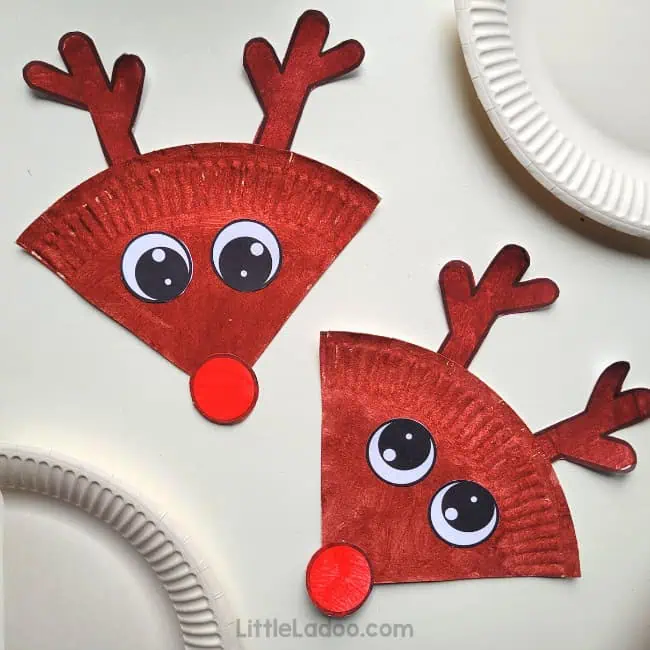 This post contains affiliate links, meaning that I will be compensated if you click through and take action at no additional cost. As an Amazon Associate, I earn from qualifying purchases.
Paper Plate Reindeer Craft
This is a super-Easy for kids. You can either make it with a template or simply draw and cut out the features.  The free template is available at the end of the blog post.
Supplies you will need
Reindeer template
Scissor and Glue
Directions to Make a Paper Plate Reindeer Craft
Begin by cutting the Paper plate into 4 equal quarters as shown in the picture below.
Pick a quarter and paint it brown. This is the face of reindeer. Leave the plate to dry for a while.
Download the free template at the end of the Post and print it on a thick sheet – Cardstock. Paint the Nose Red. Paint the antlers brown in colour. Now leave them to dry. Note that the page has templates to make 2 reindeer.
Cut the pieces out!
First, Add the Antlers to the plate.  Then, Stick the eyes and Nose on the Paper Plate.
That's all you need to make Rudolph, the Red nose reindeer craft!
This is a very easy craft and fits perfectly in your hand. Just add a popsicle stick at the bottom and you can even use it as Storytelling Props.  Have fun!
You can make plenty of reindeer within 15 minutes!
So are you ready to make this Paper plate Reindeer craft? Download the template at the end of the post!
Want to save this craft for Later? Pin this image.
Download the Reindeer Template
Just click on the button below to download the free craft template
Similar Easy Christmas crafts for kids