I am so happy with how this Paper plate Rainbow craft turned out! Just follow this video tutorial, and you will have one in no time!
Things needed to make a Paper Plate Rainbow
It would be best if you had a couple of things that you already have at home. Some items in the list have an affiliate link for your convenience.
Paper plate
Construction paper in the colours of the rainbow
Paper Trimmer or Scissors
Paper glue stick
That's it. Let's get started!
How to Make a Paper plate Rainbow
This simple craft approximately takes about 20 minutes to make from scratch. It is so easy! Please watch this video to see how I made the Paperplate rainbow.
It turned out into a vibrant rainbow with beautiful intricate patterns.  Most importantly, it was so easy to make. I loved experimenting with paper strips in this fashion, and I believe this craft will be perfect for Kindergarten kids.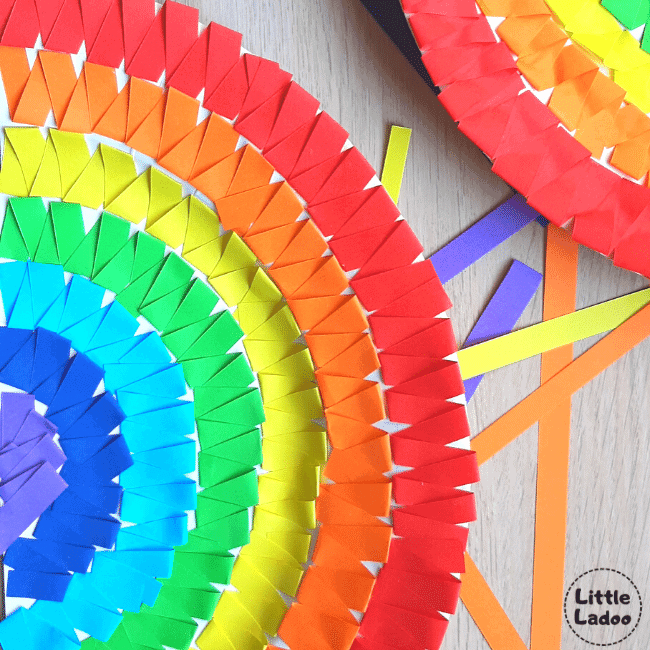 Scroll on to read more tips and tricks along with step by step pictures.
Step by step Instructions:
The paper plate that I have used for the craft is 30 cm. You will need at least this big plate to accommodate seven colours. First, let cut the paper plate in Half. Then Draw six equidistant concentric circles (use a compass if needed)
Next, we will prepare 1 cm wide thin paper strips of all the colours of the rainbow. You can cut strips with scissors, but I would recommend getting a paper trimmer. This paper trimmer can save you a lot of time, and the strips will be ready in a jiff.
Arrange all the papers together and cut four long strips.
Now, let begin by sticking them on the paper plate. Start with the red stripe. Apply some glue and start folding and sticking the red paper strip within the border. You have to fold in accordion style like in the image.
Continue to stick all the colours in the same way.  Try to make all the folds uniform for the best output. It will be complete in no time.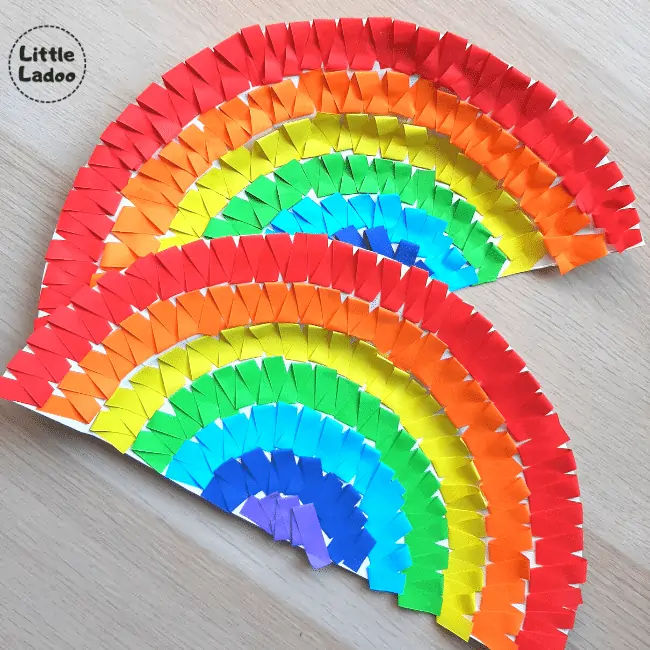 Scroll on to a close-up shot of this beautiful paper plate rainbow.
Don't forget to pin this post to Pinterest to refer back when you need some inspiration. Pinning is easy, Just click on your favourite image and save it to your kid's craft Pinterest board.
Also, check this Rainbow made with printable cut-outs.
Do you know someone who would love this craft? Please share it!
Similar Crafts for kids