All activities should be supervised by an adult. As an Amazon Associate, I earn from qualifying purchases. This post may contain affiliate links.
Let's Built a Rainbow today with our Free printable cut-outs. You can make it effortlessly and kids will love this activity!
Little minds are always keen to build, dismantle and rebuilt new things every day. So why not offer them this Rainbow activity today?
This Rainbow will be an excellent activity for preschoolers to develop a few basic skills.
To make this rainbow, Kids need to stack the colours from the biggest to the smallest. This means they are learning about size, which is the most Basic Mathematical concept.
They look at individual pieces and figure out how they'll fit into the big picture. Thus, developing their Visual-Spacial Reasoning skills.
They learn the Colours of the Rainbow.
Other few benefits include Fine motor skills development and finger grasp.
The rainbow made with our printable will be approximately 15 cm high and can stand on its own. Surely, It would also be a wonderful Busy bag activity.
So let's learn how to make the rainbow with the printable in a few easy steps.
Things needed: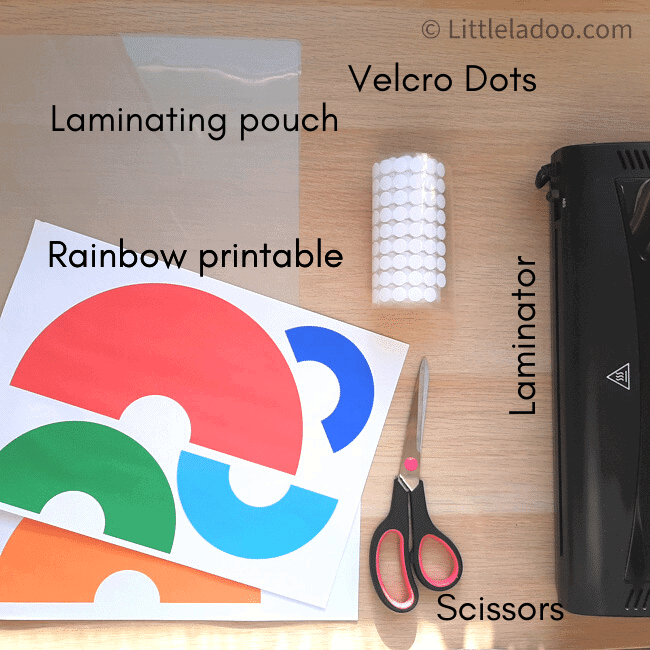 (Affiliate links included)
Our Rainbow printable (Download for free at the end of the post)
Lamination pouch (125 microns or 5 mils preferred)
Scissor
How to Make a Rainbow with the Printable Cut-outs:
Please watch a 2-minute video of how I made the Rainbow. 
All you need to do is Print, Cut, laminate and add velcros or magnets. As I said earlier, it is so easy to make. Read on to learn some tips and tricks. Or else Jump to the end of the post to download the printable.
Step by Step instructions
Print
Begin by downloading the printable and print them. You will need to print two pages. For a Vibrant Rainbow,  Please use high-quality printing settings.
Cut
Cut all the pieces out along the edges. There will be 7 pieces in total.
Laminate
Place them inside a laminating pouch and laminate. I recommend using 125 microns or 5mil laminating pouches. This is because if you are using velcros for this activity, the pieces need to be very thick.
Cut again
Again cut out all the pieces leaving a small offset around.
Affix the pieces together
Now the 7 pieces are ready. How do we affix them so that the Rainbow can stand on its own? Well, there are two ways.
Option 1: Self-adhesive Velcros
A 10 mm or 15 mm Self-adhesive velcro dots will be perfect for this activity. Stick the Hook part on one side and the loop part on the other piece.
Option 2: Adhesive magnetic tape
For this activity, 10 mm or 15 mm wide tape will suffice. Cut them into tiny pieces of 10mm x 10mm (approx) and attach them to the Rainbow pieces on the required spots.
Whichever option you choose, Make sure that all the dots or tapes are in the right spots so that affix perfectly with the adjacent pieces.
Which one works best?
My answer is Magnetic tape.
I generally use velcros for all my busy book /bag activities, But for this one, I understood something light with less clutch would be better for the child to assembly and disassemble. Therefore, I removed the velcros and tried magnetic tape. It was wonderful!
With all the layers, the Rainbow is less than 2 cm thick. But good enough to stand stable.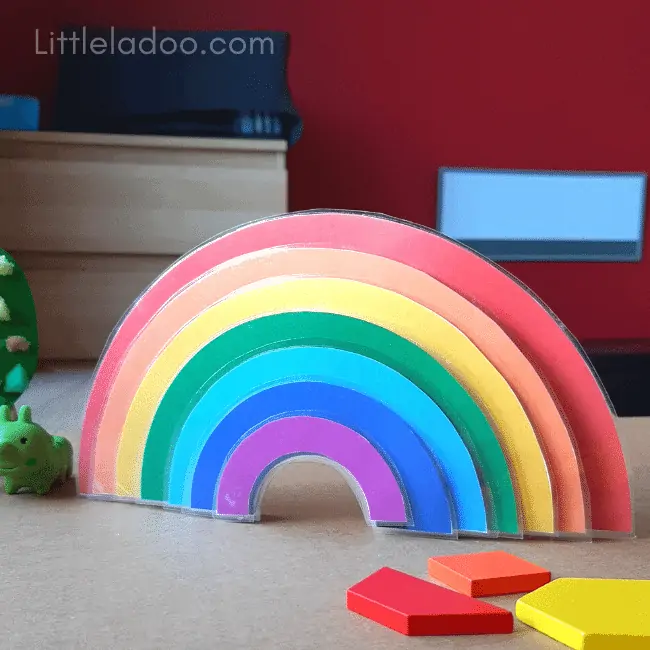 So ready to make this for your child today? Download now and enjoy!
How to download this Rainbow printable?
This Printable is available in our free printable library that is exclusive for subscribers.  If you are already a Subscriber, Please enter the Password from any of our latest Newsletters. Or else sign up here to receive the printable straight to your Inbox.

Do you know someone who would love this printable? Please share it.
Check our Free Spring colouring pages too.
You might also like our Spring Busy books for kids.
What else would you like to see from Little Ladoo? Let us know in the comment section.