All activities should be supervised by an adult. As an Amazon Associate, I earn from qualifying purchases. This post may contain affiliate links.
Holi is the most vibrant and exciting festival of all, especially for little ones!  We've got a collection of Holi crafts, printables and fun activities for kids to really bring out their excitement.
From simple DIY projects to free colouring pages – these 10+ ideas will keep them occupied this colourful holiday season!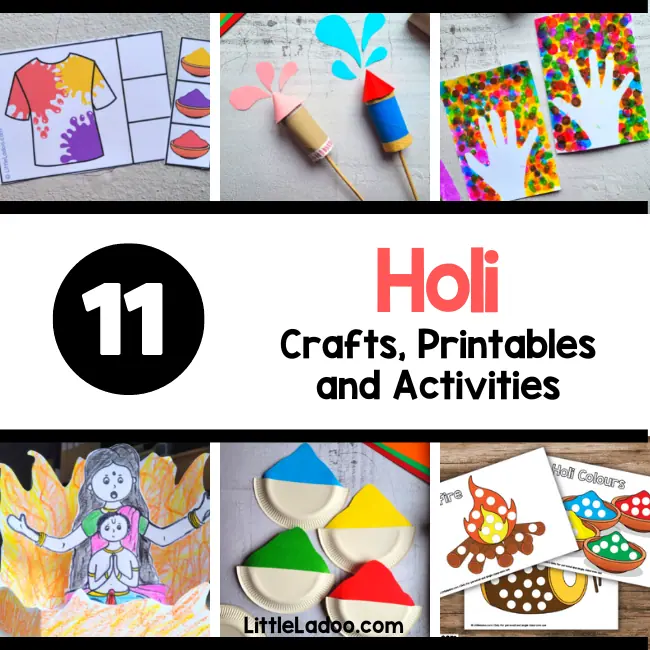 What is Holi?
Holi is an ancient Hindu festival that
marks the Arrival of Spring and the End of Winter
Celebrates the Victory of Good over evil
Celebrates the Blossoming of Love
It is also known as the festival of colour and is the second major Hindu festival after Diwali.
How do people celebrate Holi?
Every year Friends and Family gather to celebrate Holi together. They dance and throw coloured powders, coloured water and dyes at each other.
A bonfire known as Holika is Lit and people dance around to celebrate the victory of Good over Evil.
This fun, warm-hearted holiday has even spread far beyond India – you can find celebrations all over the world!
If you haven't had the chance to experience Holi yet, make sure to check it out next year – you're sure to have a blast!
When do people celebrate Holi?
Holi is usually celebrated in the month of March and the date varies depending on the lunar calendar – The last full moon day of the lunar month Phalguna.
When is Holi in 2023?
This Year, 2023, Holi is celebrated on March 8 – Wednesday.
So Ready to engage your children with fun Holi Activities kids?
Holi Ideas for Kids – Craft, printables, Books and Fun Activities for kids
Learn the story of Holi
Holi, the festival of colours and joy, gets its name from the demon king Hiranyakashyap's sister Holika. His quest for immortality and unbounded power had made him adamant about creating a new rule that only he should be worshipped, not God.
When his own son Prahlad refused to follow this rule and continued to worship Lord Vishnu, Hiranyakasyam attempted to kill his own son multiple times. But every time Lord Vishnu came to Prahlad's rescue.
To punish Prahlad once and for all, Holika devised a plan where she would get Prahlad to sit alongside her on a pyre. It was said that a Holika has magical powers that she will not burn. But Lord Vishnu made Holika burn instead of Prahalad while they were burning in the fire.
Thus it was the victory of good over evil. Every year a Bonfire is lit in remembrance of this occurrence after which people celebrate Holi with colours and cheer!
Bonfire Craft
Bonfire is a significant symbol of the Holi festival, indeed after the colours. The night before Holi (Holika Dahan) people light a Bonfire. So a Bonfire Craft is a perfect craft to make during the Holi festival.
Pichkari Craft with TP rolls
Pichkari (Hindi) means Paper water pistols.During Holi, Pichkari or water pistols are used to spray colour water onto each other. So kids will have fun creating this Toilet paper roll Pichkari craft and playing with it later.
Holi Paper Plate Craft
We've never made a paper plate craft this easy before!
Simply slice the plate in half and Grab papers in your favourite vibrant colours. Cut the paper into rough triangles and glue them onto the plate. Voila! Here is your Holi Paper Plate Craft.
Holi Greeting Card craft
Kids love making greeting cards for their loved ones on any special occasion. Here is a simple and easy-to-make Holi greeting card idea that is perfect for even toddlers to make beautiful Cards.
Holi Dot Marker Mats
Got Dot markers at home? Then grab this free printable for kids to create a Holi Artwork. Do dot markers are such a fun way to develop fine motor skills and creativity for Toddlers!
Holi Pichkari Craft template
One of the most popular activities during Holi is playing with Pichkaris, which are water guns that are used to spray coloured water on friends and family. Kids can use these Templates to create their own Pichkari craft.
Download this Printable at the end of the post.
Holi Colouring Pages
Kids love colouring activities especially when it is festival themes. Download this Holi Colouring page and get the kids in the spirit of the festival!
Download this Holi Colouring Page Printable at the end of the post.
Holi Visual Discrimination Game
We love Activities like these that help kids develop Visual discrimination and Problem-Solving skills.
The task of finding and matching Holi colours and the T-shirt in this activity requires kids to pay full attention, which can greatly enhance their cognitive abilities. Additionally, these cards can be used to create a busy bag, which is a handy resource for parents to keep their kids occupied and engaged during travel or leisure time.
Get your Printable here!
Skittles Rainbow Experiment
This Holi let's make some fun colourful STEM Activities with the kids. All you need is a pack of Skittles, water and a white plate. Arrange the skittles on the plate in a ring-like pattern or any pattern of your choice and pour some water. You will be amazed to see the result!
Skittles are coated with coloured sugar, so once you add warm water to it the sugar begins to dissolve very quickly. This makes it a fun and colourful activity to do with kids of all ages.
Make Holi colours at Home
Creating Holi Powder at home is a breeze! The greatest advantage is that you can choose the colour you desire and make it safe for children to taste. All you need are a few items that you already have at home. To obtain certain colours, you'll need to dry and then grind them. Simply prepare a few days ahead of time, and you're good to go!
Yellow:  Just mix Corn Floor and Turmeric
Red: Mix Corn Floor, Turmeric and Lemon Juice. Grind after the Paste dries.
Magenta: Mix Corn Flour and Beetroot Juice. Grind after the Paste dries.
Green: Mix Corn Floor and Neem leaf Juice. Grind after the Paste dries.
Holi Storybooks for kids
We all love reading books together with our children. These Holi books for children are excellent tools that will help kids understand the cultural significance of the Holi festival.
Colours Busy Book
What other occasion is more suitable for learning colours? This  Colors Busy Book is a fun and interactive learning tool that helps children learn about colours and develop their fine motor skills through a variety of hands-on activities.
Each page of the book is dedicated to a different colour and features fun and engaging activities that help children learn to identify and match colours, count and sort objects, and develop their creativity and imagination.
DIY water Guns
Kids will enjoy using these DIY water guns! Make these Water bottle pistols by creating a small hole in the water bottle cap. Since it is really easy and expensive kids can have one bottle for each colour.  Be prepared to get wet!
Videos to teach kids about Holi
I have thoughtfully selected four fantastic Holi videos for children, each with unique information about the festival. Be sure to watch all of them.
Learn the story of Holi and the history behind it.
Bring Holi Festival alive with this Video showing how people celebrate Holi in India.
Here is another Video showing how People Living abroad Celebrate Holi
Here is another Video By BBC Earth showing Holi celebrations in Jodhpur

While the festival is mainly known for its colourful powders and water guns, there are many other exciting activities that kids can enjoy during Holi. Ticking off a few of these Holi activities can make the festival a memorable one.
Want to see these later?  Pinning these ideas is the perfect way to save them for later!
Download the Holi Free Printables for kids
Just Click on the Holi Printables you need, and they will open in a new tab or download to your Folder based on your download setting.
03- HOLI PICHKARI CRAFT TEMPLATE
Print and enjoy!
If you like these Activities do let me know by leaving a comment on the Blog!
You Might Also Like