All activities should be supervised by an adult. As an Amazon Associate, I earn from qualifying purchases. This post may contain affiliate links.
Last week, We did a play-based activity around Eric Carle's classic book "A House for Hermit Crab". Book-inspired plays are always a success at how home. We thoroughly enjoy creating props and narrating stories using them.
So here is our Hermit Crab Bookish Play!
This post contains affiliate links, meaning that I will be compensated if you click through and take action at no additional cost. As an Amazon Associate, I earn from qualifying purchases.
Eric Carle's "A House for Hermit's crab" Bookish play
Eric Carle is one of our favourite authors. We love his simple illustrations and the ease of reading his stories. Our favourite books are Brown Bear, what do you see, and of course The Hungry Caterpillar. We liked "A House for Hermit's crab" too! 
This is a story of a Hermit crab who has outgrown its shell and needs to find a new one. He finds a Big plain shell but thinks it is not very interesting.
So the crab goes on to the Ocean floor, finding friends who help him decorate and protect his house.
The story takes place over a year, and by the end, the Hermit crab again outgrows his house. So what did he do then? 
In the book, Kids also learn the Names of Months and a few creatures of the Ocean Habitat. The book has a message for kids to treat everyone with Kindness and Respect! 
Hermit crab bookish play
The idea of designing props for the bookish Hermit crab play struck me unexpectedly when I observed my toddler's painting. She was engaged in her usual practice of blending and splattering colours onto a vast sheet.
In my personal view, it was exceedingly beautiful. Hence, I wanted to transform it into something valuable.
I remembered a recent article that I read about how Eric Carle creates his artwork.
Carle's distinctive collage illustrations are created by hand-painting papers in various colours and textures, which are then cut and arranged to form the final image. Carle's process involves experimenting with different colour combinations, textures, and shapes to bring his ideas to life.
And that inspired me to create these story props. I employed the same technique of cutting the artwork into characters.
Here's a summary of the process I followed to create the story props.
Firstly, I sketched an initial outline of all the creatures using a pencil and then cut them out with scissors. As the majority of the painting was green, most of the creatures, including the crab, were coloured green.
I added the final touches to the shell and used oil pastels to create the eyes and other features. The end result was simply perfect!
I didn't take any pictures or videos while creating the props, but we immediately started reading the book and recreating the scene using them.
So do you recognise the scene here?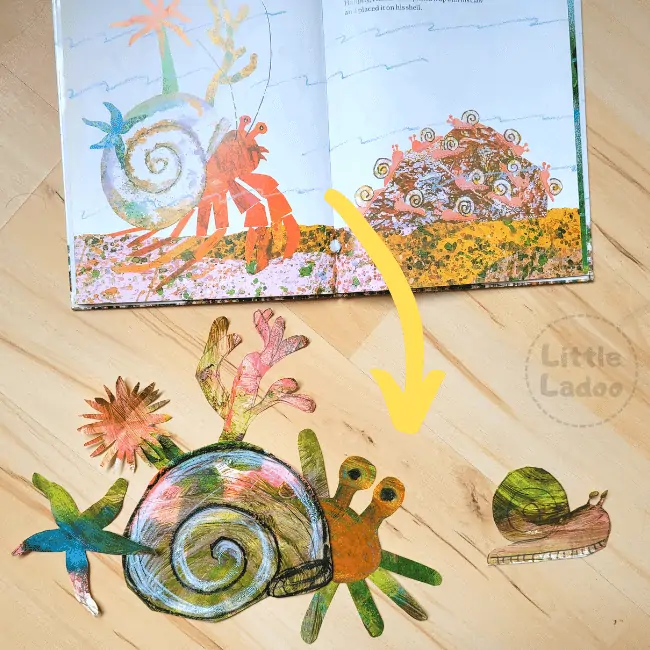 The Crab has found some friends to decorate his house (Starfish, Sea anemones and corals).  Later, He met the snail and was amazed to see the snail sliding and cleaning the path.
The Hermit Crab asks the snail if he could stay along with them and clean the shell. The snail agrees and hops in. Thus goes the story…
Can you imagine how amazing it would be for the child to hear stories this way?
If you haven't done Book-Inspired plays before, Pick your favourite book with simple illustrations and try them.
If you found this post inspiring, do let me know in the comment section and share it with your friends.
Summer Printable Activities
Get your kids engaged with these Summer Find and Colour Worksheets. These Fun and interactive Worksheets will keep your kids entertained as they search and colour various summer-themed objects.
Download and print these Summer Colouring pages and watch as your little ones bring their own colourful spin to the season!
Similar Ocean Themed Activities
There are several methods to make crabs, and we chose to experiment with orange peels. Discover how we crafted a crab using orange peels!
This Interactive book makes Learning the Collective nouns of Ocean Animals easy!
This fun and easy craft is perfect for kids and will bring a little bit of the ocean into your home. Make a colourful Rainbow Fish craft with our free template!
You Might Also Like
Challenge your child's problem-solving skills with this fun brain teaser!  These 60 Brain Teasers for kids are perfect for keeping young minds sharp and engaged!
Keep your little ones entertained all summer long with our fun and educational Summer Busy Book!