All activities should be supervised by an adult. As an Amazon Associate, I earn from qualifying purchases. This post may contain affiliate links.
Have you ever tried Symmetrical painting with kids? It is so much fun to make incredibly unique art! Let's make a Heart Symmetry Painting craft Today!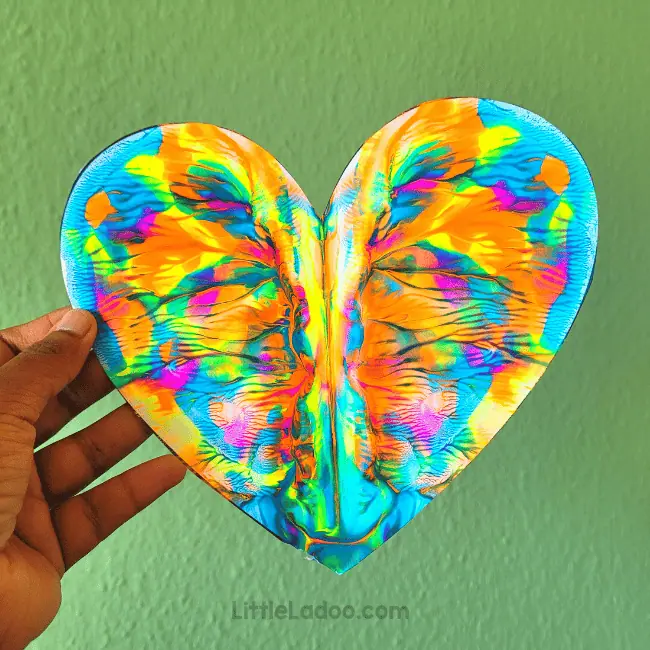 This post contains affiliate links. As an Amazon Associate, I earn from qualifying purchases.
What is a Symmetrical painting?
Symmetry painting is a fun and creative art activity. You start by adding a few drops of paint to one side of a piece of paper, folding it over, and pressing the two sides together.
Viola! When you open it up, you'll have an eye-catching and unique design made of squished paint. It's suitable for kids of all ages–toddlers, preschoolers, tweens, teens and even adults love this activity!
Today we are using this technique to make unique heart crafts!
We have earlier made many symmetrical painting projects like the butterfly, Rainbow, and Easter egg.
In this blog, I will share instructions for Heart Symmetry painting and a Free template to make your own project.
Heart Symmetry Painting
Supplies you will need
Thick paper like cardstock
Ikea Mala Flurosent paint
Scissors
Heart Template (Download at the end of the post)
Watch us make Heart Symmetry Painting
Directions
Download the free Heart template and Print as much as you need! Your little one will love to do plenty as it takes just 2 to 3 minutes to make the art, apart from the drying time.
Before starting to add paint, I suggest folding the paper in half along the reference line. This makes it easy to fold again after applying the paint.
Now apply the paint to one side of your Heart template.  You can Either use a brush to apply a generous about of paint or Use a spoon to add drops of paint.
We always use Mala fluorescent Paints from Ikea for such painting projects!
After applying the hue of your choice, carefully fold it before the paint dries.  Press firmly and rub with your hands – you want that pigment smashed into every crevice so that when opened again we do not see empty patches.
Then open up…Oh wow, check out that remarkable masterpiece you created!
Let it dry for 20 minutes. Pop in a hair dryer if needed for extra speediness.
Once that special heart is all dry, grab those scissors and snip away. Now you have a vision of beauty fit for any wall – from simple decorations like garlands to an individual accent piece.
Not only does this craft provide the opportunity to show off your creative side and explore your artistic capabilities, but it also makes a beautiful decoration for any room or wall!
With all its beauty, heart symmetry paintings make great gifts too that kids can make for their teachers. So why not give it a try?
Heart Crafts for kids
Fun Art Ideas for Kids
Explore the endless possibilities of marble run painting. It's a fun and unique process that can create stunning results, just like the Father's Day card we made using this technique.
Fork painting is a fun and easy activity for kids of all ages. Check out this variety of templates for kids to use to create unique and colourful works of art. Try them out and see what you can create!
 Download the Template
Feeling inspired to make this heart craft now? Just download the free Heart symmetry painting template and get started right away!
You can also download this template along with 20+ Different heart templates that you can use to make a variety of Arts and crafts projects.