All activities should be supervised by an adult. As an Amazon Associate, I earn from qualifying purchases. This post may contain affiliate links.
In our changing world, it's crucial to teach kids about the environment and how to take care of it. That's where the "Happy Earth vs Sad Earth" sorting cards come in.
This Earth Day printable is suitable for any time of the year to teach kids the importance of protecting the Planet we live in.
With 20 Sorting cards with attractive illustrations and additional resources, this is a fantastic Choice.
But that's not all – don't forget to explore our wide range of Earth Day activities for kids!
Happy Earth vs Sad Earth Sorting Cards
This Printable pack includes 20 Sorting cards and 2 Earth Cutouts for kids to sort!  Each of the 20 Cards has a Human action.  Kids get to think about the impact of each action and sort the cards into happy or sad Earth categories.
By using these cards, kids realize that their actions can make a difference in making the Earth happy or sad.
This interactive activity also helps them understand why it's important to be responsible and make positive changes in their daily lives.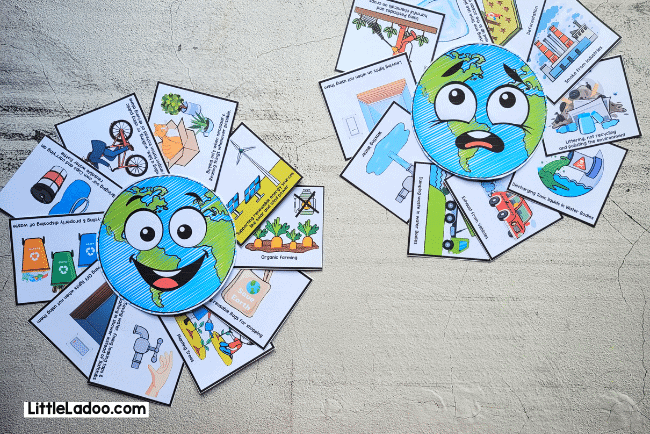 Preparation and usage instruction:
The preparation is simple – just print the cards on cardstock paper and cut them out.
Display the cards on a table, and let the kids sort them.
For younger children, you can read the text on each card and help them understand the meaning.
This Happy Earth vs Sad Earth Sorting Cards is one of the best ways to teach kids the impact of human actions on the environment.
The printable resource combines fun with learning, allowing individuals to visually understand the impact of their actions on the environment.
Additional Resources:
In addition to the sorting cards, this printable pack includes three fact cards and seven task cards.
The task cards feature thought-provoking questions that encourage further reflection on the environment and promote healthy debates and conversations.
By using the Happy Earth vs. Sad Earth Sorting Cards, kids will not only have fun but also gain valuable knowledge about the impact of human actions on the environment.
Let's inspire the next generation to become responsible Earth guardians and make a positive difference in the world.

Get the Happy Earth vs Sad Earth Printable
More Earth Day Printables