All activities should be supervised by an adult. As an Amazon Associate, I earn from qualifying purchases. This post may contain affiliate links.
Make this Keepsake Art with your child's Handprint!
This Handprint Fall/Autumn tree is an Easy Keepsake Art made out of the handprint of a person. It is so simple that even Toddlers can do it.
During fall, the Colours of red, orange and yellow fill parks and gardens, creating a very serene and beautiful scenery.  This handprint Fall tree art is the perfect way to celebrate the beginning of the fall season. 
This post contains affiliate links, meaning that I will be compensated if you click through and take action at no additional cost. As an Amazon Associate, I earn from qualifying purchases.
How to Make a Handprint fall tree
This keepsake art right here is created with the handprint of my child. To my surprise, the whole project didn't take me more than 10 minutes to make. Scroll on to read Instruction and watch a video of how I made the Fall/Autumn tree. 
What you need to make a Handprint Fall tree
A canvas, preferably black 

Squeezable brush paint of colours Yellow, Red, and Orange 

Brown acrylic paint and brush
I recommend a black coloured canvas because black really complements the colours that we will be using for the leaves, which are yellow, red and orange.  Way better than a white coloured canvas. 
If you do not have a squeeze brush paint pen, I highly recommend getting one for your Toddler. It is great for mess-free painting activities.
We bought these squeeze Brush pens about a month ago and my lo prefers this over the regular brush. However, I have also mentioned the alternatives for the squeeze pens in the instructions. 
Instructions
Begin by tracing your child's hand on the canvas.
So this is the trunk of the Fall tree. Paint it brown, thoroughly and carefully. 
Add the colours yellow, red and orange for the leaves. Squeeze and dab it around until it is dense enough.  To paint the soil, draw some lines and add a colour similar to that of the tree.
 Finally, to represent the fall season, dab the colours over the soil until you get the same effect. 
Here is a quick video of how I made the leaves. Do you know, It took me just 3 minutes to make these tree leaves? How awesome is that?
Note- For those who want to paint without using the squeeze pens. Use regular acrylic paint and paint with your fingers or q-tips. This is fun too!
It will look like this when you complete it. Let it dry for a day and then your Handprint Fall tree painting will be ready!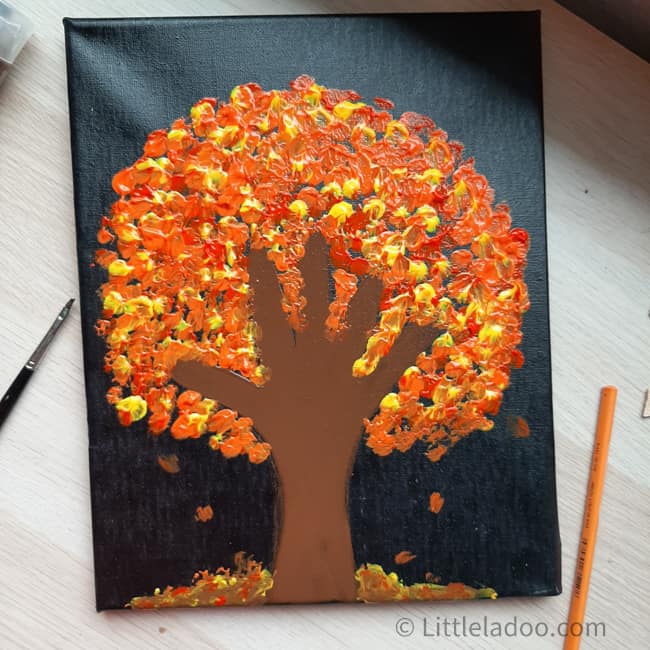 Another way to make this fun for everyone is by making one for each member of the family. Get their handprint, and if you are open to experimenting with the colours, add the person's favourite colours to the leaves and bark. Prepare it and hang it on the walls of your favourite room. 
I hope you and your little one had a fun time while making this activity. Send us pictures along with a few lines about your experience with it. I would love to hear from you!
Pin this Easy Fall tree craft
Don't forget to save this handprint keepsake art for later! Be sure you are following along with Little Ladoo.
Did this post inspire you to make one for your child? Let me know in the comments section.
Do you know someone who might find this useful? Please share it
More Fall activities
Thank you for reading through this post!! If you found this helpful, please let me know in the comment section because I would love to hear from you!