All activities should be supervised by an adult. As an Amazon Associate, I earn from qualifying purchases. This post may contain affiliate links.
Whether your child is a fan of lions or just loves to paint, this Fork-Painted Lion Craft is sure to be a hit. With just a fork and a free printable lion template, children can create their very own masterpieces.
Using the fork as a paintbrush, they can experiment with different textures and patterns, resulting in a unique and roar-some lion painting.
Be sure to explore our collection of fork painting ideas for kids, which includes a range of projects including free printable templates.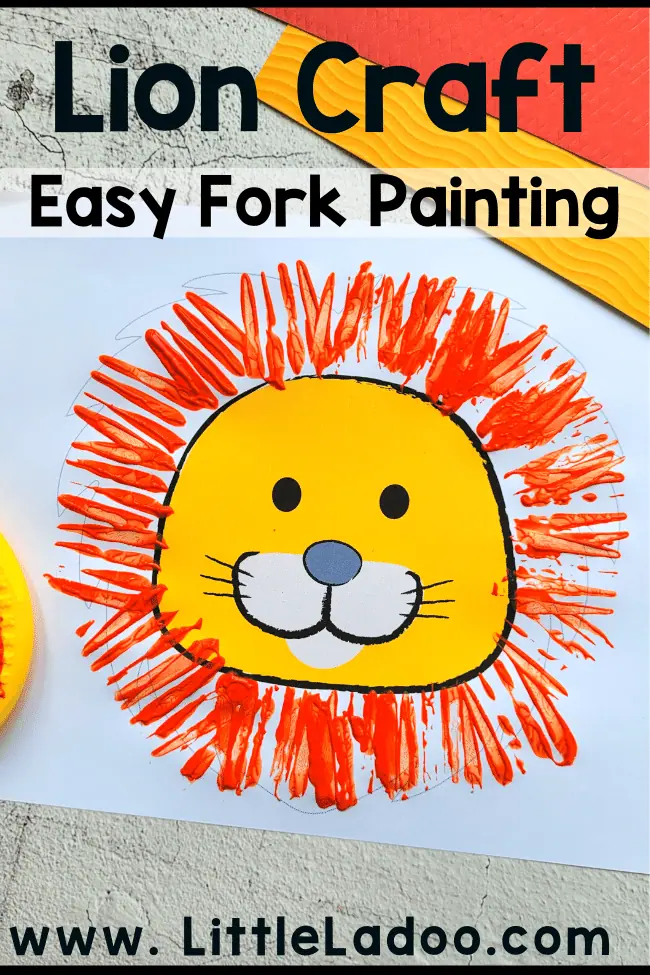 Why Fork Painting is a Fantastic Activity for Kids of all ages?
Fork Painting promotes creativity, improves fine motor skills, and encourages experimentation.
Things are Easily Accessible – All that's needed is a fork, paint, and paper, they are readily available at home or in schools.
Things you will need to make the Fork-Painted Lion Craft
Lion Template Printable
Fork
Watch the Video on How to make an Easy lion Craft by Painting with Fork
Directions to make the Fork-Painted Lion Craft
Download the printable lion template at the end of this post by signing up.
For best results, print the template on cardstock or 120gsm paper. Since paint will be used in this activity, it is essential that the paper is thick, or else it may become soaked and tear.
The template features the face of a lion without the mane. A thin line is provided as a reference for kids to stay within or around while painting.
Prepare orange paint by mixing the right proportions of yellow and red. Keep a fork ready – we suggest using steel forks from the kitchen so they can be washed and never get wasted. You can also use wooden or disposable plastic spoons.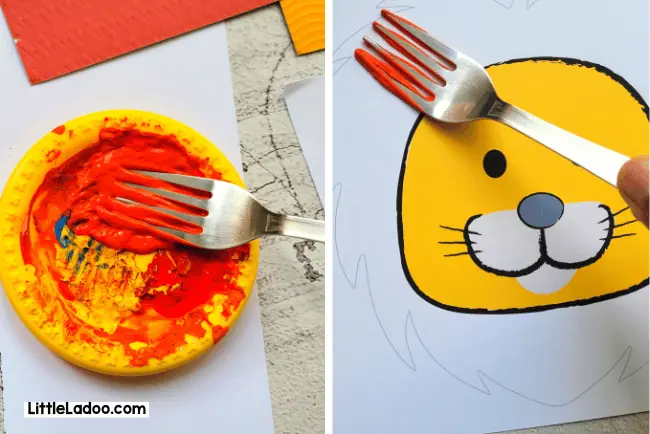 Dip the fork into the paint and press it over the mane region on the template. You'll see a beautiful impression of the fork on the paper.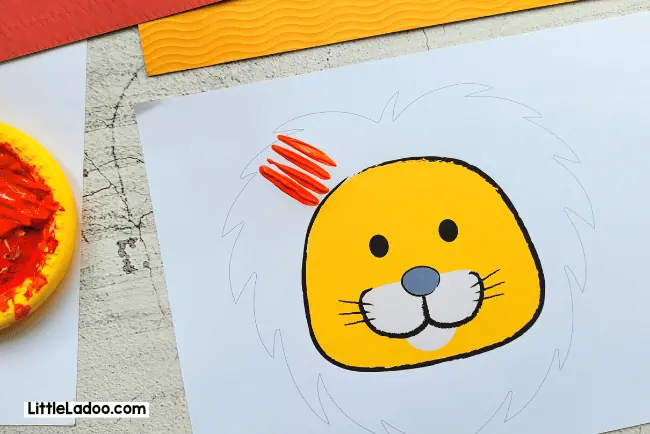 Repeat this process of painting with a fork all around until the entire mane is covered.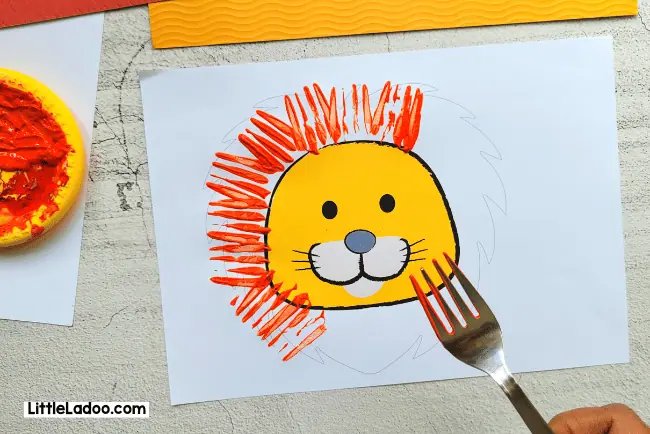 The result is an adorable lion craft that kids can be proud of. It's an easy craft that even toddlers can make with fantastic results – a foolproof activity that's perfect for kids.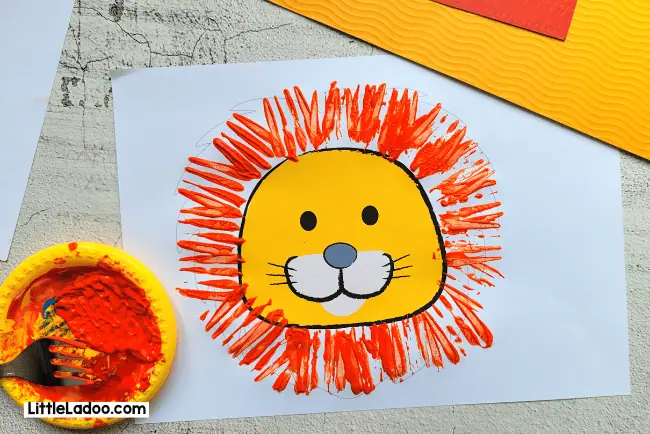 For a denser look, you can paint another layer with the same or a slightly lighter shade of orange or even yellow.
Our free lion craft template is fantastic and can be used for many additional crafts, such as painting with pom-poms, Adding paper strips or adding leaves to it.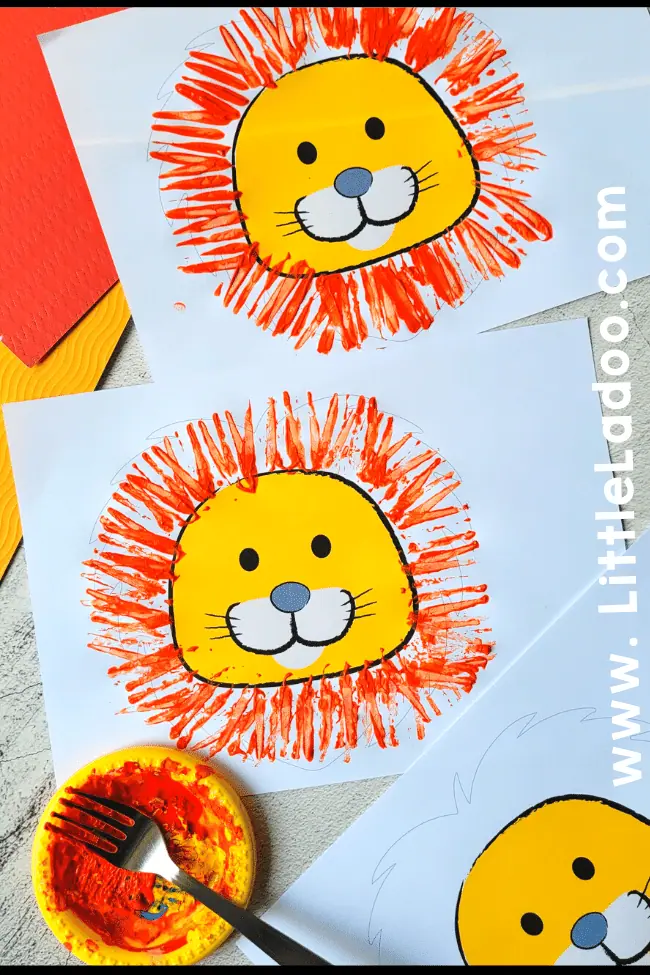 Similar Fork Painting Ideas for Kids
If you love this lion craft, you will also enjoy doing crafts.
These Fork painting activities foster not only artistic skills but also develop fine motor skills as children manipulate the fork to create different brush strokes.
So are you ready to do this fun activity?
You can download the lion template for free at the end of this post by signing up. If you want to do this craft later, don't lose it – pin it for later so you can come back to it.
3 Best Lion Books for Kids
These beautifully illustrated picture books are sure to engage and delight young readers with fun stories about lions.
"The Lion Inside" by Rachel Bright is the story of a Shy mouse and a lion. This captivating book teaches kids confidence and self-esteem.
"Library Lion" by Michelle Knudsen is a popular Kids' book about what happens when a lion visits a library.
"Lion vs Rabbit" by Alex Latimer is the story of how A clever rabbit outwits a lion. This book is one of our Favorites. It is very hilarious and we always enjoy Reading this book.
Shop Supplies for Fork Painting Crafts
Download the Lion Craft Template